NC State had three players selected in the 2016 NFL Draft this past weekend. The New England Patriots took the first NC State player with the 78th pick overall, Joe Thuney. New England will love having a player of his caliber as he has experience at playing ever position up front on the offensive line, but he projects best along the interior. Later in the 3rd round New England snatched another NC State player, with the 91st selection drafting QB Jacoby Brissett. It should be noted that Tom Brady is currently scheduled to serve a four game suspension to start the season, that left New England with only one other QB, Jimmy Garoppolo. Look for the Pats to develop Jacoby into a solid back-up QB with the potential to become a starter down the line.
Rounding out the picks for NC State was Juston Burris, the cornerback was selected by the New York Jets in the 4th round. It is good to see Burris selected as he has been through a lot of injuries in his career. The Jets are excited to have a big corner like Burris who should fit well in their press man-coverage scheme and can help in the run game. Look for Burris to add depth and challenge for a starting position down the road if he can stay healthy.
All three of these guys should be able to stick around the NFL, and with time become starters. If Jacoby can improve on his accuracy at hitting receivers in stride then he could be a sought after commodity given his athletic gifts. Congrats to these guys for reaching the pinnacle of their respective sports.
NC State's Depth Chart vs. Louisville (with Notes)
NC State has released their Depth Chart for their matchup against Louisville this Friday night.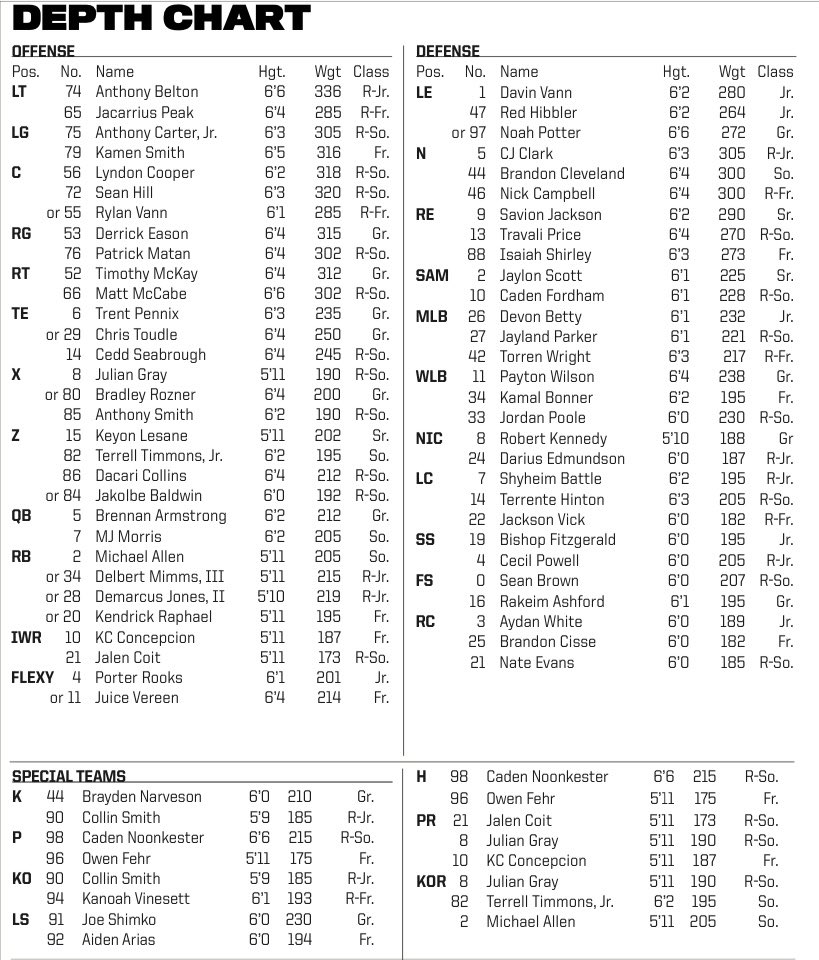 Notes
Starting Center Dylan McMahon isn't listed on the Depth Chart. Wolfpack head coach Dave Doeren said that McMahon is still "day-to-day."

As a result, Lyndon Cooper will be starting at Center once again.

Starting Strong Safety Devan Boykin had to leave the game almost immediately last Friday night up at UVA. He is not listed on the Depth Chart, but thankfully, it doesn't seem like something major. According to Doeren, it's not very likely that Boykin will be able to play Friday, but it hasn't been completely ruled out.

As a result, Bishop Fitzgerald will be starting at Strong Safety.

The Depth Chart for the Running Backs is a hoot. While Michael Allen is listed at the top, there is an "or" in between everyone's name, treating everyone as if they are starters.
Last week, Cecil Powell was listed as the third string Nickel, but Doeren said after the UVA game that he had been serving as Boykin's backup at Strong Safety that week in practice. Both went out of the game due to injuries.

This weeks depth chart reflects the fact that he'd been getting run at Strong Safety last week. He's listed as Bishop Fitzgerald's backup at SS.

Last week Rakeim Ashford was listed as the backup at Strong Safety, and now he is listed as the backup at Free Safety.