Yikes. The criticisms of Dave Doeren's tenure at NC State have been getting louder and louder within the Wolfpack fan base, however they seemed to quiet down a bit after a near upset over #3 ranked Clemson just two weeks ago. But a blowout loss to Louisville and an embarrassing home loss to Boston College now have the volume of those critics at full blast.
On Sunday, Luke DeCock of the News & Observer laid out a pretty devastating piece on Doeren, in which he says the following…
"Doeren has blamed the fans (after his first game!), the officials, his predecessor, the opposition and, most of all, his own players over and over again for failing to execute apparently impeccable game plans. Even when he tried to shoulder blame Saturday, he couldn't help doling it out instead.

Whether he realizes it or not, Doeren is cooked at N.C. State. Between the terrible losses and the incessant finger-pointing, he has few allies left. But it would cost N.C. State unavailable millions to buy out Doeren's contract, and athletic director Debbie Yow would prefer not to saddle her successor with a new coach after she is expected to retire in the summer of 2019. All of which means Doeren would really have to force her hand – and at 3-11 in ACC home games he's certainly giving it his best shot."

And while the point he's making is that Doeren won't be let go midseason, he is saying that he feels there is no chance he makes out of this offseason as the coach of the Wolfpack.

"Saturday, after a loss that transcended the boundaries of what is acceptable at N.C. State, there was only one direction to point any fingers. This is Doeren's program, and in his fourth season, it just isn't good enough."
Whether you are a Doeren fan or not, this season, one where NC State was supposed to take a step forward, has been disappointing. Will Debbie Yow wait it out one more season to see if Doeren can turn the corner, or has he already overstayed his welcome?
NC State's 2023 Football Schedule has Arrived!
NC State's 2023 Football schedule was released yesterday.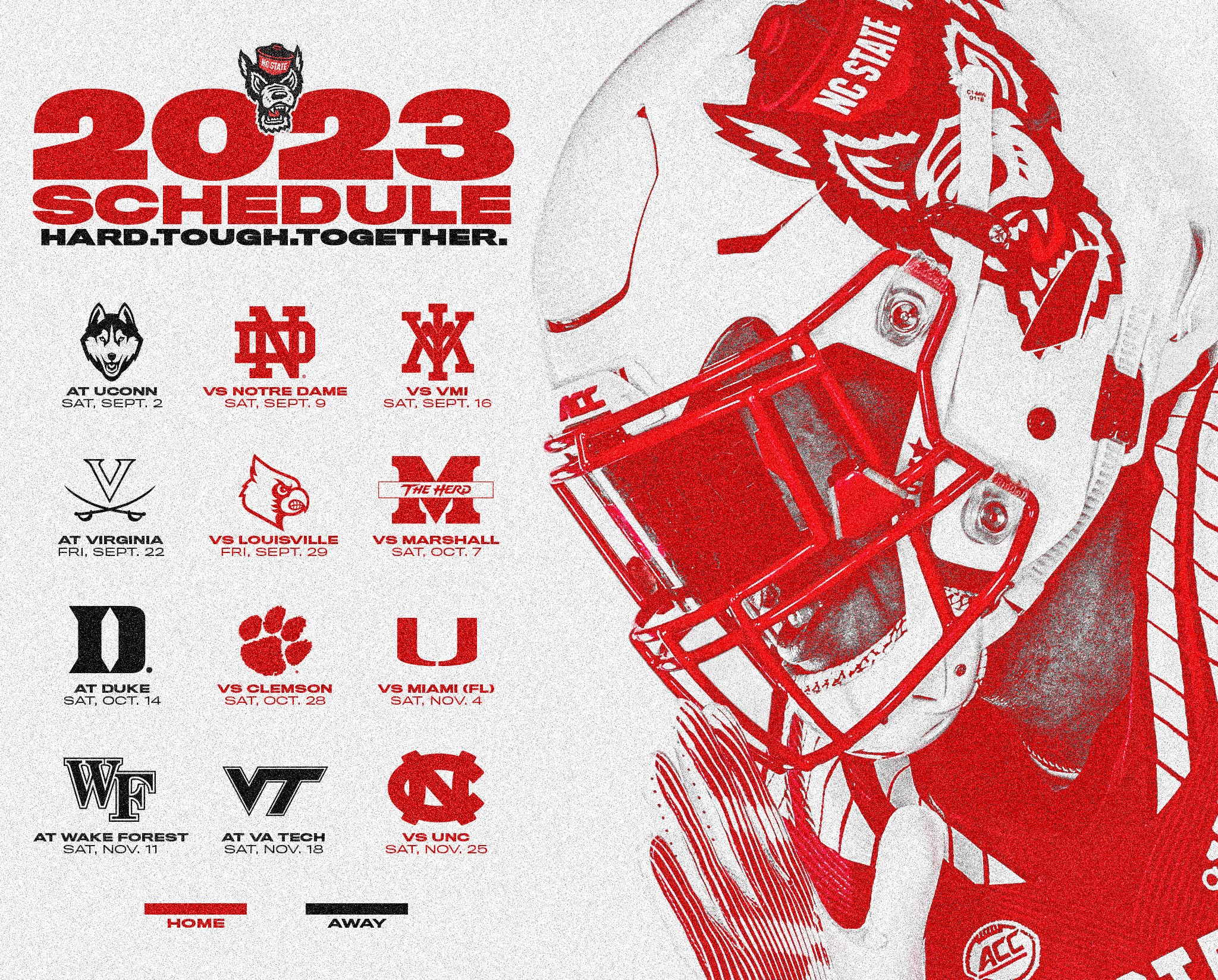 Notes
NC State will play all three in-state ACC rivals: UNC, Duke and Wake Forest
NC State has two Friday night games back to back: UVA & Louisville
NC State will play Quarterback Brennan Armstrong's former team UVA on 9/22.
NC State will host Notre Dame for the 2nd time ever, and will face a familiar face in former Wake Forest Quarterback Sam Hartman.
In the first year without Divisions in the ACC, 5 of NC State's 8 conference opponents will be teams that were in the Coastal Division last year: UVA, UNC, Miami, Duke, VT.

The three former Atlantic Division opponents are: Clemson, Wake Forest and Louisville