NC State Places 3 on PFF's Week 10 ACC Team of the Week
ProFootballFocus released their Week 10 ACC Team of the Week, and 3 NC State players were represented for their performances against Florida State.
Redshirt Junior Jakobi Meyers was the highest graded wide receiver in the ACC in Week 10, grabbing 9 receptions for 125 yards and a touchdown. Ryan Finley's passing efficiency rating when throwing to Meyers was 144.3, which was the second best mark of the week. This is Meyers' 3rd PFF weekly honor through 7 games this year.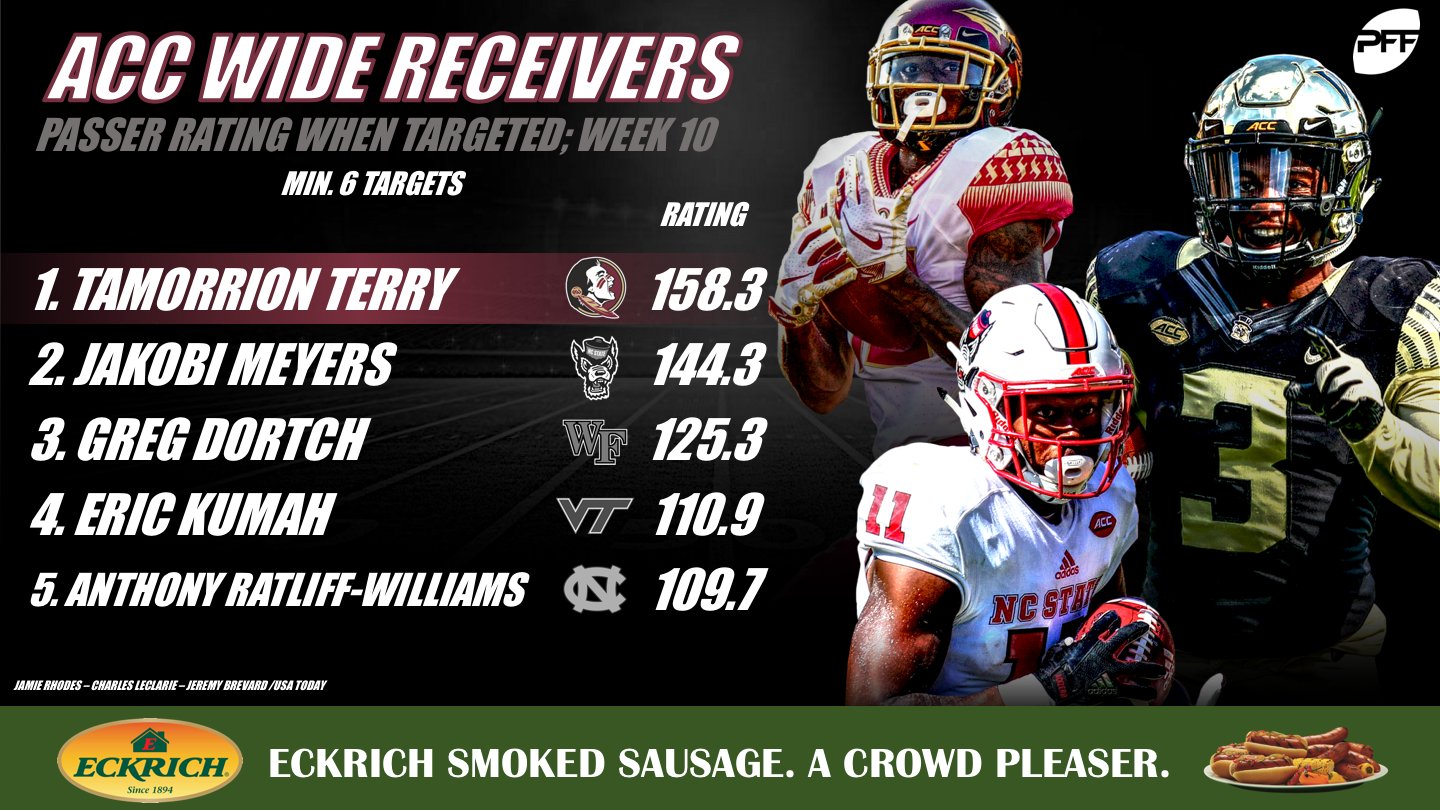 Redshirt Senior Left Guard Terronne Prescod has been insane this year, earning the PFF weekly honor in 5 of the 7 games he's played in.
Redshirt Junior Defensive Tackle Larrell Murchison picked up his 2nd PFF weekly honor for his performance against FSU. He grabbed the 1st interception by an NC State defensive tackle since 2009.
Even though he didn't make the weekly team, Redshirt Graduate Ryan Finley was the 2nd highest graded quarterback in the ACC in Week 10.
Also, Senior Reggie Gallaspy and Freshman Ricky Person didn't make the team either, but they were 2 of the 5 highest graded running backs in the ACC this past weekend.
Previewing NC State's Opponent: Louisville
Louisville has not been NC State's friend over the years, beating the Wolfpack 6 times in 8 opportunities (3-1 as ACC foes).
Louisville, Kentucky, has not been kind to NC State. The Wolfpack have never won a game on the road against the Cardinals (0-4).
Last year's 39-25 victory on a Thursday night marked NC State's 1st victory over Louisville as ACC opponents, snapping a 3-game losing streak. The Wolfpack will look to start a streak of their own today.
This Louisville team is a far cry from the teams led by Lamar Jackson.
The Cardinals have been in a life-without-Lamar hangover all year, entering today's game on a 7-game losing streak, and a 2-8 overall record.
During the 7-game losing streak, Louisville's opponents are averaging 48.7 points, 322.2 rushing yards, 501.2 total yards per game, and their turnover margin has been -8.
Louisville practically ranks in the 100's in every statistical category on the year.
Despite the horrific stats, especially on defense, the Louisville offense has proven capable sporadically in 2018, producing over 400 yards of total offense in 4 of their ACC games:
Florida State – 421 yards
Georgia Tech – 483 yards
Wake Forest – 532 yards
Syracuse – 413 yards
The Cardinals deploy 2 quarterbacks on a weekly basis: Sophomore Jawon Pass and Freshman Malik Cunningham. Pass serves as Louisville's primary passer (no pun intended), and Cunningham primarily comes in to run the ball. In fact, Cunningham leads the Cardinals in carries (60), rushing yards (308), and is averaging 5.1 yards per carry. Pass has only completed 54.3% of his attempts for 1,893 yards and 8 touchdowns (11 interceptions).
Senior Jaylen Smith, Lamar Jackson's favorite target, is still around, but he's missing his former quarterback tremendously. After earning 1st Team All-ACC honors in 2017, Smith only has 31 receptions (team lead) for 463 yards and (team lead) a touchdown.
Junior Trey Smith is the starter at Running Back, and has been successful when given the chance, averaging 5.3 yards per carry, but his touches have been limited with the Cardinals having to chase points nearly every game.
Pretty much the only respectable aspect of Louisville football right now is their pass defense, which ranks 22nd nationally. I would be remiss not to mention the fact that Sophomore Rodjay Burns is an extremely dangerous punt returner, averaging 16.4 yards per return. He ranks 2nd in the ACC and 10th nationally.
Life without Lamar Jackson has been bleak, but what will life without former head coach Bobby Petrino be like? Can interim head coach Lorenzo Ward wake up this Cardinals squad to protect their house, and finish the year strong?
On paper, NC State should make easy work of Louisville, but as we learned last week, there's a reason you play the game. Wake Forest took that paper, balled it up, and chucked it in the trash.
If Louisville is going to treat this like their bowl game, then so should NC State. If they do, they will win.