Breaking Down NC State's Chances at a New Years Day Bowl
Prior to last night's updated College Football Playoff Rankings, NC State's chance of landing a Major New Years Day Bowl (NY6) were going to be an uphill battle. With the CFP committee bumping the Wolfpack from #21 to #14, an NY6 bowl became a much more likely scenario.
Joe Giglio of the News & Observer used his trusty Yellow Pad to break down how the Major Bowls would shake out if the season ended today.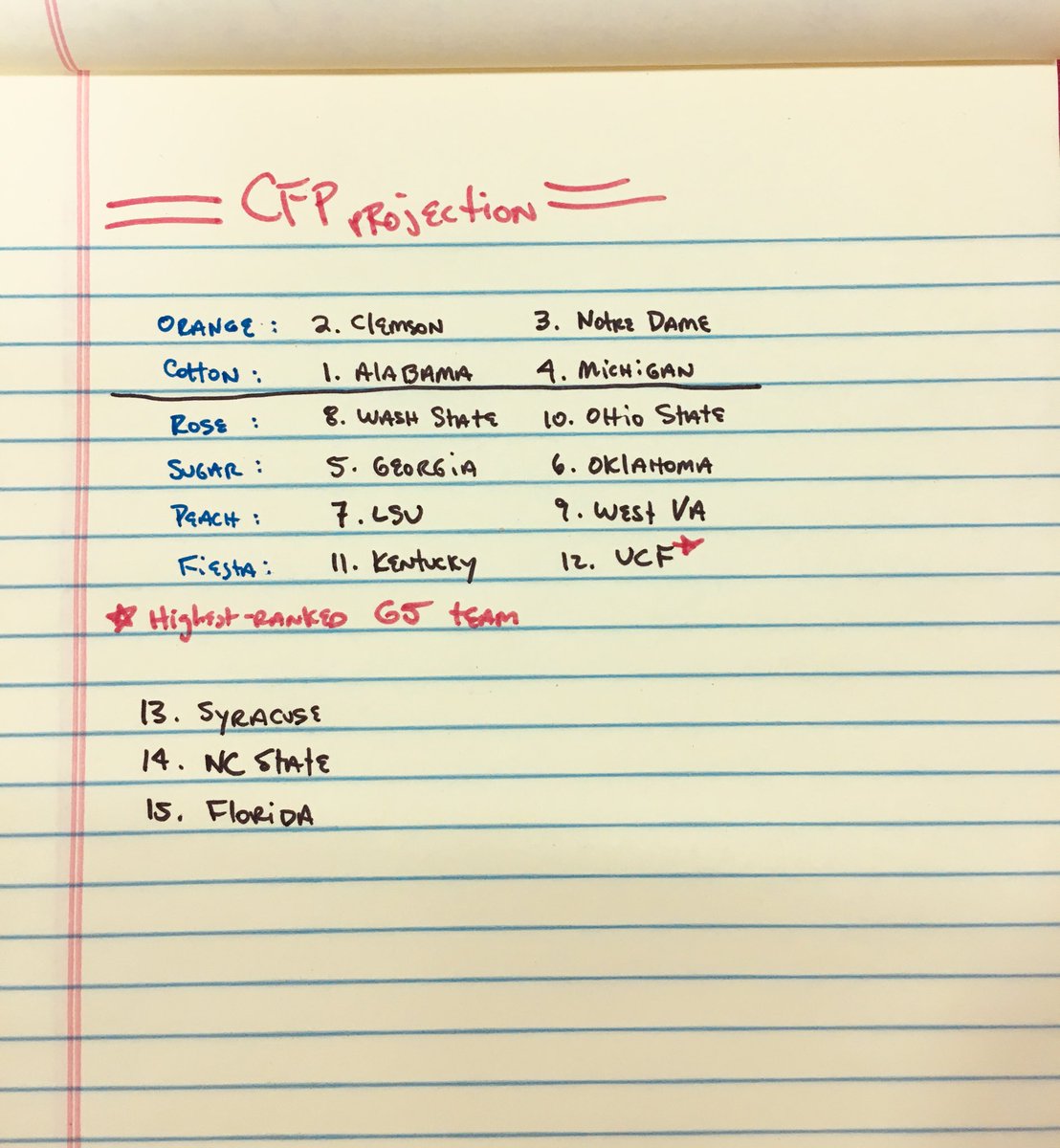 A few things have to break NC State's way in order for the Wolfpack to land in a Major Bowl, because the cards aren't stacked in their favor.
The Orange Bowl has an ACC tie-in, and if it weren't one of the two Bowls making up the College Football Playoff Semifinals this year, the #2 ACC team (according to the CFP rankings) would automatically be in the Orange Bowl on New Years Day. With the Orange dubbed as a CFP Semifinals host, the ACC technically doesn't have a tie-in to a Major Bowl in 2018.
So how does NC State land in a New Years Day Bowl?
For starters, the Wolfpack needs to win their 4 remaining regular season games: Wake Forest, Louisville, UNC and East Carolina.
Secondly, NC State most likely needs Syracuse to take an L. Even if one of the teams currently projected to go to one of the major bowls loses, the Orangemen sit one spot ahead of the Wolfpack in the rankings currently, giving them the next hypothetical spot. Syracuse still has to play #3 Notre Dame and #17 Boston College. Odds are they aren't winning out the next three games.
The Rose Bowl and the Sugar Bowl both have conference tie-ins that make them impossible landing spots for the Wolfpack. The Rose Bowl will be Big Ten vs. Pac-12, and the Sugar Bowl will be SEC vs. Big 12.
That leaves the Fiesta Bowl and Peach Bowl as the only two Major Bowls that are on the table. Neither one of them have a conference tie-in attached to them, and they will be filled with the remaining teams that are ranked the highest in the CFP Poll. The only team that is locked into either the Fiesta or Peach is the highest ranked Group of 5 school, which is currently #12 UCF.
As you can see from Joe's Yellow Pad breakdown above, if the season ended today, LSU, Kentucky and West Virginia are the three teams that would land in the Fiesta and Peach Bowls.
#11 Kentucky already has two losses, so one more loss, and they are out. Unfortunately, their remaining schedule is Tennessee, Middle Tennessee State and Louisville.
#7 LSU has two losses, but they have a good chance of winning out: Arkansas, Rice, Texas A&M.
#9 West Virginia, who NC State was slated to play earlier in the year, but was cancelled due to Hurricane Florence, only has one loss. The close to their season isn't an easy one. They have to play TCU, Oklahoma State, and finish with #6 Oklahoma. The most likely scenario is that they will have to play them again the very next week in the Big 12 Championship Game, but they could slip prior to that.
Teams that are currently projected in Major Bowls with conference tie-ins could slip in the upcoming weeks, shaking things up and opening up spots.
#6 Oklahoma (1 loss) has a rivalry game against Oklahoma State this weekend, followed by Kansas, then ending the regular season against #9 West Virginia.
#10 Ohio State (1 loss) has #18 Michigan State and #4 Michigan left on the schedule.
A lot can happen in the next three weeks.
Things could break NC State's way, and they could win out, and find a way into a Major Bowl on New Years Day. The Wolfpack have never played in a Major Bowl.
On the flip side, NC State could feasibly finish 10-2, and land in Orlando at the Camping World Bowl.
There is also a disastrous possibility that NC State underachieves, and finds a way to lose one of the next 4 games, against an opponent they will be double-digit favorites against. If that happens, I have wasted a lot of time writing this article.
It would be truly magical for NC State to land in a Major Bowl for the 1st time on New Year's Day.
The Wolfpack's next order of business is to beat Wake Forest on Thursday.
We will keep you up-to-date with all the different Wolfpack bowl scenarios as the upcoming weeks unfold.
NC State's Ryan Finley Posts the Best Wonderlic Score
NC State Quarterback Ryan Finley will hear his name called in the NFL Draft this week, which begins on Thursday.
I think it's been common knowledge that Finley is smart.
My man's not simply smart.
He's the smartest man in the draft according to the Wonderlic test.
Finley scored a 43, which wasn't simply the highest score amongst quarterbacks, but overall as well as far as we can see.
Defensive Line
39 Chase Allen
36 Zach Allen
31 Khalen Saunders
31 Jerry Tillery
31 John Cominsky
23 Trysten Hill
23 Joey Bosa
20 Ed Oliver
20 Dre'Mont Jones
19 Christian Wilkins
18 Jaylon Ferguson
17 Dexter Lawrence
14 Jeffery Simmons
13 Olive Sagapolu
11 Quinnen Williams
11 Gerald Willis
9 Rashan Gary

Linebacker
33 Ryan Connelly
31 Chase Winovich
30 Justin Hollins
27 Jordan Brailford
22 Brian Burns
21 Rickey Neal
21 Andy Van Ginkel
21 Clelin Ferrell
20 T.J. Edwards
19 Montez Sweat (re-test; scored 14 the first time)
18 James Nachtigal
17 Jachai Polite
15 Josh Allen

Offensive Line
42 Nick Alligretti
39 Jonah Williams
38 Dru Samia
35 Garrett Bradbury
34 Chuma Edoga
31 Max Scharping
29 Chris Lindstrom
28 Beau Benzschawel
28 Nate Trewyn
27 Oli Udoh
26 Erik McCoy
26 Ross Pierschbacher
26 Sepesitiano Pupungatoa​​​​​​
25 Kaleb McGary
24 Michael Deiter
22 Bobby Evans
21 Nate Davis​​​​​​
20 Jawaan Taylor
20 Greg Little
19 Elgton Jenkins
19 Colin Conner
18 Micah Kapoi

Quarterback
43 Ryan Finley (re-test; scored 28 the first time)
42 Gardner Minshew
37 Daniel Jones
32 Easton Stick
32 Clayton Thorson
31 Trace McSorley
30 Will Grier
28 Brett Rypien
27 Jarrett Stidham
26 Drew Lock
25 Tyree Jackson
25 Dwayne Haskins
22 Sean McGuire
20 Kyler Murray

Running Back
34 Alec Ingold (re-test; scored 32 the first time)
30 Justice Hill
25 Damien Harris
22 Bryce Love
21 Qadree Ollison
20 Josh Jacobs
18 Sam Seonbuchner​​​​​​
14 Chris James
12 Darrell Henderson

Safety
25 Mitchell Brees
13 D'Cota Dixon

Specialist
31 Spenser Thompson-Meyers
26 Emmit Carpenter
24 Casey Bednarski

Tight End
39 Zander Neuville
38 Dawson Knox
33 Drew Sample
25 Noah Fant
22 T.J. Hockenson
21 Irv Smith
16 Trevon Wesco
15 Kahale Warring

Wide Receiver
29 JJ. .Arcega-Whiteside
27 Hakeem Butler
26 Miles Boykin
24 N'Keal Harry
21 Marquise Brown
18 A.J. Brown
17 D.K. Metcalf
11 Preston Williams
9 Riley Ridley

Link
Here's Wikipedia's working definition of the Wonderlic:
The Wonderlic Personnel Test is a popular group intelligence test used to assess the aptitude of prospective employees for learning and problem-solving in a range of occupations. The Wonderlic is available in 12 different languages and is often used in college, entry level jobs, and team-making efforts. It consists of 50 multiple choice questions to be answered in 12 minutes.

Wiki