Breaking Down NC State's Chances at a New Years Day Bowl
Prior to last night's updated College Football Playoff Rankings, NC State's chance of landing a Major New Years Day Bowl (NY6) were going to be an uphill battle. With the CFP committee bumping the Wolfpack from #21 to #14, an NY6 bowl became a much more likely scenario.
Joe Giglio of the News & Observer used his trusty Yellow Pad to break down how the Major Bowls would shake out if the season ended today.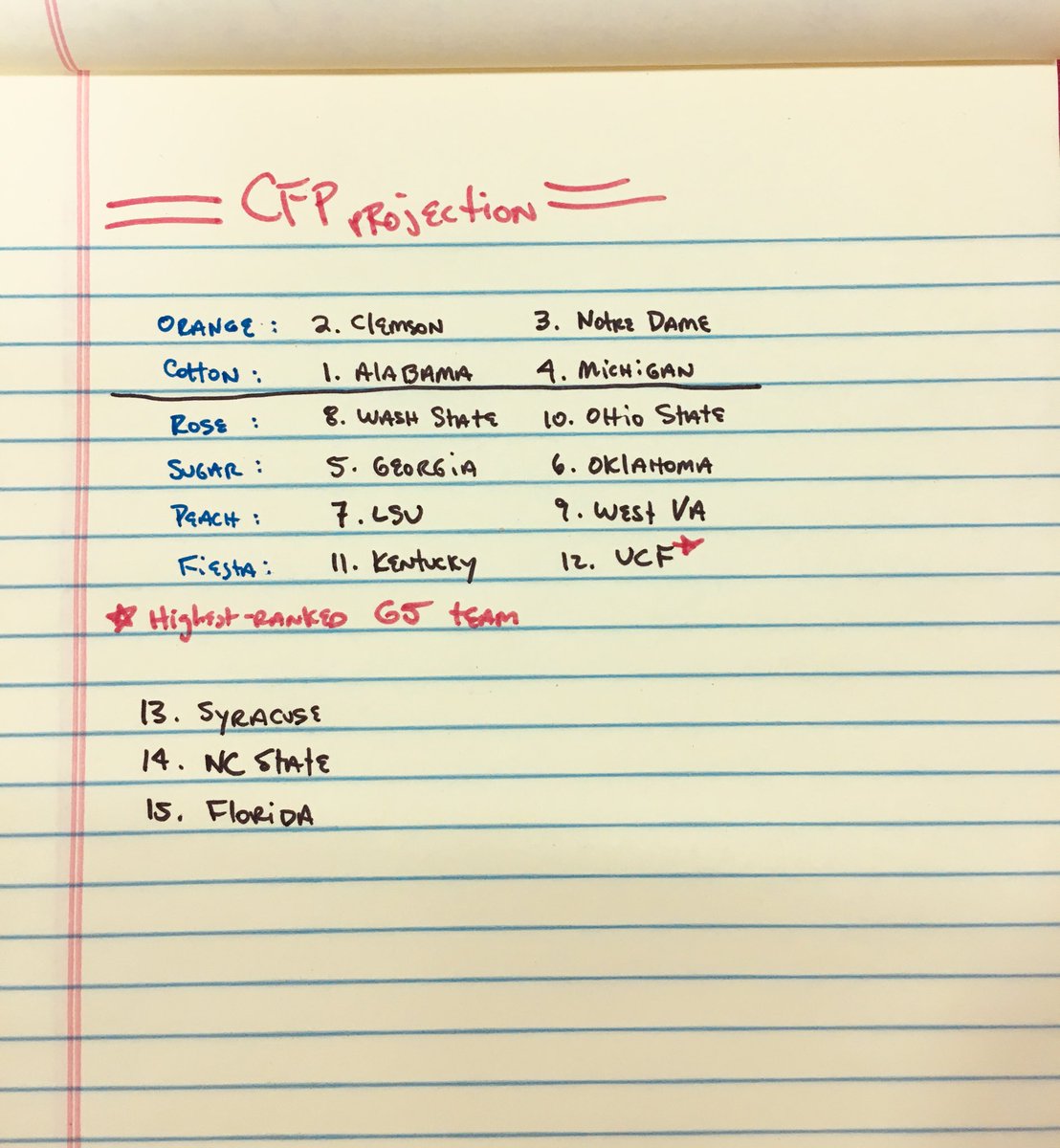 A few things have to break NC State's way in order for the Wolfpack to land in a Major Bowl, because the cards aren't stacked in their favor.
The Orange Bowl has an ACC tie-in, and if it weren't one of the two Bowls making up the College Football Playoff Semifinals this year, the #2 ACC team (according to the CFP rankings) would automatically be in the Orange Bowl on New Years Day. With the Orange dubbed as a CFP Semifinals host, the ACC technically doesn't have a tie-in to a Major Bowl in 2018.
So how does NC State land in a New Years Day Bowl?
For starters, the Wolfpack needs to win their 4 remaining regular season games: Wake Forest, Louisville, UNC and East Carolina.
Secondly, NC State most likely needs Syracuse to take an L. Even if one of the teams currently projected to go to one of the major bowls loses, the Orangemen sit one spot ahead of the Wolfpack in the rankings currently, giving them the next hypothetical spot. Syracuse still has to play #3 Notre Dame and #17 Boston College. Odds are they aren't winning out the next three games.
The Rose Bowl and the Sugar Bowl both have conference tie-ins that make them impossible landing spots for the Wolfpack. The Rose Bowl will be Big Ten vs. Pac-12, and the Sugar Bowl will be SEC vs. Big 12.
That leaves the Fiesta Bowl and Peach Bowl as the only two Major Bowls that are on the table. Neither one of them have a conference tie-in attached to them, and they will be filled with the remaining teams that are ranked the highest in the CFP Poll. The only team that is locked into either the Fiesta or Peach is the highest ranked Group of 5 school, which is currently #12 UCF.
As you can see from Joe's Yellow Pad breakdown above, if the season ended today, LSU, Kentucky and West Virginia are the three teams that would land in the Fiesta and Peach Bowls.
#11 Kentucky already has two losses, so one more loss, and they are out. Unfortunately, their remaining schedule is Tennessee, Middle Tennessee State and Louisville.
#7 LSU has two losses, but they have a good chance of winning out: Arkansas, Rice, Texas A&M.
#9 West Virginia, who NC State was slated to play earlier in the year, but was cancelled due to Hurricane Florence, only has one loss. The close to their season isn't an easy one. They have to play TCU, Oklahoma State, and finish with #6 Oklahoma. The most likely scenario is that they will have to play them again the very next week in the Big 12 Championship Game, but they could slip prior to that.
Teams that are currently projected in Major Bowls with conference tie-ins could slip in the upcoming weeks, shaking things up and opening up spots.
#6 Oklahoma (1 loss) has a rivalry game against Oklahoma State this weekend, followed by Kansas, then ending the regular season against #9 West Virginia.
#10 Ohio State (1 loss) has #18 Michigan State and #4 Michigan left on the schedule.
A lot can happen in the next three weeks.
Things could break NC State's way, and they could win out, and find a way into a Major Bowl on New Years Day. The Wolfpack have never played in a Major Bowl.
On the flip side, NC State could feasibly finish 10-2, and land in Orlando at the Camping World Bowl.
There is also a disastrous possibility that NC State underachieves, and finds a way to lose one of the next 4 games, against an opponent they will be double-digit favorites against. If that happens, I have wasted a lot of time writing this article.
It would be truly magical for NC State to land in a Major Bowl for the 1st time on New Year's Day.
The Wolfpack's next order of business is to beat Wake Forest on Thursday.
We will keep you up-to-date with all the different Wolfpack bowl scenarios as the upcoming weeks unfold.
NC State Hires Todd Goebbel as TE Coach & Special Teams Coordinator
Raleigh, NC — NC State head football coach Dave Doeren has announced that Todd Goebbel has joined the Wolfpack staff as tight ends coach/special teams coordinator. Goebbel, who comes to Raleigh after spending the last five seasons at Marshall, brings experience as a special teams coordinator, offensive coordinator, recruiting coordinator and has also coached a variety of positions on offense during his career.
"What drew me to Todd was how impressed I've been with Marshall's special teams when we've played them each of the past two years," said Doeren. "I'm excited to add a guy to our staff who has great knowledge in the kicking game – running all of the units and coaching the specialists- and who also knows how to coach multiple positions on offense. He has developed players at tight end, quarterback and wide receiver during his career.
"He is known as a terrific recruiter and I was blown away by his organization, teaching method, passion for the game, and relationship-building skills."
Goebbel comes from a coaching family, as his father Mike has spent 40+ years in the high school ranks and coached two-time Heisman Trophy winner Archie Griffin when he was a prep player in Columbus, Ohio. His brother Kyle is a high school coach while his brother Aaron serves as an Associate Athletic Director at Marshall.
Goebbel, who has been recruiting the South Georgia/North & Southwest Florida/Ohio areas, has coached a variety of positions on offense and worked with special teams at Marshall during his recent stint with the Herd.
"My family and I would like thank Coach Doeren and NC State for giving us the opportunity to join the rich Wolfpack tradition and this special football family," said Goebbel. "I have had great respect for what he has built, both on and off the field, and I am excited to be on this coaching staff that is completely committed to bringing a championship to Raleigh. 1Pack1Goal!"
In 2018, he mentored tight end Armani Levias who was named an honorable mention All-Conference USA selection after finishing third on the team with 25 catches, 327 receiving yards and three touchdowns.
In 2017, quarterback Chase Litton finished his three-year career as one of the most prolific passers in Marshall's history, ranking fourth all-time in completions (727) and touchdowns (72) and fifth in passing yards (8,332).
Under Goebbel's eyes, Marshall's special teams were superb, too, leading the nation in ESPN.com's Special Teams efficiency rating in 2015 and finishing 21st (second in Conference USA) in 2018, when Thundering Herd long snapper Matt Beardall was also named a first-team all-league pick.
As recruiting coordinator in 2016, Marshall inked four four-star prospects for the first time in its history and followed that effort with two more four-stars in 2017. That class also produced Levias and two-time first-team all-league selection Tyre Brady, who was a dynamic talent at wide receiver.
In 2015, as the Herd finished 10-3 and won its fifth straight postseason game in the St. Petersburg Bowl, Goebbel coached sophomore tight end Ryan Yurachek, who finished as Marshall's No. 3 receiver with 44 catches for 417 yards and nine touchdowns. Those nine TDs led the Herd.
Kick and punt returner Deandre Reaves was the Conference USA Special Teams Player of the Year and finished his career as MU's all-time leader in kick return yards. Reaves averaged 30.1 yards on kick returns and scored three TDs on returns (two kicks, one punt, tying the school mark).
Punter Tyler Williams averaged 44.4 yards per kick and closed his four-year career with the Herd's punt yardage record (43.9), while four-year long snapper Matt Cincotta finished his career with 569 snaps … and no bad ones. Williams and Cincotta were All-C-USA second team selections.
Goebbel spent five seasons (2010-14) as the assistant head coach/offensive coordinator at Ohio Dominican University, where he had 15 players earn All-GLIAC honors.
In 2014, Goebbel helped lead Dominican to an 11-2 mark, an NCAA regional final appearance and a No. 4 finish in both the American Football Coaches Association (AFCA) and D2Football.com poll. He also directed quarterback Mark Miller, who finished seventh in voting for the Harlon Hill Trophy, which is presented annually to the best player in NCAA Division II.
Goebbel's offense averaged 35.6 points and 445.3 yards per game, led the country in completion percentage (67.9) and was second nationally in red zone offense (90.9 percent).
In 2013, Dominican finished 10-1 and was Great Lakes Intercollegiate Athletic Conference (GLIAC) champions. Goebbel led an offense that was also top 10 nationally and part of a team that made a second-round appearance in the Division II playoffs.
In 2012, as ODU finished amongst the nation's best in scoring offense, averaging 40.8 points per game to rank 12th in the country. The Panthers ranked 13th nationally in rushing yards (244.9 per game), 27th in total offense( 452.8 yards per game) and eighth in passing efficiency (161.0) while allowing just six sacks all season, the fifth-best mark in the country.
Under Goebbel's tutelage, Ohio Dominican enjoyed its most prolific rushing attack in school history. Running back Mike Noffsinger set the school single-season and career rushing records and was honored as a Hill Trophy candidate in 2011.
Goebbel had previously spent five seasons (2005-09) at Marshall as receivers coach. During that time, Marshall saw steady improvement among its receiving corps and on special teams, which Goebbel coached for his first three years. In 2009, he coached wide receiver Darius Passmore, a second-team all-conference performer, as well as Antavius Wilson, how was named to the all-freshman team at wideout.
Prior to his first stint at Marshall, Goebbel served as Ohio State's defensive quality control coach for one season (2004), coaching the specialists and assisting with special teams.
In 2002 and 2003, he served as offensive coordinator and recruiting coordinator at Quincy University. During those two seasons, Quincy was ranked 13th and 10th nationally in total offense. From 2000-01 he was the quarterbacks and wide receivers coach at Tiffin University and he coached tight ends at the College of Wooster in 1999.
A Delaware, Ohio, native, Goebbel attended Kent State University, where he was a three-year starter at quarterback for the Golden Flashes, winning MVP honors as a sophomore in 1996 and serving as team captain as a junior in 1997.
Following the 1997 season, Goebbel transferred to Northern Iowa, where he was the starting quarterback in 1998 and earned Gateway Conference Newcomer of the Year honors. He graduated from Northern Iowa in 1998 and briefly played for the Buffalo Destroyers of the Arena Football League.
He holds a bachelor's degree in Physical Education from Northern Iowa and a master's degree in Educational Leadership from Quincy University.
Goebbel and his wife, Sara, have two sons, Tyler (10) and Drew (5).
Year by Year with Todd Goebbel
2015-18 Marshall TEs (2015, 2018), Special Teams (2015, 2018), Co-offensive coordinator (2017, 2018), WRs (2016), QBs (2017)
2010-14 Ohio Dominican Asst. Head Coach/Offensive coordinator
2005-09 Marshall WR/Special Teams
2004 Ohio State Defensive quality control
2002-03 Quincy University Offensive coordinator/Rec. Coordinator
2000-01 Tiffin University QB/WR
1999 College of Wooster TE