Breaking Down NC State's Chances at a New Years Day Bowl
Prior to last night's updated College Football Playoff Rankings, NC State's chance of landing a Major New Years Day Bowl (NY6) were going to be an uphill battle. With the CFP committee bumping the Wolfpack from #21 to #14, an NY6 bowl became a much more likely scenario.
Joe Giglio of the News & Observer used his trusty Yellow Pad to break down how the Major Bowls would shake out if the season ended today.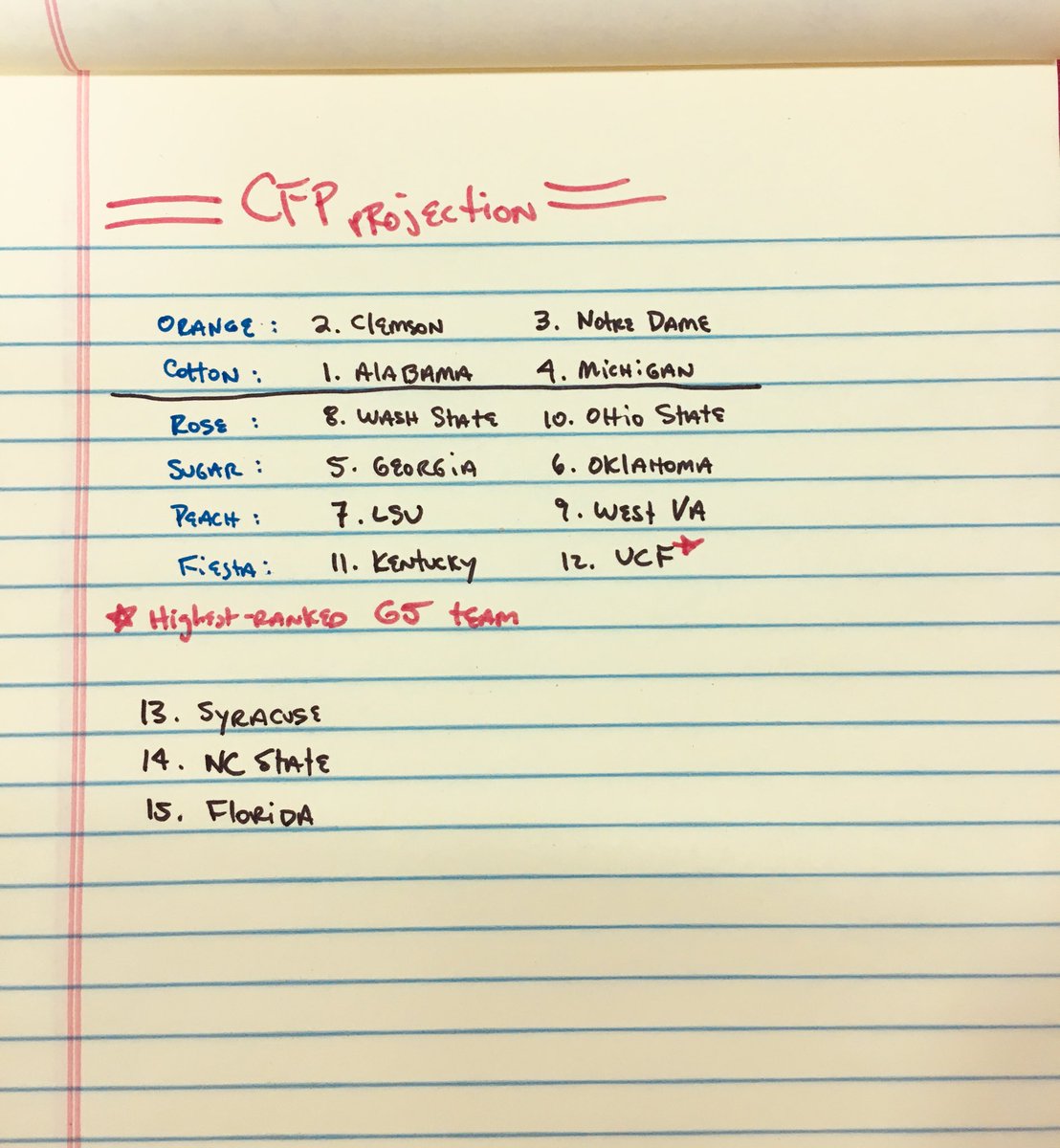 A few things have to break NC State's way in order for the Wolfpack to land in a Major Bowl, because the cards aren't stacked in their favor.
The Orange Bowl has an ACC tie-in, and if it weren't one of the two Bowls making up the College Football Playoff Semifinals this year, the #2 ACC team (according to the CFP rankings) would automatically be in the Orange Bowl on New Years Day. With the Orange dubbed as a CFP Semifinals host, the ACC technically doesn't have a tie-in to a Major Bowl in 2018.
So how does NC State land in a New Years Day Bowl?
For starters, the Wolfpack needs to win their 4 remaining regular season games: Wake Forest, Louisville, UNC and East Carolina.
Secondly, NC State most likely needs Syracuse to take an L. Even if one of the teams currently projected to go to one of the major bowls loses, the Orangemen sit one spot ahead of the Wolfpack in the rankings currently, giving them the next hypothetical spot. Syracuse still has to play #3 Notre Dame and #17 Boston College. Odds are they aren't winning out the next three games.
The Rose Bowl and the Sugar Bowl both have conference tie-ins that make them impossible landing spots for the Wolfpack. The Rose Bowl will be Big Ten vs. Pac-12, and the Sugar Bowl will be SEC vs. Big 12.
That leaves the Fiesta Bowl and Peach Bowl as the only two Major Bowls that are on the table. Neither one of them have a conference tie-in attached to them, and they will be filled with the remaining teams that are ranked the highest in the CFP Poll. The only team that is locked into either the Fiesta or Peach is the highest ranked Group of 5 school, which is currently #12 UCF.
As you can see from Joe's Yellow Pad breakdown above, if the season ended today, LSU, Kentucky and West Virginia are the three teams that would land in the Fiesta and Peach Bowls.
#11 Kentucky already has two losses, so one more loss, and they are out. Unfortunately, their remaining schedule is Tennessee, Middle Tennessee State and Louisville.
#7 LSU has two losses, but they have a good chance of winning out: Arkansas, Rice, Texas A&M.
#9 West Virginia, who NC State was slated to play earlier in the year, but was cancelled due to Hurricane Florence, only has one loss. The close to their season isn't an easy one. They have to play TCU, Oklahoma State, and finish with #6 Oklahoma. The most likely scenario is that they will have to play them again the very next week in the Big 12 Championship Game, but they could slip prior to that.
Teams that are currently projected in Major Bowls with conference tie-ins could slip in the upcoming weeks, shaking things up and opening up spots.
#6 Oklahoma (1 loss) has a rivalry game against Oklahoma State this weekend, followed by Kansas, then ending the regular season against #9 West Virginia.
#10 Ohio State (1 loss) has #18 Michigan State and #4 Michigan left on the schedule.
A lot can happen in the next three weeks.
Things could break NC State's way, and they could win out, and find a way into a Major Bowl on New Years Day. The Wolfpack have never played in a Major Bowl.
On the flip side, NC State could feasibly finish 10-2, and land in Orlando at the Camping World Bowl.
There is also a disastrous possibility that NC State underachieves, and finds a way to lose one of the next 4 games, against an opponent they will be double-digit favorites against. If that happens, I have wasted a lot of time writing this article.
It would be truly magical for NC State to land in a Major Bowl for the 1st time on New Year's Day.
The Wolfpack's next order of business is to beat Wake Forest on Thursday.
We will keep you up-to-date with all the different Wolfpack bowl scenarios as the upcoming weeks unfold.
Previewing NC State's Opponent: Louisville
Louisville has not been NC State's friend over the years, beating the Wolfpack 6 times in 8 opportunities (3-1 as ACC foes).
Louisville, Kentucky, has not been kind to NC State. The Wolfpack have never won a game on the road against the Cardinals (0-4).
Last year's 39-25 victory on a Thursday night marked NC State's 1st victory over Louisville as ACC opponents, snapping a 3-game losing streak. The Wolfpack will look to start a streak of their own today.
This Louisville team is a far cry from the teams led by Lamar Jackson.
The Cardinals have been in a life-without-Lamar hangover all year, entering today's game on a 7-game losing streak, and a 2-8 overall record.
During the 7-game losing streak, Louisville's opponents are averaging 48.7 points, 322.2 rushing yards, 501.2 total yards per game, and their turnover margin has been -8.
Louisville practically ranks in the 100's in every statistical category on the year.
Despite the horrific stats, especially on defense, the Louisville offense has proven capable sporadically in 2018, producing over 400 yards of total offense in 4 of their ACC games:
Florida State – 421 yards
Georgia Tech – 483 yards
Wake Forest – 532 yards
Syracuse – 413 yards
The Cardinals deploy 2 quarterbacks on a weekly basis: Sophomore Jawon Pass and Freshman Malik Cunningham. Pass serves as Louisville's primary passer (no pun intended), and Cunningham primarily comes in to run the ball. In fact, Cunningham leads the Cardinals in carries (60), rushing yards (308), and is averaging 5.1 yards per carry. Pass has only completed 54.3% of his attempts for 1,893 yards and 8 touchdowns (11 interceptions).
Senior Jaylen Smith, Lamar Jackson's favorite target, is still around, but he's missing his former quarterback tremendously. After earning 1st Team All-ACC honors in 2017, Smith only has 31 receptions (team lead) for 463 yards and (team lead) a touchdown.
Junior Trey Smith is the starter at Running Back, and has been successful when given the chance, averaging 5.3 yards per carry, but his touches have been limited with the Cardinals having to chase points nearly every game.
Pretty much the only respectable aspect of Louisville football right now is their pass defense, which ranks 22nd nationally. I would be remiss not to mention the fact that Sophomore Rodjay Burns is an extremely dangerous punt returner, averaging 16.4 yards per return. He ranks 2nd in the ACC and 10th nationally.
Life without Lamar Jackson has been bleak, but what will life without former head coach Bobby Petrino be like? Can interim head coach Lorenzo Ward wake up this Cardinals squad to protect their house, and finish the year strong?
On paper, NC State should make easy work of Louisville, but as we learned last week, there's a reason you play the game. Wake Forest took that paper, balled it up, and chucked it in the trash.
If Louisville is going to treat this like their bowl game, then so should NC State. If they do, they will win.