The Details for the NC State Football Spring Game this Saturday
RALEIGH, N.C. – The 2019 Kay Yow Spring Football Game, scheduled for April 6 at 1 p.m. at Carter-Finley Stadium, will once again provide fun for everyone in the family this season, as well as a great chance to see the football squad for the first time this year.
Admission is free and the Stadium East, Stadium Southeast, Stadium West and IPF lots will open at 8 a.m. Fans are encouraged to enter through Gate C, Gate B and Gate F (Westchase). Stadium gates 2, 3, 4, 7, 8, and 9 will open at 11:30 a.m. NC State's regular Clear Bag Policy will be enforced and due to a concert at PNC Arena following the event, the parking lots will need to be cleared by 4 p.m.
This year's contest will feature the offense in RED and the defense in WHITE with live tackling. The game clock will operate like a normal game in the first and second quarter, while the third and fourth quarters will have a continuous clock. Whatever end zone the player scores in will receive the points, as the offense will rotate end zones they are driving each possession.
Afterwards, players and coaches will be available on the field for autographs for 20 minutes.
Fans unable to attend can watch all the action on ACC Network Extra and WatchESPN. Former Wolfpack QB Mike Glennon, currently of the Oakland Raiders, will be joined by Andrew Sanders and Will Brinson in the booth to call the action. To watch, click HERE.
Below is a list of the activities available surrounding the game:
WOLFPACK FAN ZONE
The Wolfpack Fan Zone will be open from 11:30 a.m. – 1:30 p.m. on the East Concourse near Gate 6, and will boast a variety of interactive activities, including face painters, balloon artists, inflatables, and a Curtains Up photo booth. Representatives from the NC State Ticket Office and Wolfpack Club will be on hand to answer questions about 2019 Wolfpack Football tickets.
SURVIVOR TUNNEL
In partnership with the Kay Yow Cancer Fund, NC State Athletics invites all those who are battling cancer, cancer survivors and their families to participate in an on-field survivor celebration tunnel during the team introductions.
Although there will be no cash donations collected at the event this year, fans are encouraged to give online at https://support.kayyow.com/GoPack19
WOLFPUP DASH
After the game, kids 8th grade and under are invited to come down to Wayne Day Family Field to participate in the Wolfpup Dash. Kids will be able to line up at the 20-yard line and run into the endzone to score a touchdown like their favorite 'Pack Football player.
Those interested in participating should report to the top of Section 219 with 10 minutes left in the 4 th quarter. When the game is over, they will be escorted down to the field by a marketing staff member. NC State Athletics requires that each participant turn in a completed waiver which can be found HERE. Please sign and bring with you to expedite participation on gameday.
STUDENT COMBINE
The top two teams from the semi-final round will compete to be crowned the NC State Student Combine Champions at halftime of the Kay Yow Spring Game.
NC State's Depth Chart vs. Louisville (with Notes)
NC State has released their Depth Chart for their matchup against Louisville this Friday night.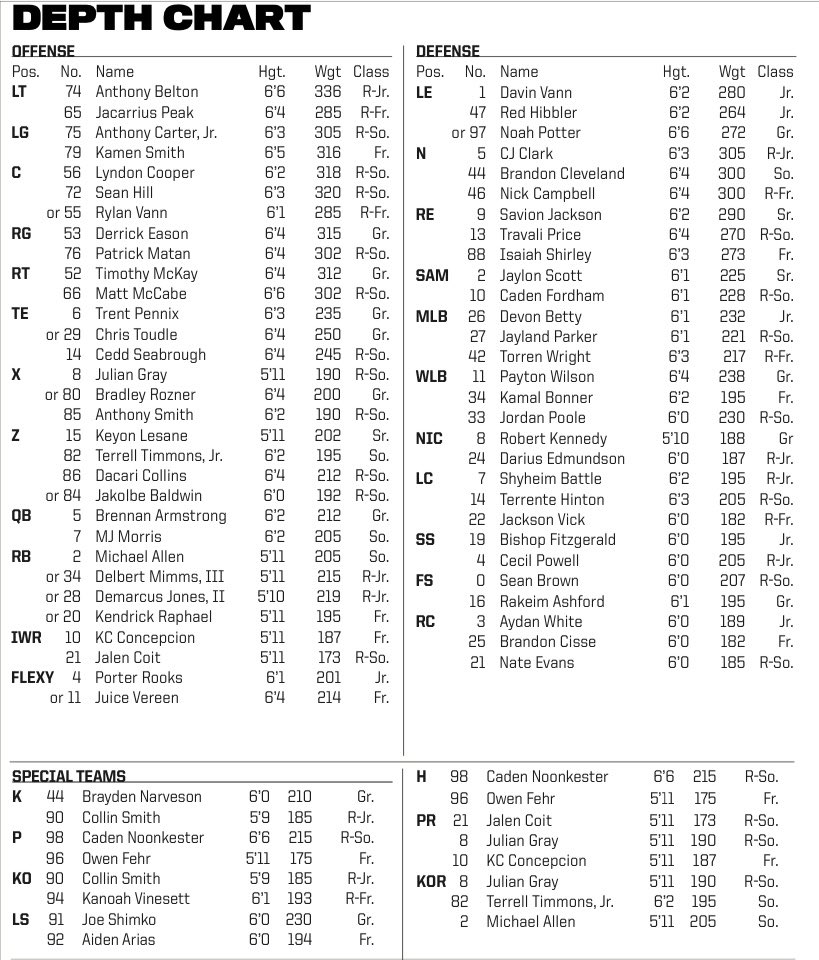 Notes
Starting Center Dylan McMahon isn't listed on the Depth Chart. Wolfpack head coach Dave Doeren said that McMahon is still "day-to-day."

As a result, Lyndon Cooper will be starting at Center once again.

Starting Strong Safety Devan Boykin had to leave the game almost immediately last Friday night up at UVA. He is not listed on the Depth Chart, but thankfully, it doesn't seem like something major. According to Doeren, it's not very likely that Boykin will be able to play Friday, but it hasn't been completely ruled out.

As a result, Bishop Fitzgerald will be starting at Strong Safety.

The Depth Chart for the Running Backs is a hoot. While Michael Allen is listed at the top, there is an "or" in between everyone's name, treating everyone as if they are starters.
Last week, Cecil Powell was listed as the third string Nickel, but Doeren said after the UVA game that he had been serving as Boykin's backup at Strong Safety that week in practice. Both went out of the game due to injuries.

This weeks depth chart reflects the fact that he'd been getting run at Strong Safety last week. He's listed as Bishop Fitzgerald's backup at SS.

Last week Rakeim Ashford was listed as the backup at Strong Safety, and now he is listed as the backup at Free Safety.