#2 NC State vs. #12 Louisville: Battle for the Atlantic
Tonight #2 NC State (29-5) will host #12 Louisville (25-8) for a Battle for the Atlantic Division, beginning a 3-game series.
The Wolfpack boast the best ACC record in the Atlantic, and ultimately the conference.
NC State – 12-3
Clemson – 11-4
Louisville – 10-5
While NC State only holds a 1-game advantage over Clemson, winning their 8th consecutive series would put some healthy distance between them and the Cardinals in the standings.
Louisville was the preseason favorite to win the ACC in 2019. Last year the Wolfpack took 2 out of 3 against the Cardinals, marking the first time they ever beat them in a series.
Times: 6:30 p.m. (Fri.), 2 p.m. (Sat.), 1 p.m. (Sun.)
TV: ACC Network Extra
STARTING PITCHERS
Friday: RHP Jason Parker (NCSU) vs. LHP Reid Detmers (LOU)
Saturday: RHP Reid Johnston (NCSU) vs. LHP Nick Bennett (LOU)
Sunday: TBA (NCSU) vs. RHP Bobby Miller (LOU)

Tonight Parker will have his hands full against Detmers, who was D1Baseball's Midseason Pitcher of the Year. Detmers boasts a 5-2 record, and a 1.65 ERA, striking out 86 batters in 54.2 innings of work. Parker's 1.98 ERA isn't shabby either.
The question of the weekend will be whether or not NC State's bats can keep up with Louisville's arms. The Cardinals boast the best pitching staff in the ACC, leading the conference in ERA (2.97).
Hopefully NC State's balance will prevail, currently ranking 3rd as a team in batting average, and ERA. Louisville's bats are mediocre in 2019, ranking 11th in the conference, hitting a measly .258 as a squad.
NC State Releases 2020 Baseball Schedule
The NC State 2020 Baseball schedule was released today.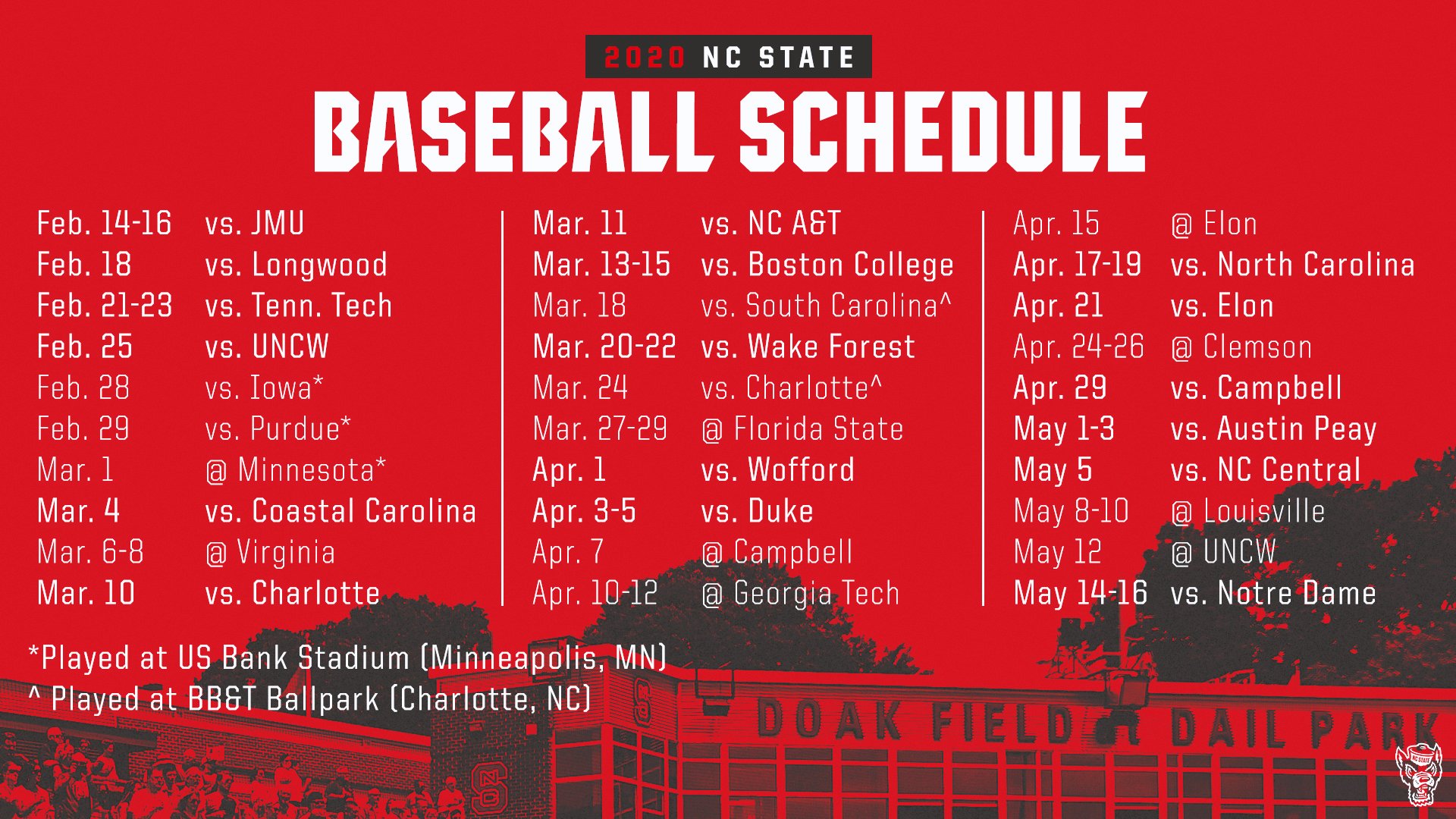 The schedule features 23 games against 2019 NCAA Tournament opponents, including three-game series at Florida State and Louisville, who both advanced to the College World Series last season. The Wolfpack's slate additionally features 13 opponents and a combined 31 games against teams that finished the 2019 season among the top 100 of the NCAA RPI.

NC State's nonconference schedule is highlighted by games against Iowa, Minnesota and Purdue Feb. 28-March 1 at the US Bank Stadium, home of the Minnesota Vikings. The weekend in Minneapolis is a part of the ACC/Big Ten Challenge. The Pack will also play a pair of games at BB&T Ballpark in Charlotte, N.C., home of the Charlotte Knights, AAA affiliate of the Chicago White Sox, against Charlotte and South Carolina March 18 and 24, respectively. (GoPack)
NC State finished the 2019 season with a 42-19 record, and a 18-12 conference record. They finished the regular season ranked 13th nationally, and 3rd in the ACC.
The Wolfpack finished the year ranked 21st in the final Collegiate Baseball Rankings.