NC State Baseball's Game With Campbell Postponed To Saturday At Noon
GREENVILLE, N.C. – After two lengthy delays due to rain and lightning, No. 15 NC State baseball's game versus Campbell in the NCAA Greenville Regional at Clark-LeClair Stadium has been postponed to 12 p.m. Saturday.
The game was first halted at 2:21 p.m. due to lightning in the bottom of the eighth after a leadoff homer by Jonny Butler to cut NC State's deficit to 5-4. Play resumed at 3:40 p.m., but 28 minutes later after the completion of the top of the ninth, the contest was paused again due to heavy rain.
Almost six hours later, the decision was ultimately made to play the final half inning at noon Saturday. The teams will resume play in the bottom of the ninth with no outs and the Camels holding a 5-4 advantage.
Fans will need to bring their "Session One" tickets to attend the rest of the NC State vs. Campbell game.
No. 9 East Carolina and Quinnipiac will play at 4 p.m. and the rest of the weekend schedule is to be announced.
All games will be broadcast on ESPN3 and there will be a live audio stream on WKNC 88.1 FM.
NC State Releases 2020 Baseball Schedule
The NC State 2020 Baseball schedule was released today.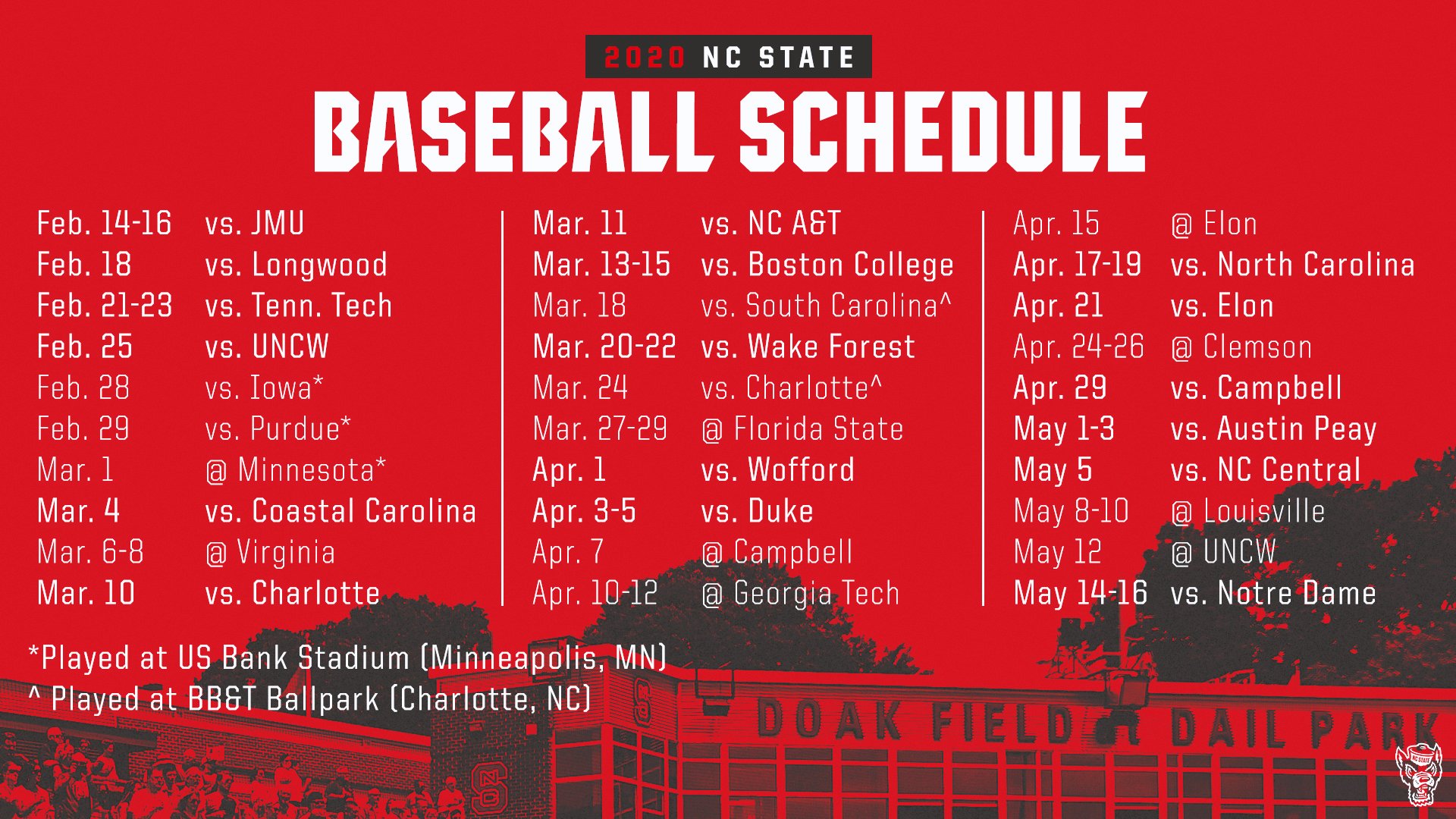 The schedule features 23 games against 2019 NCAA Tournament opponents, including three-game series at Florida State and Louisville, who both advanced to the College World Series last season. The Wolfpack's slate additionally features 13 opponents and a combined 31 games against teams that finished the 2019 season among the top 100 of the NCAA RPI.

NC State's nonconference schedule is highlighted by games against Iowa, Minnesota and Purdue Feb. 28-March 1 at the US Bank Stadium, home of the Minnesota Vikings. The weekend in Minneapolis is a part of the ACC/Big Ten Challenge. The Pack will also play a pair of games at BB&T Ballpark in Charlotte, N.C., home of the Charlotte Knights, AAA affiliate of the Chicago White Sox, against Charlotte and South Carolina March 18 and 24, respectively. (GoPack)
NC State finished the 2019 season with a 42-19 record, and a 18-12 conference record. They finished the regular season ranked 13th nationally, and 3rd in the ACC.
The Wolfpack finished the year ranked 21st in the final Collegiate Baseball Rankings.