Six NC State Players Selected On Day Three Of 2019 MLB Draft
RALEIGH – NC State baseball pitchers Alec Barger, Michael Bienlien, Andrew Blake, Evan Justice and Jason Parker alongside outfielder Thayer Thomas were selected on the third and final day of the 2019 Major League Baseball (MLB) Draft on Wednesday.
In total, the Wolfpack had a total of eight players drafted this week. In his 23rd season at the helm of the program, Elliott Avent has had a combined 113 MLB Draft picks.
This year's eight picks are the second-most in program history in a single season, as it ties the eight drafted in 2006 and '17 and is just one shy the nine selected in 2008.
Additionally, #Pack9 signees Blake Walston (1stround, 26th pick), Noah Soles (19th round, 572ndpick) and Jose Torres (24th round, 733rd pick), as well as junior college transfer Andy Samuelson (12th round, 367th pick) were all drafted this week. Walston and Soles were both selected to the Arizona Diamondbacks while Samuelson and Torres went to the Atlanta Braves and Milwaukee Brewers, respectively.
Jason Parker | RHP | New Bern, N.C.
16th round – 474th pick – Cincinnati Reds
Parker, who played two years at Louisburg Junior College prior to this season, led the pitching staff with 16 starts. He finished the year with a 4.38 ERA and 70 strikeouts in 76.0 innings, the second-best on the team. The North Carolina native earned four wins on the mound, and his career-best outing was when he went seven strong against then-No. 1 Florida State and struck out 10.
Alec Barger | RHP | Savoy, Ill.
17th round – 517th pick – Atlanta Braves
Barger spent two seasons at Polk State Community College before transferring to NC State for the 2019 season. He made 17 appearances, including six starts, and finished with a 2-2 record on the mound. Barger compiled a 6.14 earned-run average in 29.1 innings with 35 strikeouts, and his best outing of the season was vs. Elon on March 26 when he went a career-long 5.0 innings and fanned 10.
Andrew Blake | RHP | Lewisville, N.C.
21st round – 631st pick – Los Angeles Angels
Blake spent his first two seasons at Pitt Community College. In his junior year at NC State he picked up the win vs. Pitt after throwing 4.1 innings without allowing a run to score. His longest outing was on March 29 when he went 4.2 innings and fanned six. He finished the 2019 season with a 4.79 ERA and 26 strikeouts in 20.2 innings.
Michael Bienlien | RHP | Chesapeake, Va.
24th round – 712th pick – Detroit Tigers
Bienlien has made 19 career starts and 53 appearances in his three seasons with the Red and White. He owns a career 5.16 ERA and nine wins in 113.0 innings pitched. His career-long outing was at Notre Dame on April 2, 2017, when he tossed 7.0 innings, and additionally tallied a career-high six strikeouts on two separate occasions.
Thayer Thomas | OF | Wake Forest, N.C.
33rd round – 1007th pick – Boston Red Sox
Thomas, who also plays for the football team, made 14 game appearances in his first season, including four starts as an outfielder. At the plate he batted .222 with four hits and a .500 slugging percentage, and defensively tallied eight putouts with a 1.000 fielding percentage. His best game of the season was on March 9 vs. Pittsburgh when we went 2-for-2 with a double and home run, driving in a pair of runs while scoring two of his own.
Evan Justice | LHP | Richmond, Va.
39th round – 1161st pick – Miami Marlins
Justice led the Wolfpack's bullpen with 29 appearances this season, coming away with four wins, and his 36 K's were the second-most out of the pen. On Feb. 22 vs. Kent State the sophomore went a career-long 4.0 innings and fanned a career-best five. Overall, he owns a 5.60 career ERA and six wins in 45 appearances and 64.1 innings pitched.
NC State Releases 2020 Baseball Schedule
The NC State 2020 Baseball schedule was released today.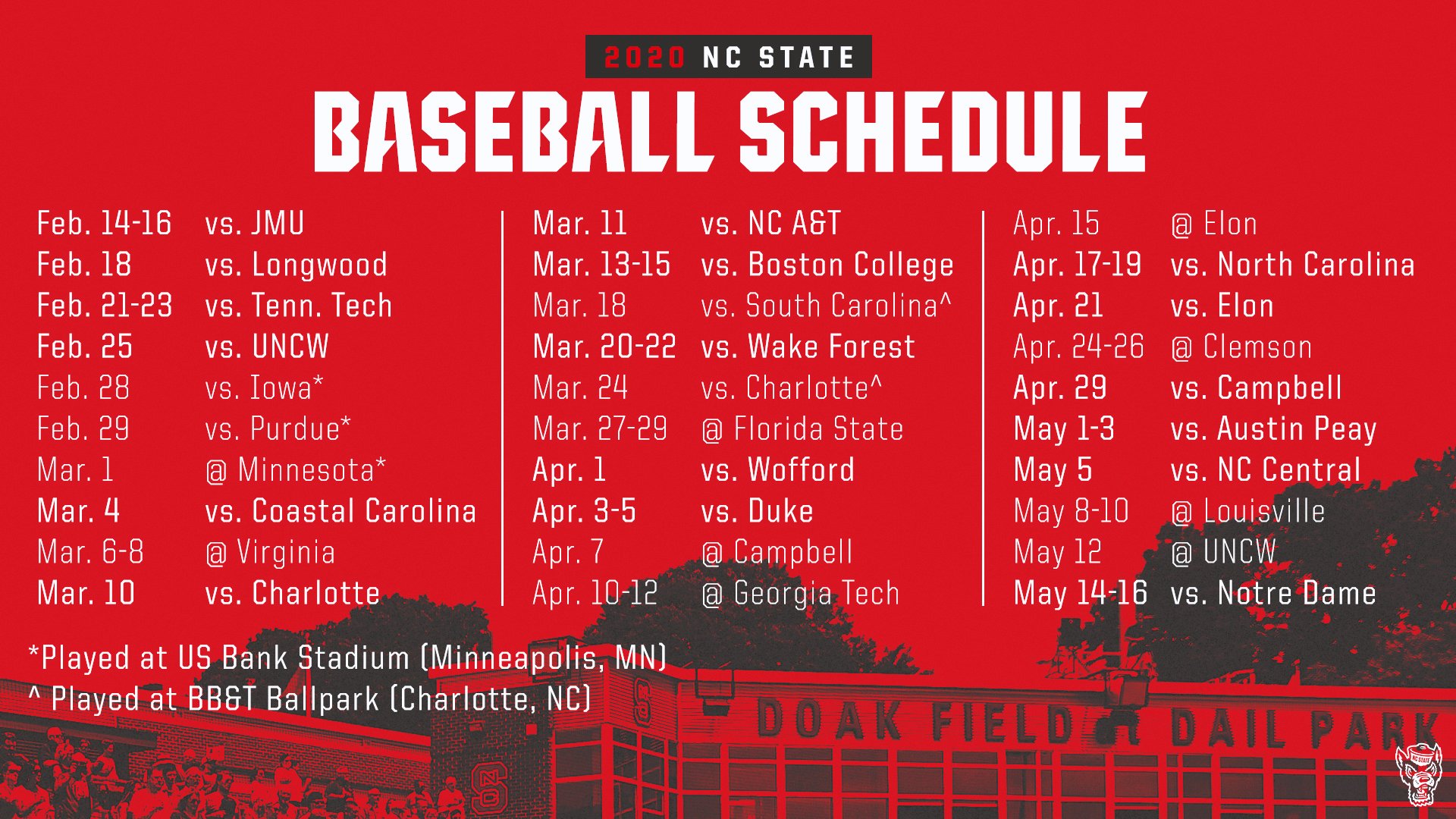 The schedule features 23 games against 2019 NCAA Tournament opponents, including three-game series at Florida State and Louisville, who both advanced to the College World Series last season. The Wolfpack's slate additionally features 13 opponents and a combined 31 games against teams that finished the 2019 season among the top 100 of the NCAA RPI.

NC State's nonconference schedule is highlighted by games against Iowa, Minnesota and Purdue Feb. 28-March 1 at the US Bank Stadium, home of the Minnesota Vikings. The weekend in Minneapolis is a part of the ACC/Big Ten Challenge. The Pack will also play a pair of games at BB&T Ballpark in Charlotte, N.C., home of the Charlotte Knights, AAA affiliate of the Chicago White Sox, against Charlotte and South Carolina March 18 and 24, respectively. (GoPack)
NC State finished the 2019 season with a 42-19 record, and a 18-12 conference record. They finished the regular season ranked 13th nationally, and 3rd in the ACC.
The Wolfpack finished the year ranked 21st in the final Collegiate Baseball Rankings.