RELEASE: NC State & Boo Coorigan Make Statements on NCAA's Notice of Allegations
RELEASE:
On July 9, 2019, NC State University received a Notice of Allegations from the NCAA outlining allegations of rule violations related to the men's basketball program under the direction of former head coach Mark Gottfried during the 2014-2017 timeframe. The notice is attached.

NC State has strong and clear compliance policies, and puts extensive effort into annual training and education to ensure coaches and athletes are fully aware of those policies and NCAA rules. All four allegations are tied to former coaches who were well educated about the rules and knew the rules, and if the allegations are true, those coaches chose to break the rules. No current coaches are named or implicated in the allegations.

The Notice of Allegations is the expected next step in an NCAA process following the federal government's inquiry into college basketball. NC State received a verbal Notice of Inquiry from the NCAA in October 2018. NC State has voluntarily and fully cooperated, and will continue to fully cooperate, with the NCAA throughout this process.

NC State has 90 days from receipt of the notice to provide a written response, after which the NCAA will set a hearing date. The university is reviewing the allegations and will determine the appropriate next steps and response.

"NC State is committed to the highest levels of compliance, honesty and integrity," said Chancellor Randy Woodson. "As the university carefully reviews the NCAA's allegations and thoroughly evaluates the evidence in order to determine our response, we are prepared to be accountable where we believe it is appropriate and to vigorously defend this great university and its Athletics program where we feel it is necessary."

Consistent with NCAA rules regarding pending infractions matters, NC State will not have any further comment at this time.

The allegations were tied not only to former head coach Mark Gottfried, but also to former assistant coach Orlando Early. 
Also, Wolfpack Athletic Director Boo Coorigan released a statement as well: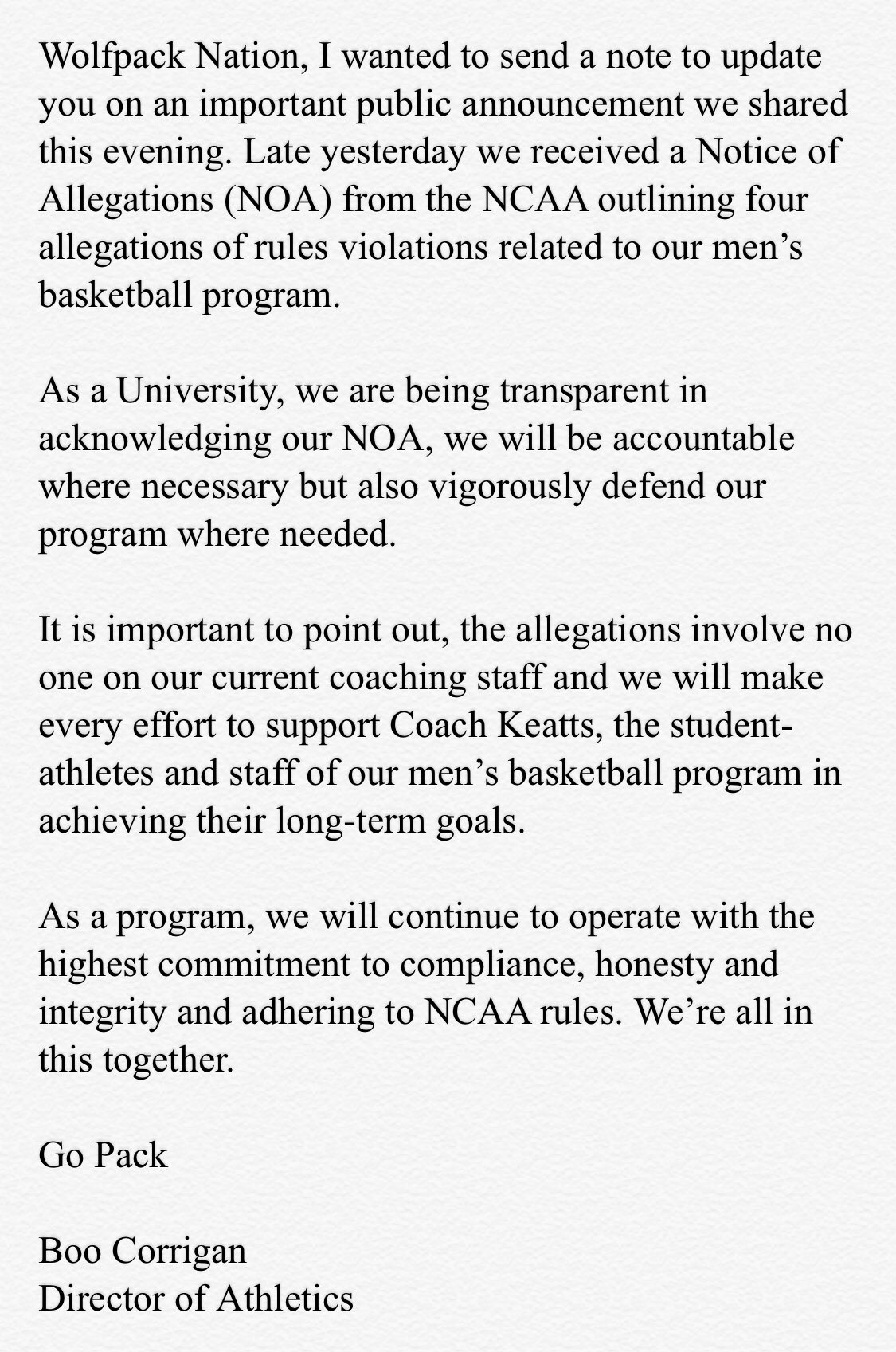 NC State's Jericole Hellems Cleared to Practice
After speaking with a source yesterday, I can confirm that NC State Forward Jericole Hellems has been cleared to practice.
On Saturday, Hellems was taken off the court in Winston-Salem on a stretcher, and was immediately taken to Baptist Hospital, after suffering a scary injury to his head and lower back scrapping for a rebound with 28 seconds to go.
He was released from the hospital the following day, returning to Raleigh to be monitored by NC State's physicians.
While Hellems is cleared to practice, I can't confirm to what degree he is practicing with the team, or if he will be able to play for the Wolfpack against UNCG this Sunday on the road.
Either way, this is huge news for NC State. Over the past three games, Hellems has been the most impressive player on the roster, in my opinion, and definitely the most improved. He is currently playing the best ball of his collegiate career, looking like the player that broke out at Peach Jam a few years back.
On the year, Hellems is averaging 12.3 points per game, which is tied for 2nd on the team, and is shooting 38.7% from three.
This is huge news for the Wolfpack, especially with a game against #10 Auburn on the road next Thursday.