RELEASE: NC State & Boo Coorigan Make Statements on NCAA's Notice of Allegations
RELEASE:
On July 9, 2019, NC State University received a Notice of Allegations from the NCAA outlining allegations of rule violations related to the men's basketball program under the direction of former head coach Mark Gottfried during the 2014-2017 timeframe. The notice is attached.

NC State has strong and clear compliance policies, and puts extensive effort into annual training and education to ensure coaches and athletes are fully aware of those policies and NCAA rules. All four allegations are tied to former coaches who were well educated about the rules and knew the rules, and if the allegations are true, those coaches chose to break the rules. No current coaches are named or implicated in the allegations.

The Notice of Allegations is the expected next step in an NCAA process following the federal government's inquiry into college basketball. NC State received a verbal Notice of Inquiry from the NCAA in October 2018. NC State has voluntarily and fully cooperated, and will continue to fully cooperate, with the NCAA throughout this process.

NC State has 90 days from receipt of the notice to provide a written response, after which the NCAA will set a hearing date. The university is reviewing the allegations and will determine the appropriate next steps and response.

"NC State is committed to the highest levels of compliance, honesty and integrity," said Chancellor Randy Woodson. "As the university carefully reviews the NCAA's allegations and thoroughly evaluates the evidence in order to determine our response, we are prepared to be accountable where we believe it is appropriate and to vigorously defend this great university and its Athletics program where we feel it is necessary."

Consistent with NCAA rules regarding pending infractions matters, NC State will not have any further comment at this time.

The allegations were tied not only to former head coach Mark Gottfried, but also to former assistant coach Orlando Early. 
Also, Wolfpack Athletic Director Boo Coorigan released a statement as well: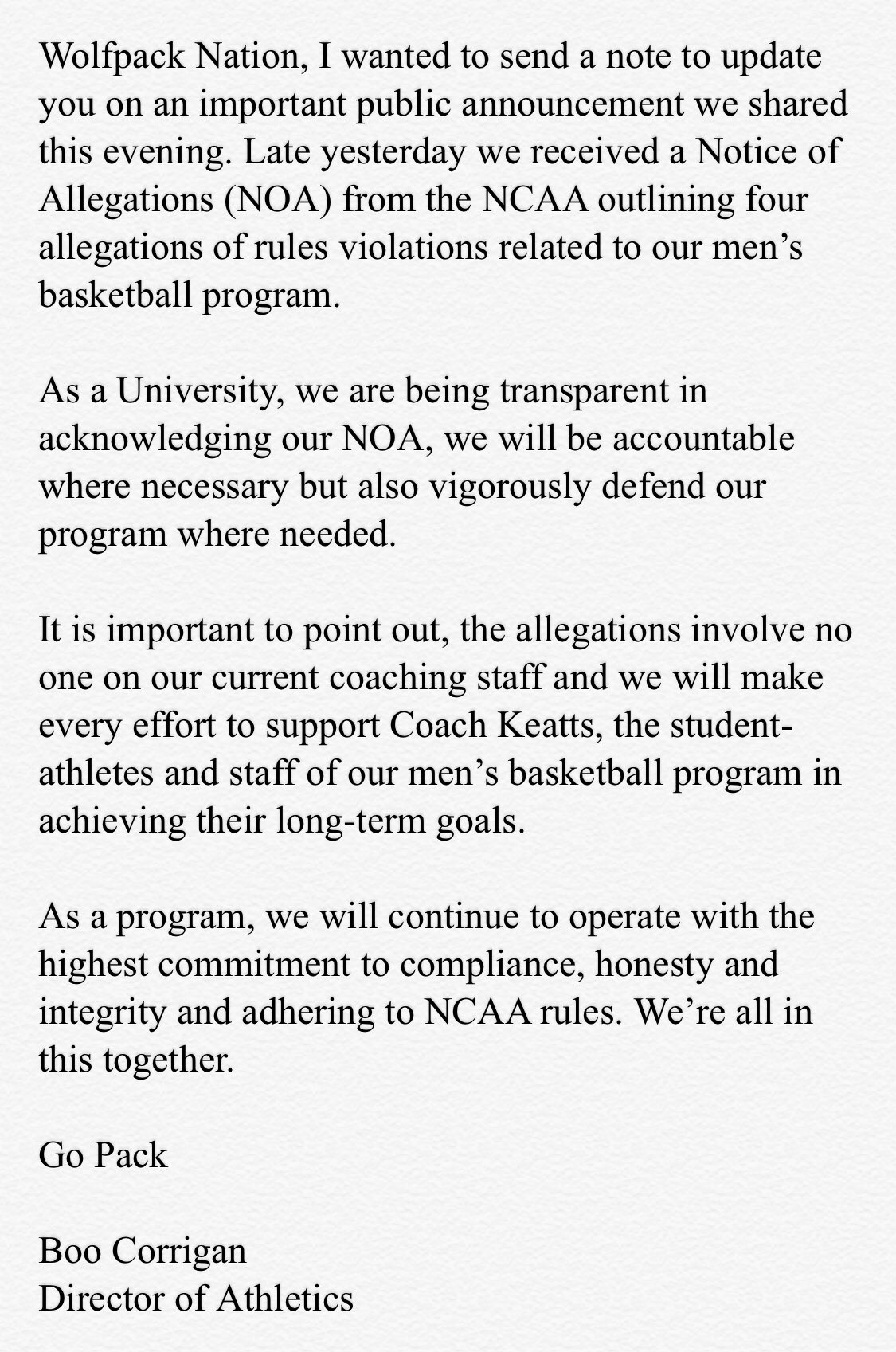 Kevin Keatts Presser After UVA Victory: BULLETED
NC State head coach Kevin Keatts met with the media for his postgame press conference after his Wolfpack squad pulled off a big victory at Virginia last night, winning 53-51. You can watch the presser here, or check out a bulleted breakdown below.
2nd game in a row our guys stepped up and won the game on the defensive end.
Knew coming in this is a tough place to play. Virginia is so great on the defensive end.
I thought our guys did a tremendous job.
This is as tough a game as we're going to play, especially after playing on Saturday with a short turnaround.

To prepare for Virginia with their offense and defense, and add in the fact that we were without Manny Bates and Pat Andree, it made it look tougher.

Markell Johnson made some great decisions. He played the entire game without having a turnover.
C.J. Bryce is really good. He was tremendous at the end. What a play he made.
Give Danny Dixon a lot of credit.

Hasn't played a lot of basketball.
Hurt for awhile
Stepped in and played well.

When we were up 3, I decided to foul because all of the momentum was going towards those guys, and I didn't want them to come down and make a 3.

I thought if they made a 3 in this building, it would be tough for us to win in overtime.

I've decided this year not to look at the NET.
Everybody is saying that the ACC is down. I don't agree with that.

I think the ACC is just balanced. I think we're still one of the top conferences in the country.
We just don't have the superstars.

I've got tremendous respect for what Tony Bennett has done here. Because I am from Virginia, I do respect the fact of what he's done here and what he's built here.
We're excited because it's a road win, not just because it's in Virginia.
I don't know how long Manny Bates will be out.

When I saw him get hit, I thought he had something like whiplash.
He is in the concussion protocol.
I texted him this morning and asked how he was feeling, and he said he was doing ok.
He was actually in the training room.

Pat Andree has sprained that ankle probably 20 times in his career, so hopefully he'll be fine also.