RELEASE: NC State & Boo Coorigan Make Statements on NCAA's Notice of Allegations
RELEASE:
On July 9, 2019, NC State University received a Notice of Allegations from the NCAA outlining allegations of rule violations related to the men's basketball program under the direction of former head coach Mark Gottfried during the 2014-2017 timeframe. The notice is attached.

NC State has strong and clear compliance policies, and puts extensive effort into annual training and education to ensure coaches and athletes are fully aware of those policies and NCAA rules. All four allegations are tied to former coaches who were well educated about the rules and knew the rules, and if the allegations are true, those coaches chose to break the rules. No current coaches are named or implicated in the allegations.

The Notice of Allegations is the expected next step in an NCAA process following the federal government's inquiry into college basketball. NC State received a verbal Notice of Inquiry from the NCAA in October 2018. NC State has voluntarily and fully cooperated, and will continue to fully cooperate, with the NCAA throughout this process.

NC State has 90 days from receipt of the notice to provide a written response, after which the NCAA will set a hearing date. The university is reviewing the allegations and will determine the appropriate next steps and response.

"NC State is committed to the highest levels of compliance, honesty and integrity," said Chancellor Randy Woodson. "As the university carefully reviews the NCAA's allegations and thoroughly evaluates the evidence in order to determine our response, we are prepared to be accountable where we believe it is appropriate and to vigorously defend this great university and its Athletics program where we feel it is necessary."

Consistent with NCAA rules regarding pending infractions matters, NC State will not have any further comment at this time.

The allegations were tied not only to former head coach Mark Gottfried, but also to former assistant coach Orlando Early. 
Also, Wolfpack Athletic Director Boo Coorigan released a statement as well: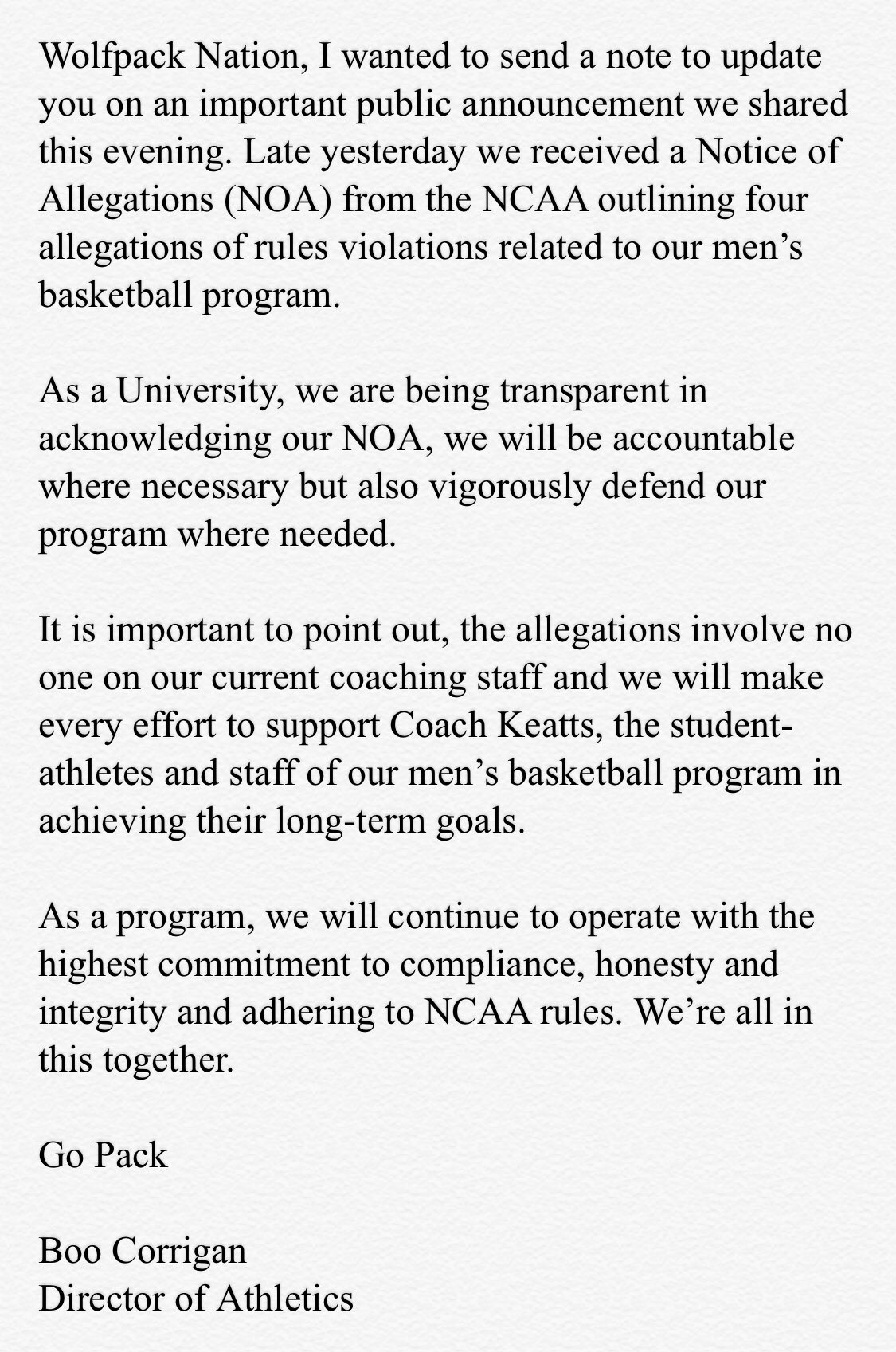 NC State Accepts Recommendation to Move Case to IARP
NC State has accepted the recommendation to move their violation's case from the NCAA's Committee on Infractions to the Independent Accountability Resolution Process.
"We've stated throughout this process that NC State will accept accountability for any shortcomings and defend ourselves aggressively where we feel it is appropriate and necessary to do so," Woodson wrote in a statement released by the school on Wednesday. "As our response to the Referral Petition demonstrates, we do not think NC State can receive an objective or fair hearing before the Committee on Infractions in this matter. We believe the only remaining option is that our case be moved to the Independent Accountability Resolution Process.

"NC State has a long history of working cooperatively with the NCAA, and we remain committed to working collaboratively through the IARP to address concerns and to resolve this matter as fairly and efficiently as possible." (WRAL)
The IARP is made up of decision makers that are investigators and legal advocates that are independent of any NCAA teams.
The difference between the traditional process, and the IARP, is that the latter's decision is final, unable to be appealed.