Six of NC State's Eight Draft Picks Have Signed With MLB Teams
Obviously Junior Shortstop Will Wilson and Senior 1st Basemen Evan Edwards signed their Major League Baseball contracts after being taken in the 2019 Draft.
Wilson was drafted 15th overall by the Angels, and couldn't turn that down, and Edwards was out of eligibility at the collegiate level, signing with the Marlins after being drafted in the 4th round.
In total, NC State's Baseball team produced 7 draft picks this summer, which tied for the 9th most in College Baseball.
Outside of Wilson and Edwards, 4 Junior NC State Pitchers also signed their Major League contracts.
Jason Parker (Reds) and Andrew Blake (Angels) signed on June 11th, Alec Barger (Atlanta Braves) signed on June 17th, and Michael Bienlien (Detroit Tigers) signed on June 23rd.
Redshirt Freshman Outfileder Thayer Thomas (Round 33/Red Sox) and Sophomore Left Handed Pitcher Evan Justice (Round 39/ Marlins) are the only two Wolfpack players drafted that didn't signed a contract. The deadline was July 12th.
NC State Releases 2020 Baseball Schedule
The NC State 2020 Baseball schedule was released today.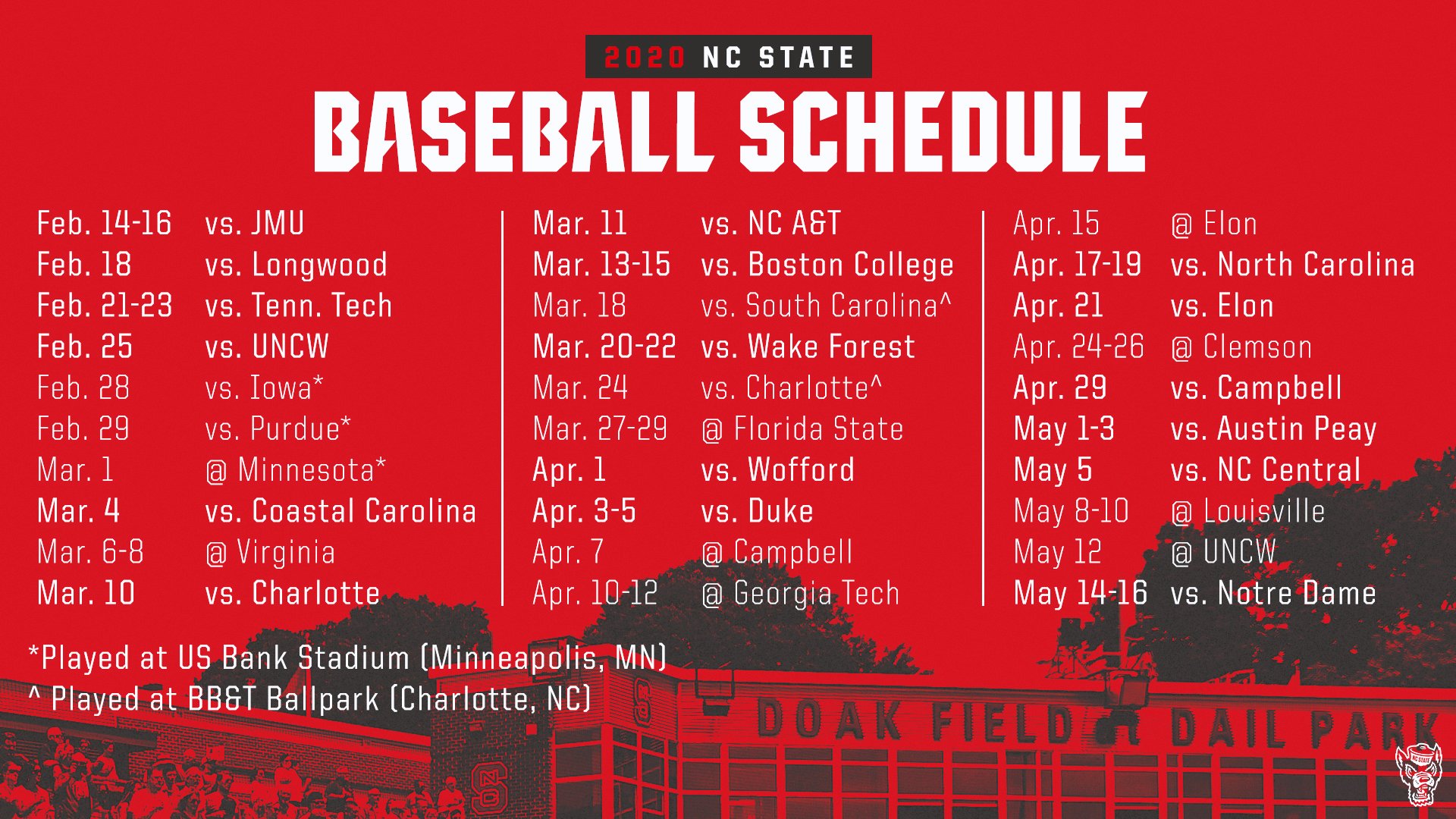 The schedule features 23 games against 2019 NCAA Tournament opponents, including three-game series at Florida State and Louisville, who both advanced to the College World Series last season. The Wolfpack's slate additionally features 13 opponents and a combined 31 games against teams that finished the 2019 season among the top 100 of the NCAA RPI.

NC State's nonconference schedule is highlighted by games against Iowa, Minnesota and Purdue Feb. 28-March 1 at the US Bank Stadium, home of the Minnesota Vikings. The weekend in Minneapolis is a part of the ACC/Big Ten Challenge. The Pack will also play a pair of games at BB&T Ballpark in Charlotte, N.C., home of the Charlotte Knights, AAA affiliate of the Chicago White Sox, against Charlotte and South Carolina March 18 and 24, respectively. (GoPack)
NC State finished the 2019 season with a 42-19 record, and a 18-12 conference record. They finished the regular season ranked 13th nationally, and 3rd in the ACC.
The Wolfpack finished the year ranked 21st in the final Collegiate Baseball Rankings.