Vegas Bets NC State will Win 7.5 in 2019, 7th Best Odds to Win ACC
Vegas released their projected Win Totals for the 2019 College Football season yesterday, and they bet NC State will win 7.5 games this year, which is the 4th highest in the ACC.
Atlantic Division
Clemson: 11.5
NC State: 7.5
Louisville: 3.5
Wake Forest: 5.5
Boston College: 6.5
Florida State: 7
Boston College: 6.5
Coastal Division
Miami: 8.5
Virginia Tech: 8
Georgia Tech: 4
Duke: 5.5
Virginia: 7.5
Pitt: 5.5
North Carolina: 5
Vegas also gives the Wolfpack 40/1 odds to win the ACC Championship in 2019, which is the 7th best odds.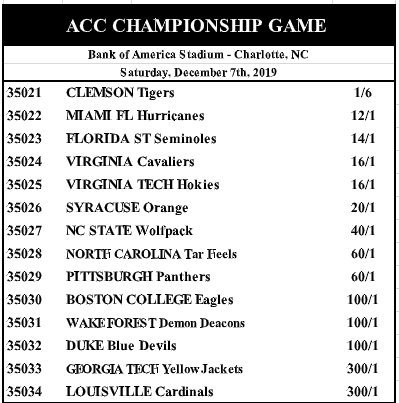 VIDEO: NC State WR CJ Riley is Ready to Fill Big Shoes
Redshirt Junior Wide Receiver C.J. Riley has some big shoes to fill in 2019, but after catching up with him at NC State's 2019 Media Day, he believes he is more than up for the task.
We sat down with Coach McDonald, and our goal is to have three 1,000-yard receivers this year, with me, Emeka (Emezie) and Thayer (Thomas). We're working to do better than they did last year (Two 1,000-yard receivers in Kelvin Harmon and Jakobi Meyers).
We just want to prove people wrong, and show them we can do things they didn't think we could do.
I learned a lot from their (Harmon and Meyers) work ethic. How they carried themselves off the field. They came in every day like it was gameday. Staying after practice catching balls. Watching extra film.
Emeka and I have a goofy relationship. We love each other, and hate each other sometimes. We argue. We're competitive. It's the best of both worlds. We're happy for each other when they succeed. It's a great relationship.
I need to make more consistent plays down the field in 2019. Show that I can run past defenders and make the deep ball plays.
Freshman Keyon Lesane has done a great job thus far in camp. He has shown he can play on the field on Saturdays. He has a hot head, and won't back down from anyone.
Redshirt Junior Eric Collins is showing up a lot more. Catching the ball and being a more consistent ball player.
Graduate Senior Tabari fits well. He's played in the ACC before, and knows how it goes. Having his experience come into the room is going to be a big help.