Kelvin Harmon 3rd String on 1st Redskins Depth Chart
Former NC State 1st Team All-ACC Wide Receiver Kelvin Harmon is on the 3rd-string in the 1st unofficial Depth Chart for the Redskins.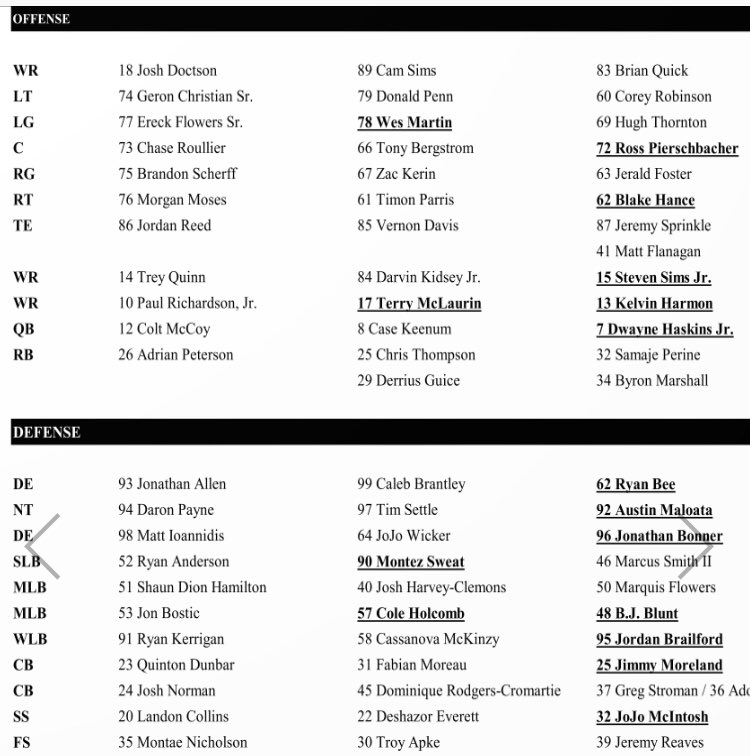 I don't think Harmon will be buried that far down the depth chart for long. He's been one of the standout performers in camps so far.
Case Keenum does a good job with pocket manipulation to sneak out right and deliver a pass to Kelvin Harmon in the back of the end zone who makes a diving grab for touchdown #Redskins pic.twitter.com/iuKGvfN7ov

— Paul Conner (@P_ConnerJr) July 28, 2019
Josh Norman has been helping Kelvin Harmon after nearly each practice. Giving him tips and tricks on his footwork and what NFL CBs do. Haskins stayed back today to throw. #Redskins pic.twitter.com/3f1O0oujIy

— Paul Conner (@P_ConnerJr) August 1, 2019
FADE! Kelvin Harmon vs Josh Norman

Dwayne Haskins throws a nice fade ball. Josh Norman has good coverage and gets a hand up but Harmon is too strong, plucking it out of the air. Beautiful. Hope we can get used to this #Redskins pic.twitter.com/dBJGpC7xXJ

— Paul Conner (@P_ConnerJr) August 4, 2019
Harmon was drafted by Washington in the 6th round of the 2019 NFL Draft, with the 206th overall pick.
He finished his career ranked with the 4th most receptions, 3rd most receiving yards, and the 7th most touchdown receptions.
Justin Gainey Named Associate Head Coach at Marquette
Former NC State Point Guard Justin Gainey (1997-00) has been hired by Marquette as their Associate Head Coach, serving along head coach Steve Wojciechowski, the former Duke point guard.
"We are excited to welcome Justin and the Gainey family back to Marquette," Wojciechowski said.  "Justin is one of the nation's top rising coaches and his talents, ability to build meaningful relationships and myriad of experiences alongside some of the game's best teachers will serve our program, and most importantly our players, incredibly well." (Link)
This isn't Gainey's first stint at Marquette, serving as Director of Operations from 2014-17. The past two seasons, Gainey served as an Assistant Coach with Sean Miller at Arizona. Prior to that, he served as an Assistant Coach at Santa Clara for one season with his former head coach at NC State, Herb Sendek.
Gainey's coaching career began at NC State, where he served as Director of Operations for three seasons (2006-09), and then he went on to work at Appalachian State and Elon as well.