NC State Releases 2020 Baseball Schedule
The NC State 2020 Baseball schedule was released today.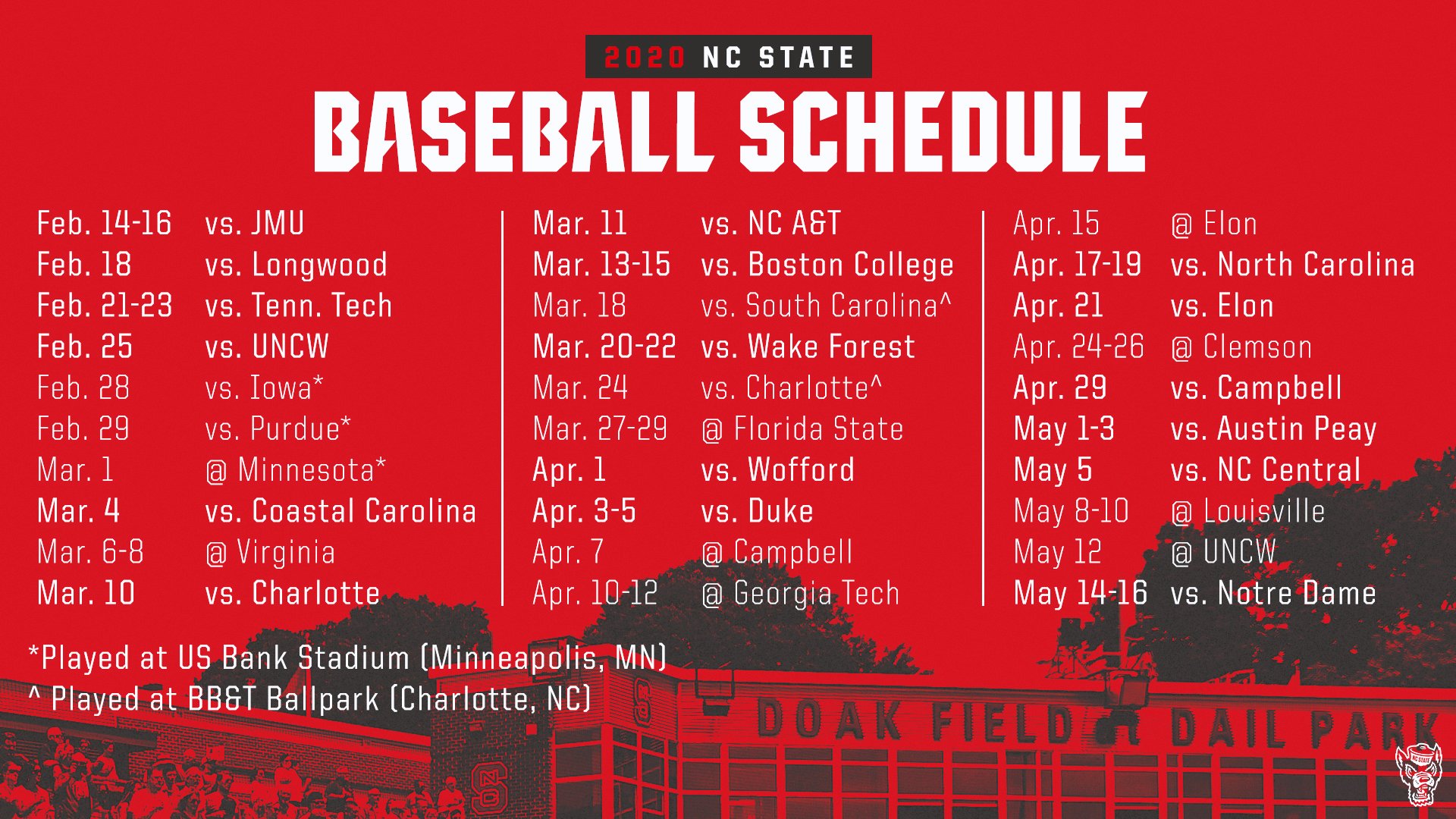 The schedule features 23 games against 2019 NCAA Tournament opponents, including three-game series at Florida State and Louisville, who both advanced to the College World Series last season. The Wolfpack's slate additionally features 13 opponents and a combined 31 games against teams that finished the 2019 season among the top 100 of the NCAA RPI.

NC State's nonconference schedule is highlighted by games against Iowa, Minnesota and Purdue Feb. 28-March 1 at the US Bank Stadium, home of the Minnesota Vikings. The weekend in Minneapolis is a part of the ACC/Big Ten Challenge. The Pack will also play a pair of games at BB&T Ballpark in Charlotte, N.C., home of the Charlotte Knights, AAA affiliate of the Chicago White Sox, against Charlotte and South Carolina March 18 and 24, respectively. (GoPack)
NC State finished the 2019 season with a 42-19 record, and a 18-12 conference record. They finished the regular season ranked 13th nationally, and 3rd in the ACC.
The Wolfpack finished the year ranked 21st in the final Collegiate Baseball Rankings.
NC State Catcher Patrick Bailey Named Preseason All-American by Collegiate Baseball
Collegiate Baseball released their 2020 College Baseball Preseason All-American teams yesterday, and NC State Junior Catcher Patrick Bailey was named to the 2nd Team.
FIRST TEAM
LHP Reid Detmers, Louisville
RHP Kumar Rocker, Vanderbilt
RHP Mason Hickman, Vanderbilt
RHP Jeff Criswell, Michigan
LHP Asa Lacy, Texas A&M
Relief Holden Powell, UCLA
C Adrian Del Castillo, Miami (Fla.)
1B Tristan Peterson, New Mexico St.
1B Spencer Torkelson, Arizona St.
2B Nick Gonzales, New Mexico St.
3B Alex Binelas, Louisville
SS Austin Martin, Vanderbilt
OF Heston Kjerstad, Arkansas
OF Ethan Wilson, South Alabama
OF Chris Lanzilli, Wake Forest
DH Aaron Sabato, North Carolina
UT Alec Burleson, East Carolina

SECOND TEAM
RHP Emerson Hancock, Georgia
RHP JT Ginn, Mississippi St.
RHP Brian Van Belle, Miami (Fla.)
RHP Trenton Denholm, U.C. Irvine
LHP Jake Mulholland, Oregon St.
RHP Collin Liberatore, Indiana St.
RHP Tanner Burns, Auburn
LHP Doug Nikhazy, Mississippi
LHP Hayes Heinecke, Wofford
RHP Drake Nightengale, South Alabama
LHP Seth Lonsway, Ohio St.
RHP CJ Van Eyk, Florida St.
Relief Tyler Brown, Vanderbilt
Relief Alek Jacob, Gonzaga
Relief Nick Frasso, Loyola Marymount
Relief Garrett Acton, Illinois
Relief Brett Barnett, South Dakota St.
C Patrick Bailey, N.C. State
C Austin Wells, Arizona
C Griffin Lockwood-Powell, Central Michigan
1B Bobby Seymour, Wake Forest
1B Alex Toral, Miami (Fla.)
2B Justin Foscue, Mississippi St.
2B Brian Klein, Texas Tech
3B Anthony Giachin, Army
SS Casey Martin, Arkansas
OF Garrett Mitchell, UCLA
OF Hudson Haskin, Tulane
OF Tanner Allen, Mississippi St.
UT Casey Schmitt, San Diego St.

THIRD TEAM
RHP John Baker, Ball St.
RHP Cameron Brown, Central Michigan
RHP Zach Hester, Samford
RHP Kade Mechals, Grand Canyon
RHP Chance Hroch, New Mexico St.
LHP Jared Wetherbee, Elon
LHP Rodney Boone, U.C. Santa Barbara
Relief Willie Weiss, Michigan
Relief Jason Ruffcorn, Oklahoma
Relief Michael McGreevy, U.C. Santa Barbara
Relief Joe Kruszka, Albany
Relief Michael Kirian, Louisville
Relief Grant Leonard, Iowa
C Hunter Goodman, Memphis
C Alex Webb, Jacksonville St.
1B Liam Hibbits, Va. Commonwealth
1B Maxwell Costes, Maryland
1B Sonny DiChiara, Samford
1B Trevin Esquerra, Loyola Marymount
1B Cuba Bess, Grand Canyon
2B Cody Morissette, Boston College
2B Landon Stephens, Miami (Ohio)
2B Nate Fisbeck, McNeese St.
3B Tyler Keenan, Mississippi
3B Raymond Gil, Miami (Fla.)
SS Zavier Warren, Central Michigan
SS Jordan Westburg, Mississippi St.
SS Nick Loftin, Baylor
SS Tyler Wilber, S.E. Missouri St.
OF Daniel Cabrera, LSU
OF Jordan Nwogu, Michigan
OF Colton Cowser, Sam Houston St.
OF Mike Antico, St. John's
UT Max Meyer, Minnesota (CB)
At the end of his Sophomore year, he earned 3rd Team All-American honors by Collegiate Baseball, and Freshman All-American honors the year before.
Last year, Bailey hit .288,  with 68 hits, 17 doubles, 10 home runs and a .513 slugging percentage. Behind the plate, he committed just 5 errors in 476 chances for a .989 fielding percentage, throwing out 33 percent of the base runners attempting to steal.
Currently, MLB.com ranks Bailey as the #21 2020 MLB Draft prospect.
Also, congratulations are in order, because Bailey got engaged yesterday.
Forever & Always 💍🥂 pic.twitter.com/7KD1lvUNmU

— Leigha Bruce (@leighabruce_) December 19, 2019