7 NC State Players Earn PFF Preseason All-ACC Honors
ProFootballFocus released their 2022 Preseason All-ACC teams this week, and 7 NC State players were honored.
FIRST TEAM
QB: Sam Hartman, Wake Forest
RB: Sean Tucker, Syracuse
RB: Treshaun Ward, Florida State
WR: Josh Downs, North Carolina
WR: Keytaon Thompson, Virginia
WR: Dontayvion Wicks, Virginia
TE: Marshon Ford, Louisville
OT: Jordan McFadden, Clemson
OT: Zion Nelson, Miami
G: Caleb Chandler, Louisville
G: Christian Mahogany, Boston College*
C: Grant Gibson, North Carolina State
DI: Bryan Bresee, Clemson
DI: Calijah Kancey, Pittsburgh
Edge: Myles Murphy, Clemson
Edge: Xavier Thomas, Clemson
LB: Trenton Simpson, Clemson
LB: Drake Thomas, North Carolina State
CB: Tyrique Stevenson, Miami (FL)
CB: Storm Duck, North Carolina
S: Andrew Mukuba, Clemson
S: James Williams, Miami (FL)
Flex D: Tyler Baker-Williams, North Carolina State
K: B.T. Potter, Clemson
P: Ivan Mora, Wake Forest
KR/PR: Jaylen Stinson, Duke
---
SECOND TEAM
QB: Brennan Armstrong, Virginia
RB: Will Shipley, Clemson
RB: Tiyon Evans, Louisville
WR: AT Perry, Wake Forest
WR: Zay Flowers, Boston College
WR: Konata Mumpfield, Pittsburgh
TE: Gavin Bartholomew, Pittsburgh
OT: DJ Scaife Jr., Miami (FL)
OT: Matthew Bergeron, Syracuse
G: Dillan Gibbons, Florida State
G: Jake Kradel, Pittsburgh
C: Johnny Jordan, Virginia Tech
DI: Robert Cooper, Florida State
DI: Jermayne Lole, Louisville
Edge: Habakkuk Baldonado, Pittsburgh
Edge: Rondell Bothroyd, Wake Forest
LB: Mikel Jones, Syracuse
LB: Charlie Thomas, Georgia Tech
CB: Shyheim Battle, North Carolina State
CB: Duce Chestnut, Syracuse
S: Jammie Robinson, Florida State
S: Jaiden Woodbey, Boston College
Flex D: Josh DeBerry, Boston College
K: Andres Borregales, Miami (FL)
P: Lou Hedley, Miami (FL)
KR/PR: Trebor Pena, Syracuse
---
THIRD TEAM
QB: Kedon Slovis, Pittsburgh
RB: Kobe Pace, Clemson
RB: Dontae Smith, Georgia Tech
WR: Jalon Calhoun, Duke
WR: Billy Kemp IV, Virginia
WR: Joe Ngata, Clemson
TE: Will Mallory, Miami (FL)
OT: Carter Warren, Pittsburgh
OT: Trevor Reid, Louisville
G: Kaden Moore, Virginia Tech
G: Adonis Boone, Louisville
C: Will Putnam, Clemson
DI: Corey Durden, North Carolina State
DI: Jared Harrison-Hunte, Miami (FL)
Edge: YaYa Diaby, Louisville
Edge: Yasir Abdullah, Louisville
LB: Stefon Thompson, Syracuse
LB: Nick Jackson, Virginia
CB: Tony Grimes, North Carolina
CB: Caelen Carson, Wake Forest
S: Akeem Dent, Florida State
S: Brandon Hill, Pittsburgh
Flex D: Kenderick Duncan, Louisville
K: Connor Lytton, Boston College
P: Porter Wilson, Duke
KR/PR: Taylor Morin, Wake Forest
---
HONORABLE MENTION
QB: Tyler Van Dyke, Miami (FL)
RB: Pat Garwo III, Boston College
RB: British Brooks, North Carolina
WR: Taylor Morin, Wake Forest
WR: Jared Wayne, Pittsburgh
WR: Thayer Thomas, North Carolina State
TE: Kamari Morales, North Carolina
OT: Renato Brown, Louisville
OT: Andre Harris Jr., Duke
G: Jacob Monk, Duke
G: Marcus Minor, Pittsburgh
C: Michael Jurgens, Wake Forest
DI: Tyler Davis, Clemson
DI: Leonard Taylor, Miami (FL)
Edge: Marcus Valdez, Boston College
Edge: Keion White, Georgia Tech
LB: Tatum Bethune, Florida State
LB: Amari Gainer, Florida State
CB: Kai'Trel Clark, Louisville
CB: Garrett Williams, Syracuse
S: RJ Mickens, Clemson
S: Kamren Kinchens, Miami (FL)
Flex D: Elijah Jones, Boston College
K: Christopher Dunn, North Carolina State
P: Alex Mastromanno, Florida State
7
NC State's Depth Chart vs. Louisville (with Notes)
NC State has released their Depth Chart for their matchup against Louisville this Friday night.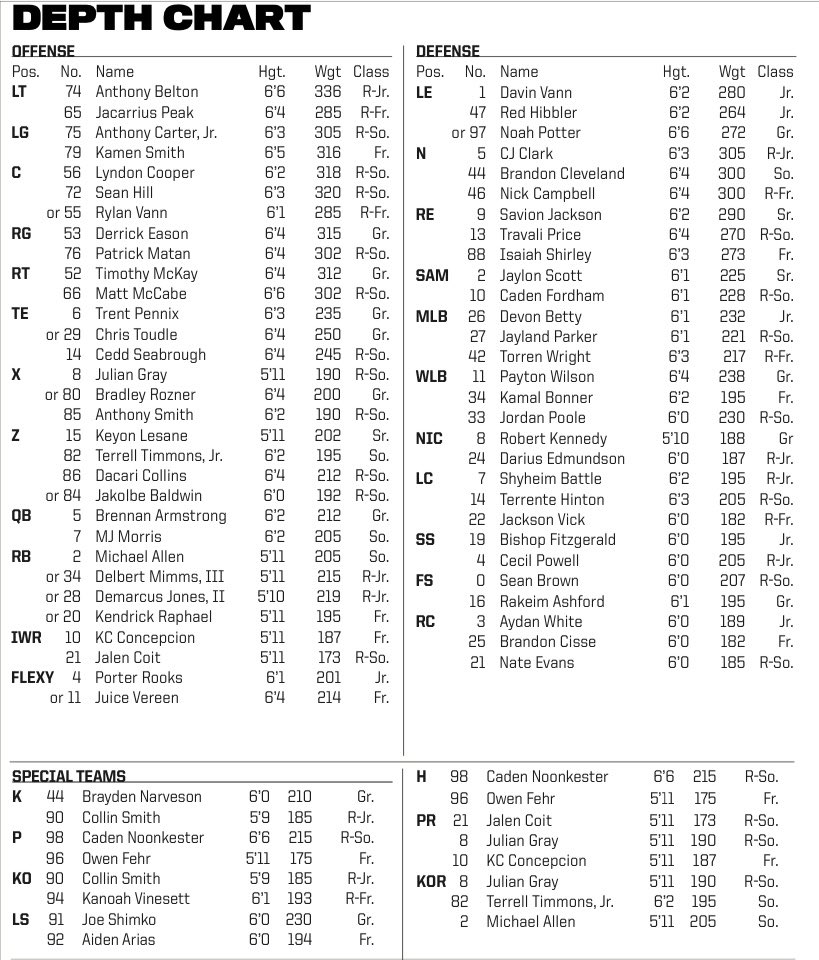 Notes
Starting Center Dylan McMahon isn't listed on the Depth Chart. Wolfpack head coach Dave Doeren said that McMahon is still "day-to-day."

As a result, Lyndon Cooper will be starting at Center once again.

Starting Strong Safety Devan Boykin had to leave the game almost immediately last Friday night up at UVA. He is not listed on the Depth Chart, but thankfully, it doesn't seem like something major. According to Doeren, it's not very likely that Boykin will be able to play Friday, but it hasn't been completely ruled out.

As a result, Bishop Fitzgerald will be starting at Strong Safety.

The Depth Chart for the Running Backs is a hoot. While Michael Allen is listed at the top, there is an "or" in between everyone's name, treating everyone as if they are starters.
Last week, Cecil Powell was listed as the third string Nickel, but Doeren said after the UVA game that he had been serving as Boykin's backup at Strong Safety that week in practice. Both went out of the game due to injuries.

This weeks depth chart reflects the fact that he'd been getting run at Strong Safety last week. He's listed as Bishop Fitzgerald's backup at SS.

Last week Rakeim Ashford was listed as the backup at Strong Safety, and now he is listed as the backup at Free Safety.