NC State 2022 Record Watch: Defense
As we quickly approach the 2022 college football season, here's a look at a few Wolfpack players that have the potential to move the ranks of the NC State record book, if they produce like they have in past seasons.
Junior Linebacker Drake Thomas currently has 11.5 career sacks. If he were to match last years total of 6, Thomas would finish the season with 17.5 sack, which would rank 9th all-time at NC State
1. Bradley Chubb 26
2. Mario Williams 25.5
3. Tyler Lawrence 24
4. Art Norman 23.5
5. Carl Reeves 22.5
6. Manny Lawson, 21
6. Mike Jones 21
8. Willie Young 20.5
9. Ray Agnew – 17
9. George Anderson – 17
Thomas also primed to finish in the top-10 in career tackles for loss. Currently, Thomas has 27 career tackles for loss. In 2021, he picked up 13.5 tackles for loss, making up almost half his career total. If Thomas were to match last years total of 13.5, he would finish with 40.5 career tackles for loss, which would rank 7th all-time. Super Senior Isaiah Moore has 28.5 tackles for loss, and he was on pace for 10 prior to injury in 2021. If he were to match that pace in 2022, Moore would finish with 38.5, which would rank 9th all-time.
Linebacker Isaiah Moore and Safety Tanner Ingle are taking full advantage of the extra year of eligibility that was granted to players due to Covid-19, playing their 5th year on the college football field this year.
Moore currently has 259 career tackles. Prior to injury in 2021, Moore was on pace to have 86 tackles in 2021. If he were to match that pace in 2022, he would finish this season with 345 career tackles, placing him in 9th place in school history.
Ingle currently has 228 career tackles, tallying 82 in 2021. If Ingle were to increase that number by 5 in 2022, he would finished tied for the 15th most tackles in NC State history.
Career Tackles
As a disclaimer, none of the people above had the opportunity to play 5 years of college football on the field. If Moore and Ingle move into the record books at seasons end, there will be an asterisk beside their names.
NC State's Depth Chart vs. Clemson with Notes
NC State's Football team has released their Depth Chart for this Saturday's game vs. Clemson on the road at 7:30pm.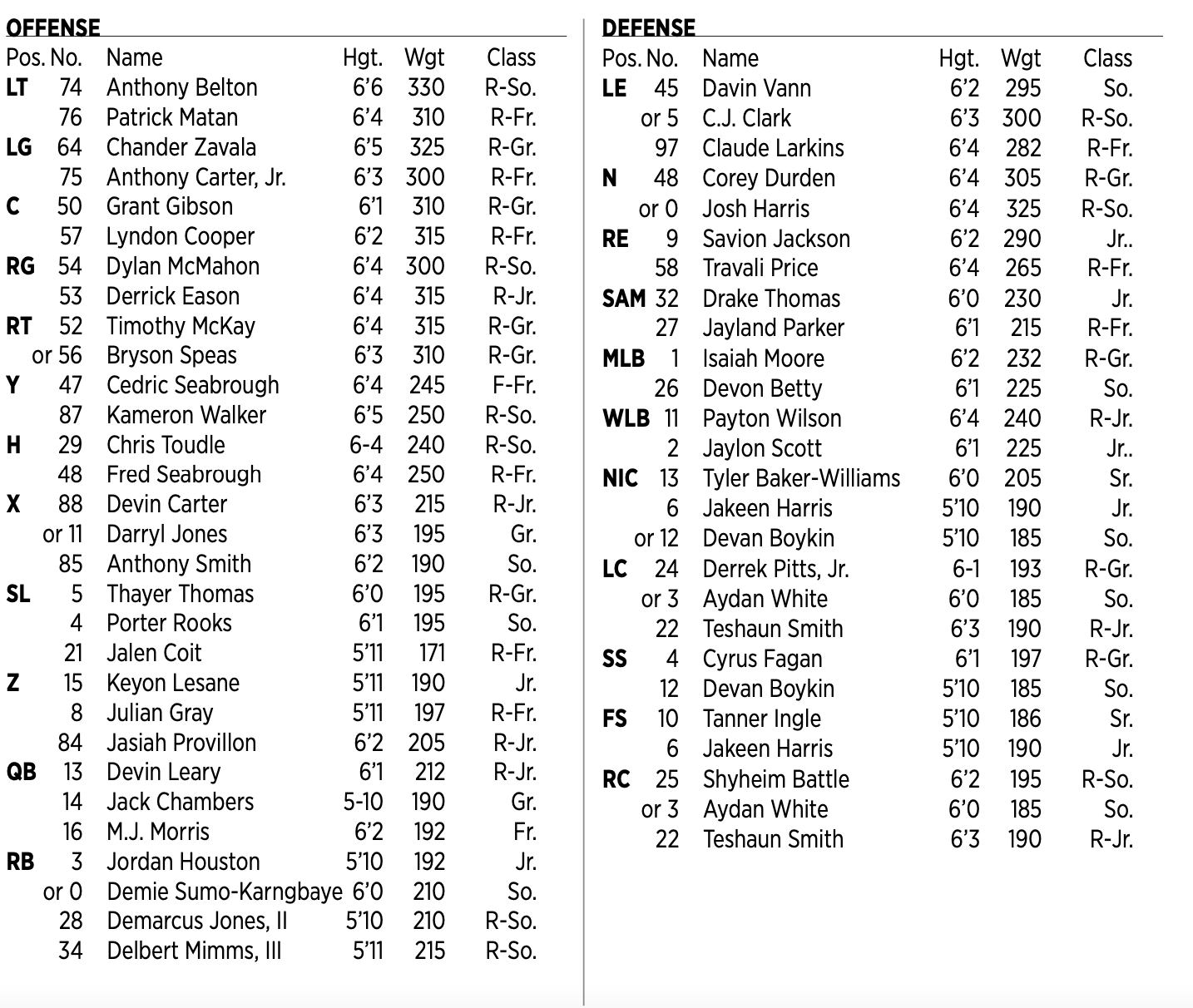 Notes
There have been a few significant changes on this weeks Depth Chart:
Graduate Timothy McKay has moved into the starting spot at Right Tackle. Graduate Bryson Speas has been listed as the starter on the first 4 Depth Charts, but McKay actually ended up starting the game against UCONN.

This isn't a shocking move. Even though Speas has started 3 games out of 4, McKay has played 72 more snaps on the year. Also, According to PFF grades, McKay's grade on the season is 74.6 on the year, compared to Speas' 73.2.
Interestingly, McKay is stronger in run block (82.2/69.1), and Speas is stronger in pass block (83.8/70.1). McKay is the Wolfpack's highest graded run blocker.
Also, it's worth noting, while McKay is listed as the starter, there is an "or" in between their names.

Things have been shaken up in regards to Senior Tyler Baker-Williams at Nickel.

Sophomore Joshua Pierre-Louis has been listed as the backup in the first 4 depth chart's, but he isn't anywhere to be found on this weeks depth chart.
Junior Jakeen Harris, who has been listed as Senior Tanner Ingle's backup at Free Safety all year, is listed as Baker-Williams backup at Nickel now.

He is still also listed as the backup for Ingle at Free Safety.

Sophomore Devan Boykin is listed as the third Nickel, with an "or" in between his name and Harris.

Boykin is still listed as Graduate Cyrus Fagan's backup at Strong Safety, which is where he's been listed all year.