Savion Jackson Needs to Prove He Deserves the #9
Back in June, it was announced that Junior Defensive End Savion Jackson was being honored with the #9 jersey, replacing the #90 he wore his first three seasons in Raleigh.
The #9 isn't a number anyone just gets to select as their number of choice. It is a number at NC State that the coach honors a player with. It is a number at NC State that carries a legacy.
The #9 was worn by consensus All-American Defensive Ends Mario Williams and Bradley Chubb after him.
When Chubb was honored with the privilege of wearing the heralded #9 jersey that Mario Williams wore, he had just come off a Sophomore campaign in which he 10.5 tackles for loss and 5 sacks.
Before wearing the #9 in a game, Wolfpack Head Coach Dave Doeren required that Chubb call Williams to discuss with him what it meant to wear the #9 at NC State.
Whether it was being honored by his coach, the conversation with Mario, or some sort of magic with the #9, Chubb broke out as a Junior, tallying 21 tackles for loss and 10 sacks as a Junior. He followed that up with 23 more tackles for loss and 10 sacks as a Senior, earning consensus All-American honors, the ACC Defensive Player of the Year Award, as well as the Nagurski Trophy as a Senior.
Jackson had asked to wear the coveted #9 earlier in his career at NC State, but Doeren informed him that he wasn't ready. With that being said, Doeren believes that he is now, but he did require Jackson to call Chubb before putting the jersey on.
Last time Doeren put the #9 on a player, he put it on Chubb, and his instincts proved to be brilliant.
Are Doeren's instincts going to strike gold two times in a row?
Only time will tell. Jackson was a much more highly sought after prospect out of high school than Chubb. Coming out of Clayton High School right down the road, Jackson was a 4-star recruit, ranked by ESPN as the #50 overall player in the 2019 recruiting class.
With that being said, Jackson hasn't put up numbers anywhere close to what Chubb did his Sophomore season. In 2021, Jackson had 1.5 tackles for loss and 0 sacks in 9 games. Those numbers don't scream potential legacy.
To be fair, Jackson is playing in a 3-3-5 defensive scheme, which isn't one where the Defensive End is as likely to end up in the backfield. In a 3-3-5, the defensive line more often that not sets up the linebackers to pad the stat sheet. Chubb on the other hand played in a 4-3 scheme, setting him up to be the primary pass rusher in the Wolfpack defense.
I'm a believer in Dave Doeren and his staff's ability to develop talent. I'm also a believer in Director of Strength and Conditioning Dantonio Burnette's ability to transform a player's body. Jackson has putt on 25 pounds since arriving at NC State.
There are many things interesting about the Wolfpack heading into the 2022 season, but whether or not Jackson lives up to the number on his jersey is one of the most interesting in my book.
Jackson needs to produce on the field what Doeren has seen in him to deserve the #9.
NC State's Depth Chart vs. Clemson with Notes
NC State's Football team has released their Depth Chart for this Saturday's game vs. Clemson on the road at 7:30pm.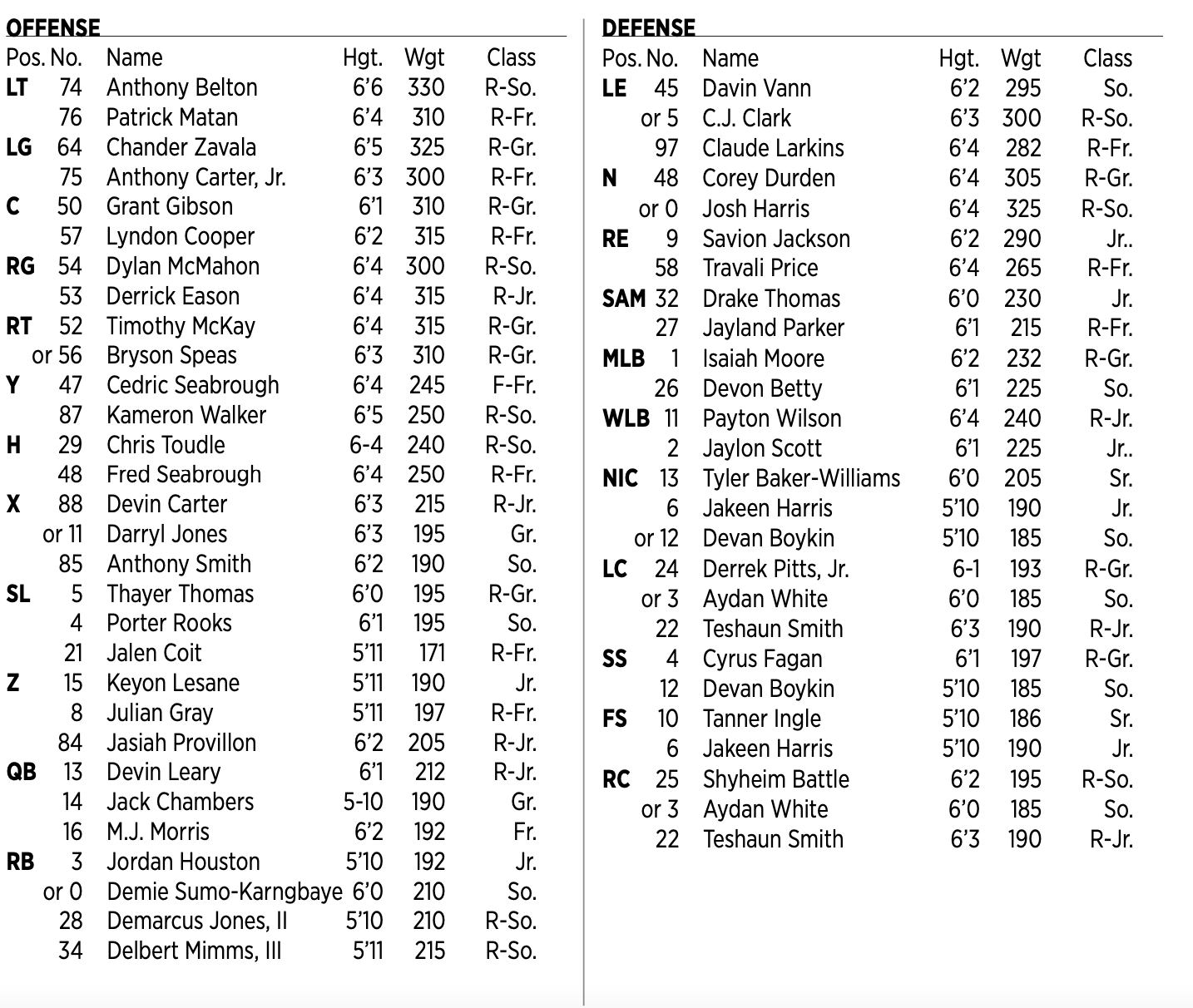 Notes
There have been a few significant changes on this weeks Depth Chart:
Graduate Timothy McKay has moved into the starting spot at Right Tackle. Graduate Bryson Speas has been listed as the starter on the first 4 Depth Charts, but McKay actually ended up starting the game against UCONN.

This isn't a shocking move. Even though Speas has started 3 games out of 4, McKay has played 72 more snaps on the year. Also, According to PFF grades, McKay's grade on the season is 74.6 on the year, compared to Speas' 73.2.
Interestingly, McKay is stronger in run block (82.2/69.1), and Speas is stronger in pass block (83.8/70.1). McKay is the Wolfpack's highest graded run blocker.
Also, it's worth noting, while McKay is listed as the starter, there is an "or" in between their names.

Things have been shaken up in regards to Senior Tyler Baker-Williams at Nickel.

Sophomore Joshua Pierre-Louis has been listed as the backup in the first 4 depth chart's, but he isn't anywhere to be found on this weeks depth chart.
Junior Jakeen Harris, who has been listed as Senior Tanner Ingle's backup at Free Safety all year, is listed as Baker-Williams backup at Nickel now.

He is still also listed as the backup for Ingle at Free Safety.

Sophomore Devan Boykin is listed as the third Nickel, with an "or" in between his name and Harris.

Boykin is still listed as Graduate Cyrus Fagan's backup at Strong Safety, which is where he's been listed all year.