UNC Women's Basketball Coach Banghart Calls NC State Fans "Classless", Then Takes it Back
Yesterday UNC Women's Basketball Coach Courtney Banghart was asked on a podcast, who she liked beating the most, Duke or NC State.
Her response: "That's like asking me who I hate less."
I love it.
We don't like you either.
She then followed that up by saying "NC State fans are so classless…I just don't even like going there."
Tell us how you feel Coach.
Banghart went on to say that she has more respect for Duke, but likes beating them because they are more "relevant."
I find NC State's back-to-back-to-back ACC championships "relevant," but maybe that's just me.
Then…wait for it…Banghart said that Wolfpack fans are "mean."
Fan goals…rival coach thinks you're mean to her and her team…check.
Oh, Courtney Banghart…

She calls NC State fans "classless" and says Duke WBB is more relevant than the back-to-back-to-back ACC Champions.

And she doesn't like playing at NC State's small gym because the fans are "just mean to us." 🤣🤣 pic.twitter.com/GbyVZJZAD3

— Cory Smith (@RCorySmith) August 15, 2022
As the day went on, that portion of the podcast was removed, and Banghart issued an apology.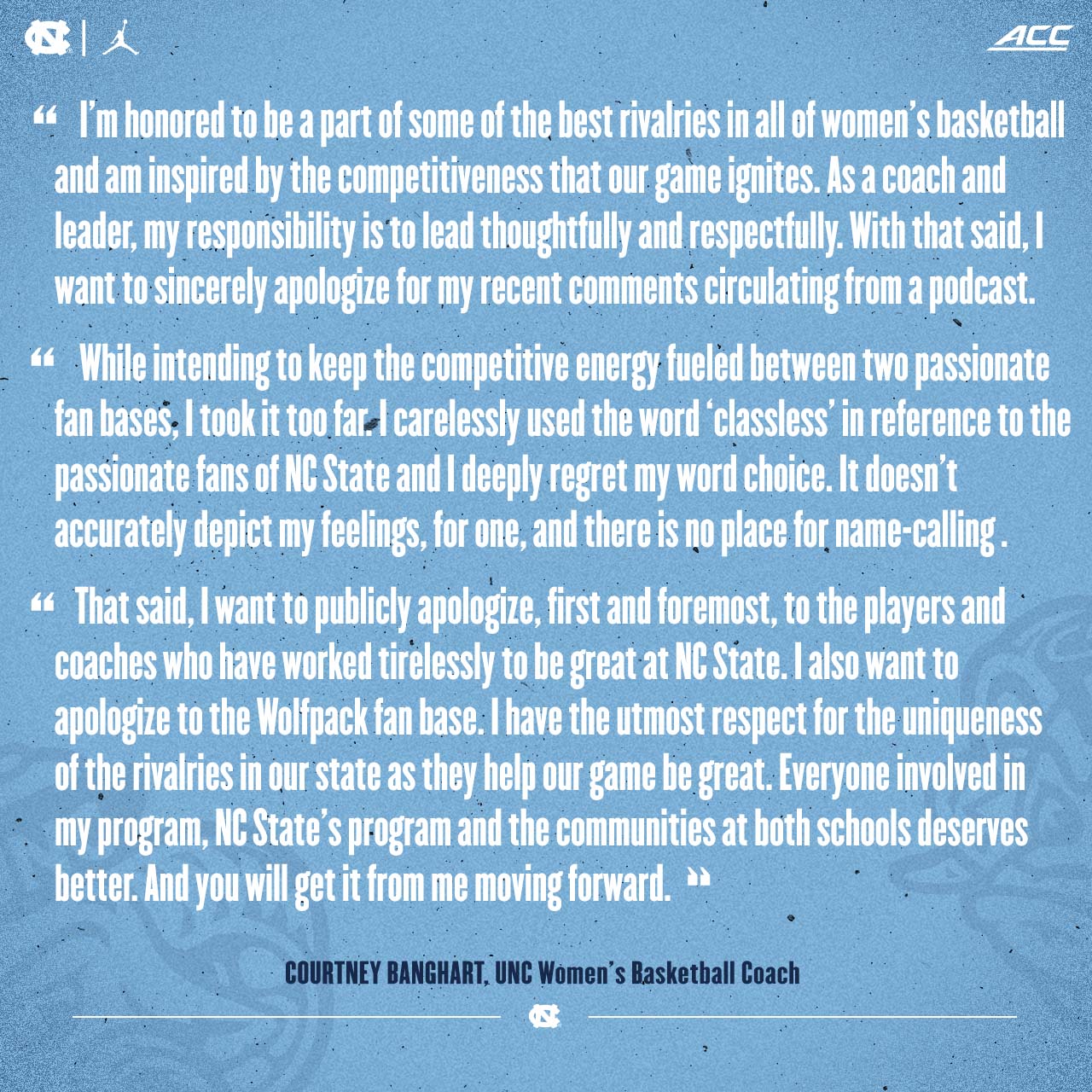 A few thoughts…
I find it hilarious when someone calls a fanbase classless, and they think in doing so they maintain their class.
Also, don't act like you didn't mean what you said. You can apologize for what you said, but you said what you meant.
Coach Banghart…you didn't offend us…the feeling's mutual.
I'm sure all of the classless Wolfpack fans look forward to greeting you and your squad into our "small gym", to play an "irrelevant" rival who has won three straight ACC Championships.
Cunane Heads to WNBA – What Happens to Next Year's Starting Five for NC State?
Three months ago, Big Ickey announced he was entering the NFL draft to potentially go in the first five picks. Wednesday afternoon, his female counterpart made the same statement (via Instagram) with a similar draft projection.
Solid chance Cunane will go top-five, with many projections having her heading to the Big Apple…Just like Ickey…
What A Career
I mean what can you say about Cunane that doesn't seem like you're gloating?
Multiple;
-All-American
-All-ACC Season and Tournament
-Lisa Leslie Finalist
-Wooden Award Finalist
-Naismith Semifinalist
-State Records
-Beast Mode
She was the face of the program, especially these last two seasons. Humble, smiling, always going forward with max effort. A North Carolina kid that put NC State back on the basketball map. Now she'll get rewarded with a top pick to go pro. Can't wait to see her transition to an even bigger stage (especially if New York is in play).
Where Does State Turn to Inside?
Lots of folks think that State's dominance in the ACC is over. Yes, big pieces are no longer part of this team, but the core is still very much strong.
Brown-Turner stays in starting five and could make a legit run at ACC Player of the Year if she can go a step or two up in her game
Jones -> Boyd
Perez -> Johnson
Crutchfield -> James/Hayes (James has the inside track)
Frankly, yes, there will be a learning curve, but the drop-off isn't there. However, Cunane's position inside slips a bit. Hobby and Hart can play minutes and take some of that burden, but here is where Wes Moore is going to be active in the transfer game. Wouldn't be surprised in the slightest if his transfer board just had two big circles around a true Center and another Forward with size.
One name to watch? Notre Dame's Sam Brunelle. 6′ 2″ Forward from Virginia that State was interested in a couple years back. She'll bring a load of awards and the potential to play closer to home. Would be a massive get for Moore and company. We'll even throw this one out there too, Ra Shaya Kyle of Purdue. 6′ 6″ Center that entered the transfer portal and is a beast on the boards with solid blocking ability. Add two pieces like that? State is back in business
In short, Moore has options and after last year's haul of Hayes and Johnson, he can sell the chance to be part of something special. Cunane will be the hardest to replace though, no doubt about it.
The 2022 WNBA Draft is April 11th.