ACCNetwork 2022 Preseason Top 25 Players: Drake Thomas #15
The ACC Digital Network started progressively unveiling their 2022 Preseason Top 25 Football Players on August 8th, and yesterday they revealed that Junior NC State Linebacker Drake Thomas was #15.
🔥 2022 @ACCFootball TOP 25 🔥

No. 1️⃣5️⃣: Drake Thomas (@DrakeT32) | Linebacker | @PackFootball pic.twitter.com/zgeog86jVw

— ACC Digital Network (@theACCDN) August 17, 2022
ACCDN's 2022 Preseason Top-25 ACC Football Players
25. Miami Offensive Tackle Zion Nelson
24. Louisville Offensive Lineman Renato Brown
23. Miami Offensive Lineman D.J. Scaife Jr.
22. Clemson Running Back Will Shipley
21. Boston College Running Back Pat Garwo III
20. Boston College Wide Receiver Zay Flowers
19. Louisville Linebacker Yasir Abdullah
18. Virginia Linebacker Nick Jackson
17. Miami Linebacker Mikel Jones
16. Louisville Offensive Lineman Caleb Chandler
15. NC State Linebacker Drake Thomas
14. Clemson Linebacker Trenton Simpson
13. Virginia Wide Receiver Dontayvion Wicks
12. Pitt Defensive Lineman Calijah Kancey
NC State's Depth Chart vs. Clemson with Notes
NC State's Football team has released their Depth Chart for this Saturday's game vs. Clemson on the road at 7:30pm.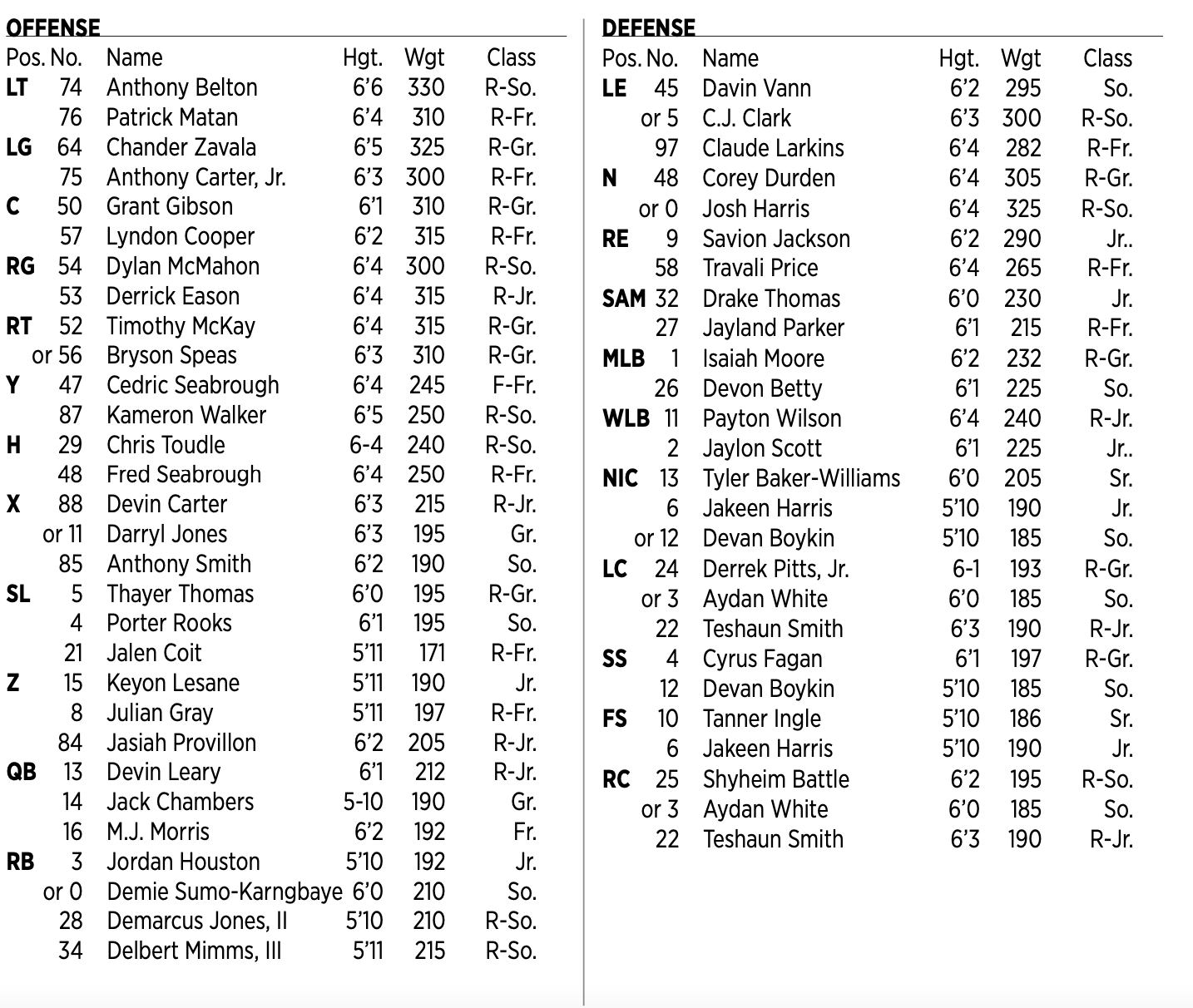 Notes
There have been a few significant changes on this weeks Depth Chart:
Graduate Timothy McKay has moved into the starting spot at Right Tackle. Graduate Bryson Speas has been listed as the starter on the first 4 Depth Charts, but McKay actually ended up starting the game against UCONN.

This isn't a shocking move. Even though Speas has started 3 games out of 4, McKay has played 72 more snaps on the year. Also, According to PFF grades, McKay's grade on the season is 74.6 on the year, compared to Speas' 73.2.
Interestingly, McKay is stronger in run block (82.2/69.1), and Speas is stronger in pass block (83.8/70.1). McKay is the Wolfpack's highest graded run blocker.
Also, it's worth noting, while McKay is listed as the starter, there is an "or" in between their names.

Things have been shaken up in regards to Senior Tyler Baker-Williams at Nickel.

Sophomore Joshua Pierre-Louis has been listed as the backup in the first 4 depth chart's, but he isn't anywhere to be found on this weeks depth chart.
Junior Jakeen Harris, who has been listed as Senior Tanner Ingle's backup at Free Safety all year, is listed as Baker-Williams backup at Nickel now.

He is still also listed as the backup for Ingle at Free Safety.

Sophomore Devan Boykin is listed as the third Nickel, with an "or" in between his name and Harris.

Boykin is still listed as Graduate Cyrus Fagan's backup at Strong Safety, which is where he's been listed all year.