ON3: NC State's Linebackers Rank 2nd in the Nation
ON3 released their rankings of the Top-10 Linebacker corps in the nation, and NC State's ranked 2nd behind Alabama.
Alabama
NC State
Oregon
Iowa
Georgia
Clemson
Notre Dame
Kentucky
Nebraska
Michigan.
Here's what they had to say about the Wolfpack Linebackers:
2. NC State
The standout: Drake Thomas
The buzz: Thomas was a first-team All-ACC selection last season, when he stuffed the stat sheet with 99 tackles, six sacks, 13.5 tackles for loss, nine quarterback hurries and three interceptions (including a pick-six). Truthfully, the other two starters – Isaiah Moore and Payton Wilson – also could've been listed as the standout. Wilson played just two games last season (he had five tackles for loss) before being injured and missing the rest of the year. Moore played in seven games before also being lost for the season; he still was an honorable mention all-league pick. This is a physical, athletic and instinctual trio. And because of the injuries last season, some younger guys got key snaps and depth is good this season. (ON3)
ESPN's David Hale dropped some knowledge yesterday, in the statistical fashion in which he always does, showing simply how elite Drake Thomas, Isaiah Moore and Payton Wilson are.
Fun additional fact: Isaiah Moore and Payton Wilson hit those numbers in 2020.

So a thing only 10 P5 LBs did all of last year… and all 3 NC State LBs will have done it.

— 💫🅰️♈️🆔 (@ADavidHaleJoint) August 17, 2022
NC State's Depth Chart vs. Clemson with Notes
NC State's Football team has released their Depth Chart for this Saturday's game vs. Clemson on the road at 7:30pm.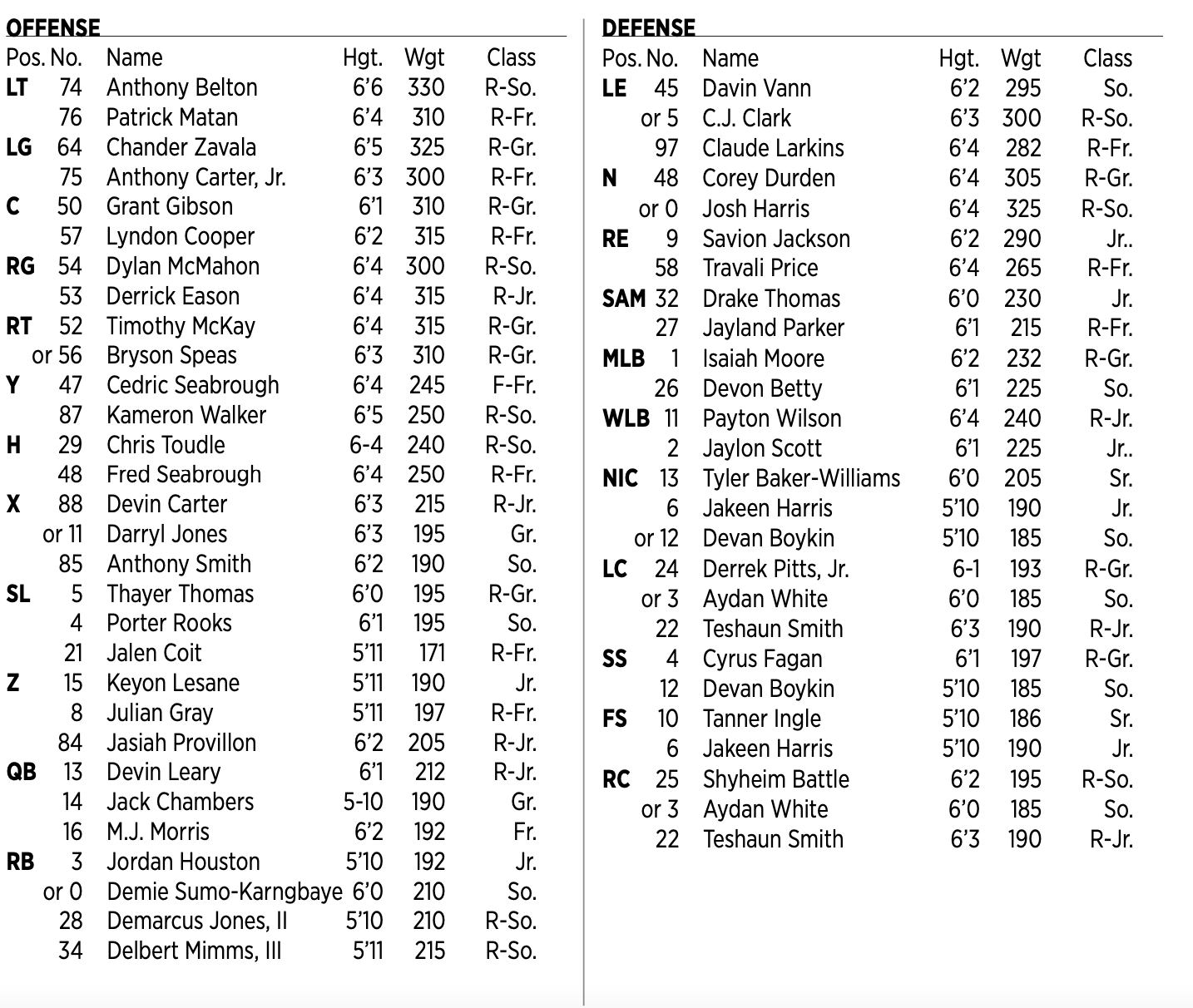 Notes
There have been a few significant changes on this weeks Depth Chart:
Graduate Timothy McKay has moved into the starting spot at Right Tackle. Graduate Bryson Speas has been listed as the starter on the first 4 Depth Charts, but McKay actually ended up starting the game against UCONN.

This isn't a shocking move. Even though Speas has started 3 games out of 4, McKay has played 72 more snaps on the year. Also, According to PFF grades, McKay's grade on the season is 74.6 on the year, compared to Speas' 73.2.
Interestingly, McKay is stronger in run block (82.2/69.1), and Speas is stronger in pass block (83.8/70.1). McKay is the Wolfpack's highest graded run blocker.
Also, it's worth noting, while McKay is listed as the starter, there is an "or" in between their names.

Things have been shaken up in regards to Senior Tyler Baker-Williams at Nickel.

Sophomore Joshua Pierre-Louis has been listed as the backup in the first 4 depth chart's, but he isn't anywhere to be found on this weeks depth chart.
Junior Jakeen Harris, who has been listed as Senior Tanner Ingle's backup at Free Safety all year, is listed as Baker-Williams backup at Nickel now.

He is still also listed as the backup for Ingle at Free Safety.

Sophomore Devan Boykin is listed as the third Nickel, with an "or" in between his name and Harris.

Boykin is still listed as Graduate Cyrus Fagan's backup at Strong Safety, which is where he's been listed all year.