UNC QB Drake Maye Rips NC State Talking to Media…Then Tweets an Apology
NC State fans love to hate UNC.
It's nice when they make it easy for us.
Redshirt Freshman Quarterback Drake Maye, unprompted today, threw shade NC State's way. Answering why he chose to go to UNC, and had the following to say:
"I didn't want to miss out on the home state. Whether you want to admit it or not, growing up in North Carolina, you're going to be a Carolina fan. Some people may say State, but people that go to State can't get into Carolina."
#UNC QB Drake Maye: "I didn't want to miss out on the home state… growing up in Carolina, you're gonna be a Carolina fan. Some people may say State, but really people who go to State just can't get into Carolina…" pic.twitter.com/z7zVHvFEbI

— Ross Martin (@RossMartin_IC) September 20, 2022
Then Maye shared the following tweet, apologizing for his earlier remark.
I made a remark today about NC State, and I want to apologize. I was answering a question about playing in-state and said something I shouldn't have. I said it as a joke but it was inappropriate. I feel bad and need to do a better job representing our program and this University.

— Drake Maye (@DrakeMaye2) September 21, 2022
This reminds me of when UNC Women's Basketball Coach Courtney Banghart called NC State fans "classless," and moaned about NC State fans being "mean" to them…and then she tried to say she didn't mean what she said.
Drake…it's ok.
It's encouraging.
Y'all typically try to pretend this isn't a rivalry. Obviously, NC State doesn't mean nothing to you, when you feel the need to hate on them unprompted.
Wolfpack fans never pretend like they don't like the Tar Heels. UNC tries to hide it, like they are above it.
It's moments like this that show the feeling is mutual. Thanks Drake.
It's not as if NC State needed any motivation to play UNC on November 25th in Chapel Hill, but the bulletin board material is much appreciated.
NC State's Depth Chart vs. Clemson with Notes
NC State's Football team has released their Depth Chart for this Saturday's game vs. Clemson on the road at 7:30pm.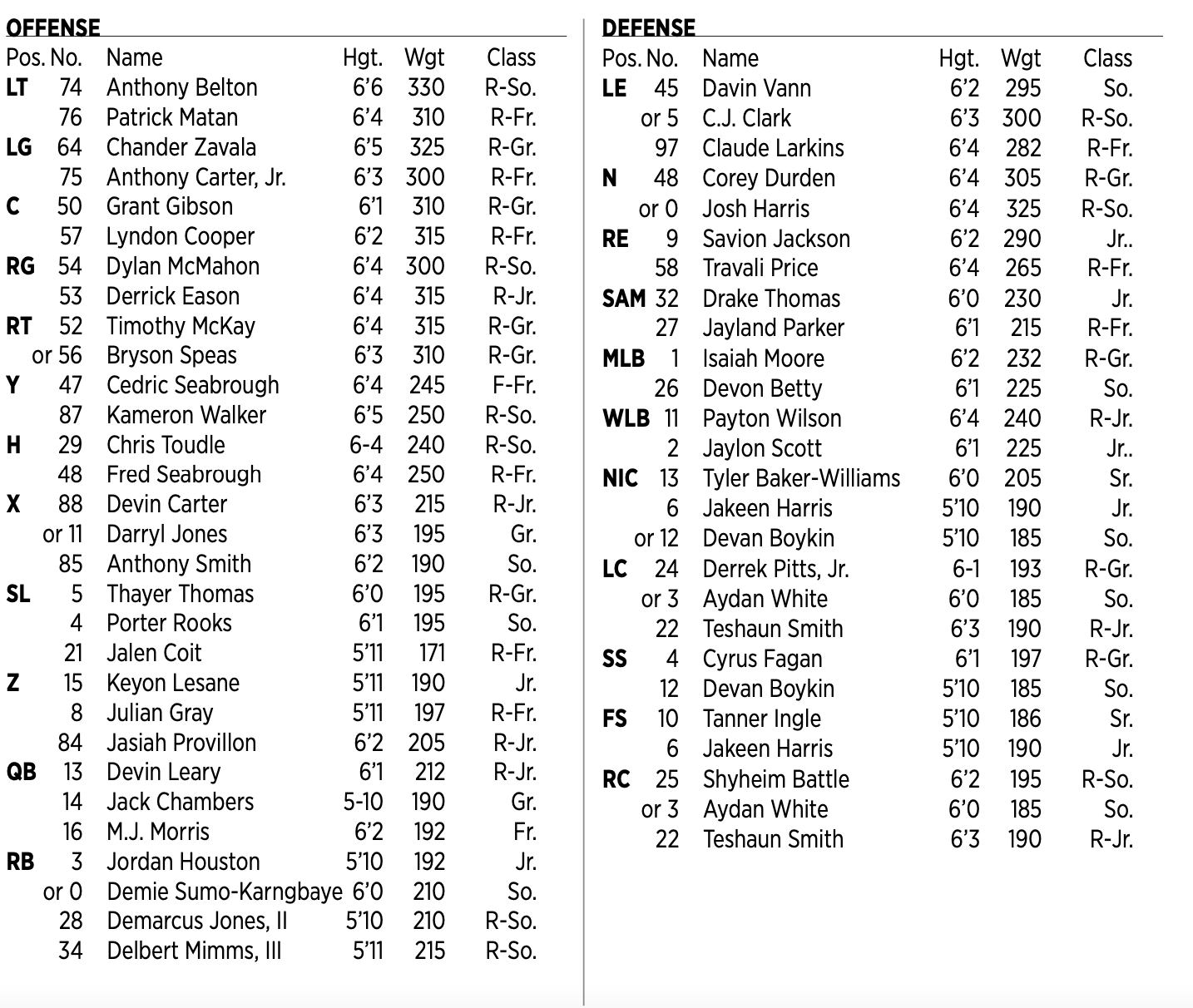 Notes
There have been a few significant changes on this weeks Depth Chart:
Graduate Timothy McKay has moved into the starting spot at Right Tackle. Graduate Bryson Speas has been listed as the starter on the first 4 Depth Charts, but McKay actually ended up starting the game against UCONN.

This isn't a shocking move. Even though Speas has started 3 games out of 4, McKay has played 72 more snaps on the year. Also, According to PFF grades, McKay's grade on the season is 74.6 on the year, compared to Speas' 73.2.
Interestingly, McKay is stronger in run block (82.2/69.1), and Speas is stronger in pass block (83.8/70.1). McKay is the Wolfpack's highest graded run blocker.
Also, it's worth noting, while McKay is listed as the starter, there is an "or" in between their names.

Things have been shaken up in regards to Senior Tyler Baker-Williams at Nickel.

Sophomore Joshua Pierre-Louis has been listed as the backup in the first 4 depth chart's, but he isn't anywhere to be found on this weeks depth chart.
Junior Jakeen Harris, who has been listed as Senior Tanner Ingle's backup at Free Safety all year, is listed as Baker-Williams backup at Nickel now.

He is still also listed as the backup for Ingle at Free Safety.

Sophomore Devan Boykin is listed as the third Nickel, with an "or" in between his name and Harris.

Boykin is still listed as Graduate Cyrus Fagan's backup at Strong Safety, which is where he's been listed all year.