UCONN's Jim Mora Shares Thoughts on NC State at Weekly Press Conference
UCONN Head Coach Jim Mora shared his thoughts on the NC State football team in his weekly press conference earlier this week. The Wolfpack and the Huskies will kickoff at 7:30pm at Carter-Finley Stadium this Saturday night. If you want to watch the presser, you can do so above, or check out what he had to say about NC State below.
"NC State is a fantastic football team. When you watch them play, they don't have holes.
Preseason ACC Player of the Year at Quarterback.
2 running backs that are as good as you'll find in the country. Haven't watched every team play, but as a tandem, they are as good as you get.
Tight Ends they have a good job using.
Experienced receivers that have size and can go up and high point the ball.
Athletic and physical offensive line.
Defensively they play three-down, and bring a lot of pressure. They play really fast, and know what they are doing.
It's kind of interesting to watch when a cornerback is setting the tempo for a defense, but he sets the tempo for the defense in the way that he plays.
They are a fun team to watch play defense.
Really solid in the kicking game.
Watched the game the other night, that crowd, that environment, that stadium, it's going to be a great challenge and opportunity for us."
NC State's Depth Chart vs. Clemson with Notes
NC State's Football team has released their Depth Chart for this Saturday's game vs. Clemson on the road at 7:30pm.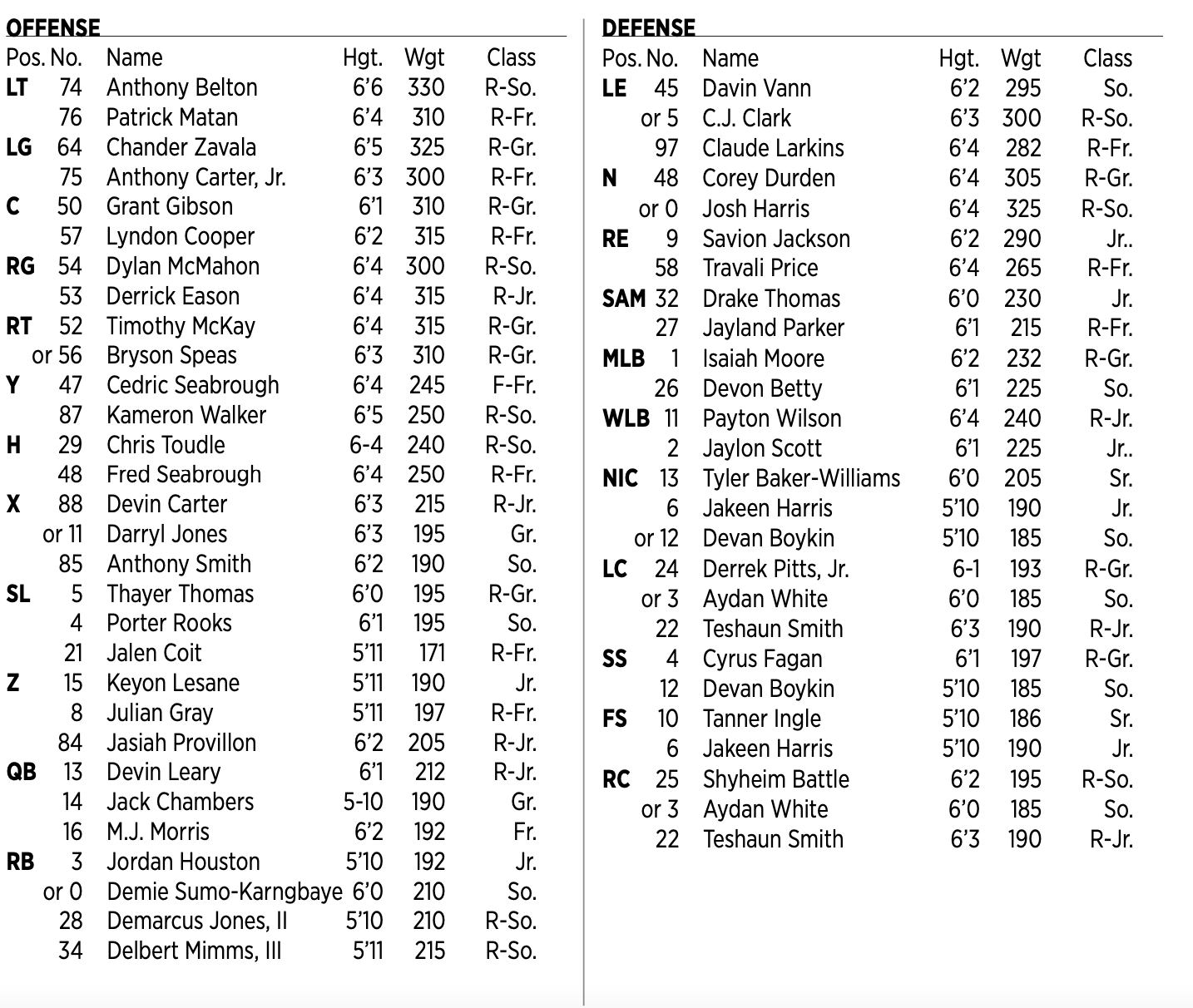 Notes
There have been a few significant changes on this weeks Depth Chart:
Graduate Timothy McKay has moved into the starting spot at Right Tackle. Graduate Bryson Speas has been listed as the starter on the first 4 Depth Charts, but McKay actually ended up starting the game against UCONN.

This isn't a shocking move. Even though Speas has started 3 games out of 4, McKay has played 72 more snaps on the year. Also, According to PFF grades, McKay's grade on the season is 74.6 on the year, compared to Speas' 73.2.
Interestingly, McKay is stronger in run block (82.2/69.1), and Speas is stronger in pass block (83.8/70.1). McKay is the Wolfpack's highest graded run blocker.
Also, it's worth noting, while McKay is listed as the starter, there is an "or" in between their names.

Things have been shaken up in regards to Senior Tyler Baker-Williams at Nickel.

Sophomore Joshua Pierre-Louis has been listed as the backup in the first 4 depth chart's, but he isn't anywhere to be found on this weeks depth chart.
Junior Jakeen Harris, who has been listed as Senior Tanner Ingle's backup at Free Safety all year, is listed as Baker-Williams backup at Nickel now.

He is still also listed as the backup for Ingle at Free Safety.

Sophomore Devan Boykin is listed as the third Nickel, with an "or" in between his name and Harris.

Boykin is still listed as Graduate Cyrus Fagan's backup at Strong Safety, which is where he's been listed all year.