Dave Doeren's Retweet, Mack Brown Addresses Drake Maye's Comments, and Joe & Joe Nail It
Yesterday, UNC Head Football Coach Mack Brown spoke to the media about Tar Heel Quarterback Drake Maye's jab at NC State on Tuesday.
"You can't be cute anymore. He was trying to be funny. Drake is one of the nicest young people I've ever met in my life. He's got great faith. He always wants to be classy and do things right. He was absolutely cutting up. Obviously it wasn't true. I told him 'Have fun, but always be respectful of everybody, especially your neighbors. NC State's got a great university. It was fun. It was a young guy trying to cut up, and enjoy you all, and be relaxed before a big game, and it just didn't come across right."
"I think we've got way too much serious opinions. Maybe it's a product of social media. People pick at each other all the time, so at lunch the NC State and Carolina people can pick at each other, and it's ok, but for somebody to say something publicly, you've got a lot of people out there that are looking for something to get mad at. It was a joke, but for the people that want to be angry, it crossed a line." 
Brown: "NC State's got a great university, and again it was fun. It was a young guy trying to cut up and enjoy you all (media) and be relaxed before a big game, and it just didn't come across right." Story updated with quotes: https://t.co/apO2EnC3Bj pic.twitter.com/oBKuiIFrze

— Brian Murphy (@murphsturph) September 21, 2022
Also, I found Dave Doeren's retweet below comparing the two schools to be hilarious.
Also, Joe Giglio and Joe Ovies nailed it on the head below.
People that went to NC State and UNC talk trash…what are we doing mad at Drake Maye here?
We don't think about you, we just talk about you all the time. You're about to play Notre Dame at home, and you're worried about State.
That's where Carolina has the problem. They don't want to admit that they think about State.
It's Carolina thinking it's too spicy this week. Having Drake Maye apologize makes it worse.
Drake Maye played a classic rivalry hit we've heard millions of times. So what was the problem? @giglio_OG and I on embracing the dynamics of UNC and NC State smack talk… pic.twitter.com/kIuzRmH0Ah

— Joe Ovies (@joeovies) September 21, 2022
NC State's Depth Chart vs. Clemson with Notes
NC State's Football team has released their Depth Chart for this Saturday's game vs. Clemson on the road at 7:30pm.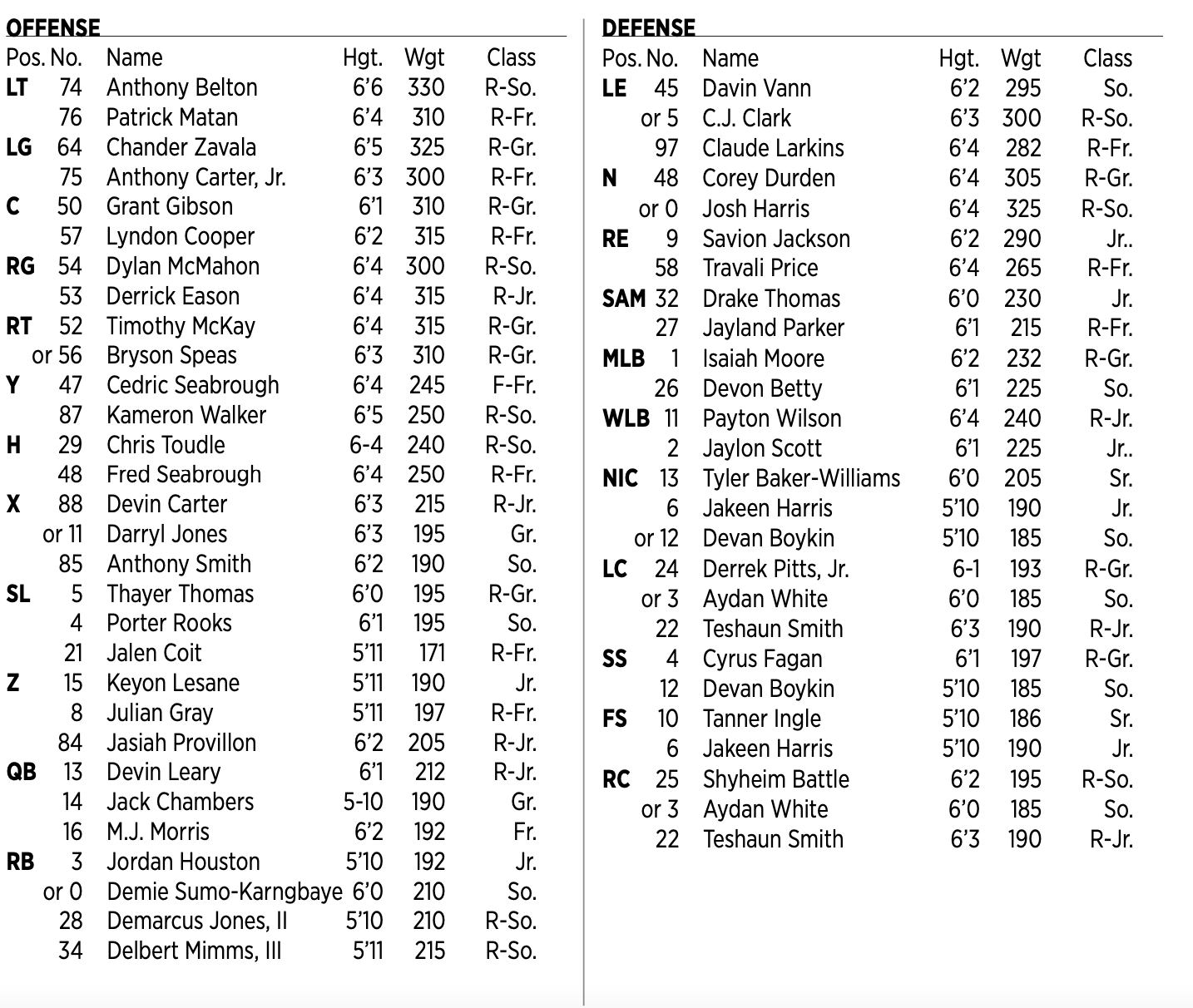 Notes
There have been a few significant changes on this weeks Depth Chart:
Graduate Timothy McKay has moved into the starting spot at Right Tackle. Graduate Bryson Speas has been listed as the starter on the first 4 Depth Charts, but McKay actually ended up starting the game against UCONN.

This isn't a shocking move. Even though Speas has started 3 games out of 4, McKay has played 72 more snaps on the year. Also, According to PFF grades, McKay's grade on the season is 74.6 on the year, compared to Speas' 73.2.
Interestingly, McKay is stronger in run block (82.2/69.1), and Speas is stronger in pass block (83.8/70.1). McKay is the Wolfpack's highest graded run blocker.
Also, it's worth noting, while McKay is listed as the starter, there is an "or" in between their names.

Things have been shaken up in regards to Senior Tyler Baker-Williams at Nickel.

Sophomore Joshua Pierre-Louis has been listed as the backup in the first 4 depth chart's, but he isn't anywhere to be found on this weeks depth chart.
Junior Jakeen Harris, who has been listed as Senior Tanner Ingle's backup at Free Safety all year, is listed as Baker-Williams backup at Nickel now.

He is still also listed as the backup for Ingle at Free Safety.

Sophomore Devan Boykin is listed as the third Nickel, with an "or" in between his name and Harris.

Boykin is still listed as Graduate Cyrus Fagan's backup at Strong Safety, which is where he's been listed all year.