NC State Football's Yin & Yang with the Red Zone
Depending on whether you play defense or offense for the NC State football team, the Red Zone has either been y0ur friend or your foe through the first 3 games of the 2022 season.
The red zone has been a friend of the Wolfpack defense, because they have barely seen it. East Carolina, Charleston Southern and Texas Tech combined only entered the Red Zone 3 times. That ranks 4th nationally.
Opponents have taken a whopping 11 snaps in the Red Zone against the NC State defense.
On the other side of the ball, the Wolfpack offense has had a hard time moving the ball down the field into the Red Zone, doing so 9 times through 3 games, which ranks 101st nationally. In those nine trips, the Wolfpack have scored on 7 of them, ranking 102nd nationally.
NC State Offensive Coordinator Tim Beck isn't down about the state of his offense, and believes things will eventually start clicking on all cylinders.
"I'm confident in our players' playmaking ability and our guys up front, I think we're running the ball well. I think we'll be ok, I don't have any doubt in my mind where we'll end up being. It's just some growing pains right now with some of the guys but they're playing a lot." (Link)
NC State's Depth Chart vs. Clemson with Notes
NC State's Football team has released their Depth Chart for this Saturday's game vs. Clemson on the road at 7:30pm.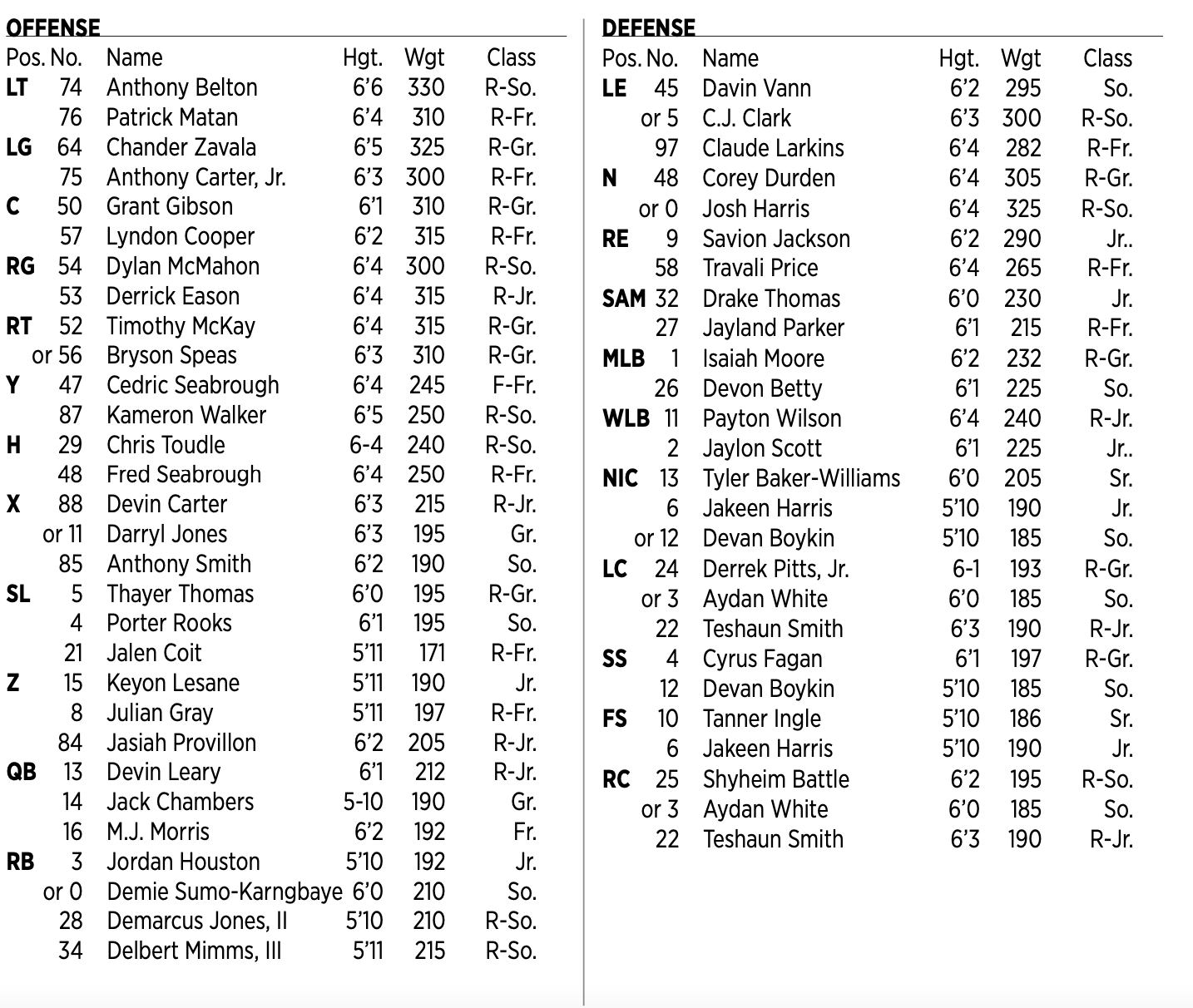 Notes
There have been a few significant changes on this weeks Depth Chart:
Graduate Timothy McKay has moved into the starting spot at Right Tackle. Graduate Bryson Speas has been listed as the starter on the first 4 Depth Charts, but McKay actually ended up starting the game against UCONN.

This isn't a shocking move. Even though Speas has started 3 games out of 4, McKay has played 72 more snaps on the year. Also, According to PFF grades, McKay's grade on the season is 74.6 on the year, compared to Speas' 73.2.
Interestingly, McKay is stronger in run block (82.2/69.1), and Speas is stronger in pass block (83.8/70.1). McKay is the Wolfpack's highest graded run blocker.
Also, it's worth noting, while McKay is listed as the starter, there is an "or" in between their names.

Things have been shaken up in regards to Senior Tyler Baker-Williams at Nickel.

Sophomore Joshua Pierre-Louis has been listed as the backup in the first 4 depth chart's, but he isn't anywhere to be found on this weeks depth chart.
Junior Jakeen Harris, who has been listed as Senior Tanner Ingle's backup at Free Safety all year, is listed as Baker-Williams backup at Nickel now.

He is still also listed as the backup for Ingle at Free Safety.

Sophomore Devan Boykin is listed as the third Nickel, with an "or" in between his name and Harris.

Boykin is still listed as Graduate Cyrus Fagan's backup at Strong Safety, which is where he's been listed all year.