NC State vs. Clemson Kickoff Date/Time Remains Set Despite Other Games Being Shifted Due to Hurricane Ian
At this point, there is no denying that Hurricane Ian will impact the Top-10 matchup between #10 NC State and #5 Clemson. The question is what will the impact be.
We've already seen games in the path of Ian move their games. South Carolina vs. South Carolina State has been moved to Thursday night.
Due to the potential impact of Hurricane Ian, our game against SC State has been moved to Thursday at 7:00PM.

More info: https://t.co/q6esABlWo9 pic.twitter.com/1OizoYoEBQ

— Gamecock Football (@GamecockFB) September 27, 2022
Florida's game vs. Eastern Washington has been moved to Sunday at Noon.
Eastern Washington at Florida game, scheduled for Saturday, has been moved to Sunday at noon

— Brett McMurphy (@Brett_McMurphy) September 27, 2022
At this point, the kickoff between the Wolfpack and the Tigers is still set for 7:30pm on Saturday.
Here's the current forecast according to the Triangle's own Mike Maze.
Many folks are asking about the NC State v. Clemson game Saturday evening. Rain from Ian will be in the area along with sustained winds from the northeast at 15-20 mph with gusts to 35 mph. Pack the ponchos and stay warm! @WRALWeather pic.twitter.com/7NOsRehX0b

— Mike Maze (@mazewx66) September 27, 2022
Also, 50mph winds might have a minor effect on throwing the football.
For my #Clemson and #NCSU Weatherhounds planning to go to the game Saturday. Rain may not be as big an issue as wind. GFS is looking for wind gusts near 50 mph Saturday afternoon up in the hills. Take care! pic.twitter.com/fDLXikcgam

— Chick Jacobs (@NCWeatherhound) September 26, 2022
It will be interesting to see what other college football games get moved due to Hurricane Ian, and whether or not NC State vs. Clemson will be one of them.
Watching these college football games get rescheduled the smart thing to do for State/Clem is to play on Sunday afternoon.

— Joe Ovies (@joeovies) September 27, 2022
NC State's Depth Chart vs. Louisville (with Notes)
NC State has released their Depth Chart for their matchup against Louisville this Friday night.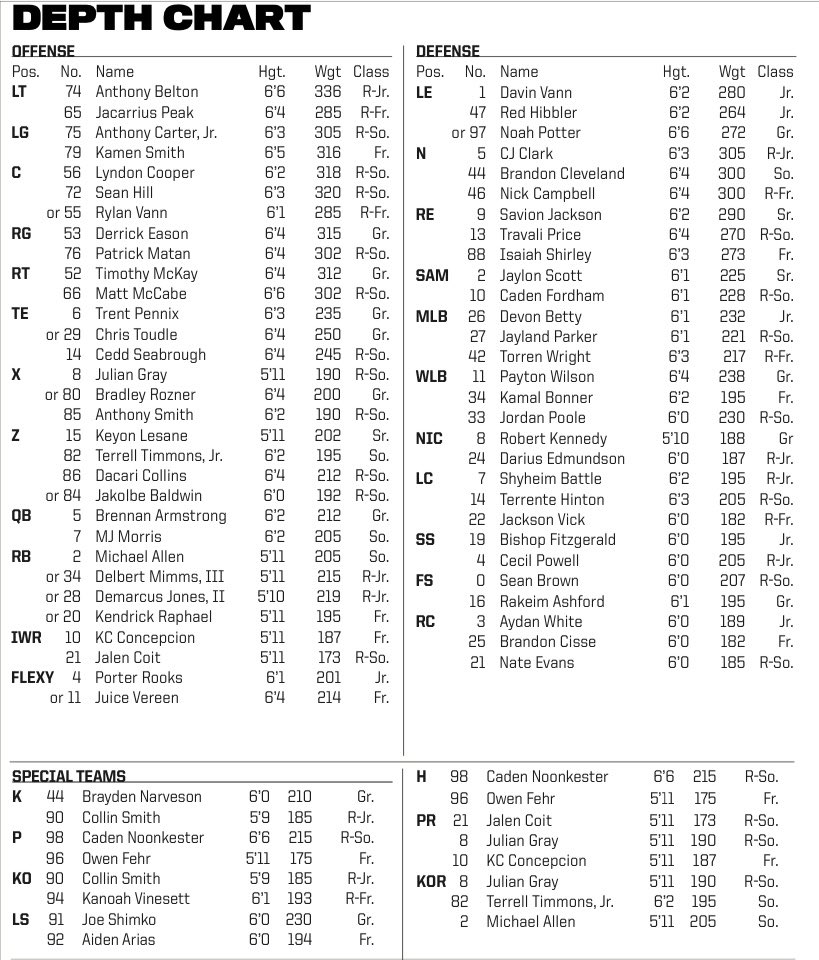 Notes
Starting Center Dylan McMahon isn't listed on the Depth Chart. Wolfpack head coach Dave Doeren said that McMahon is still "day-to-day."

As a result, Lyndon Cooper will be starting at Center once again.

Starting Strong Safety Devan Boykin had to leave the game almost immediately last Friday night up at UVA. He is not listed on the Depth Chart, but thankfully, it doesn't seem like something major. According to Doeren, it's not very likely that Boykin will be able to play Friday, but it hasn't been completely ruled out.

As a result, Bishop Fitzgerald will be starting at Strong Safety.

The Depth Chart for the Running Backs is a hoot. While Michael Allen is listed at the top, there is an "or" in between everyone's name, treating everyone as if they are starters.
Last week, Cecil Powell was listed as the third string Nickel, but Doeren said after the UVA game that he had been serving as Boykin's backup at Strong Safety that week in practice. Both went out of the game due to injuries.

This weeks depth chart reflects the fact that he'd been getting run at Strong Safety last week. He's listed as Bishop Fitzgerald's backup at SS.

Last week Rakeim Ashford was listed as the backup at Strong Safety, and now he is listed as the backup at Free Safety.