What Dave Doeren Had to Say About the BC Loss, Drake Thomas' PI, MJ Morris' TO's, What He Could Have Done Differently, and Previewing Louisville
NC State Head Football Coach Dave Doeren discussed the Wolfpack's gut wrenching loss to BC, the pass interference call on Drake Thomas at the end of the game, what he could have done different as a coach, MJ Morris' turnovers and their opponent Saturday, Louisville, at his weekly Press Conference on Monday. You can watch it here, or check out a BULLETED breakdown below.

Boston College Game
We just had a tough loss to say the least…really hard one to swallow.
In general, it's kind of 2 separate halves when you look at how went down.

We started fast, scoring 14 points in the 1st quarter, which is what we wanted to do…try to get out on a team that had a young quarterback.
After those 2 drives, we had a hard time scoring you know, there's a variety of reasons for that.

Usually drives end because of a lack of execution, penalties, creating tough down and distances to call plays…or because some players on their side of the ball made some good plays…we had all of those things happen.

Boston College's third down defense was very good.

That's hard for a Freshman Quarterback to be in 3rd-and-extra long.

Our defense did a good job of keeping us in the game and battling.

Held them to -1 yards rushing.
We turned the ball over 3 times in the 2nd half, and on all 3 of those turnovers, we responded by not allowing points on defense and that's a tremendous response by those guys.
They pressured the quarterback.

I love our players. I love how they compete. Can we do things better? Can we coach better? Can we play better? Can we make fewer mistakes? Of course we can.

That'll be our emphasis moving forward.

I thought our special teams were terrific.

Caden Noonkester continues to impress us as a punter.
Keyon Lesane and Darryl Jones as gunners on those units, Keyon forced a fumble and created a huge play.

Our defense also had 2 takeaways with great interceptions.
Chris Dunn set a record in the ACC, being perfect again in a game.
Give Boston College credit.

Zay Flowers is a special football player. He's electric.

Obviously, we knew where he was, and he still made plays.

They battled back, so you have to give them credit for that.

I told them I was in a lot of pain, too. I felt for them.

I felt like we were robbed in the moment as we made what I thought was a great play and still do.

Human errors are going to occur. None of us are perfect. I told them that they have to accept it, flush it, and move on.

The only way we can become whole again as a team is to fill the cup back up with emotion, go compete again, and win.

We still have opportunities in front of us that allow us to have, albeit not the season we thought at the beginning with what we've dealt with, a great season here still. The guys all understand that.

It's just being honest with them, not sugarcoating anything, letting them talk as well and say how they feel.

I did that with the leadership council, and I know, in their position rooms, they always talk about things that way.

I'm always gonna take the blame.

I'm ultimately the head of everything that happens here.
And so anytime you watch the game in your room, and I stay up all night after a loss, you're like, "What could I have done?

What things, Of course there's calls, but you don't get that. Don't get it in life either. You know, just don't.
But you can learn from it. And I think that's the biggest thing.

Hey, could we have blitz or not blitz? Should we ran this play instead of that play? Of course there's always those, but we don't get the luxury of hitting rewind and having a do over.
Could we have eliminated that from happening on 4th-and-1 on the 1 yard line?

Could we have gotten in the end zone?
I thought we called a good play and we didn't block it well, and it's a play that should have scored because we had enough blockers at the point of attack.

Could we have called another play? Sure, we could have, and we still would've had to have blocked it well, and maybe we would've have on that particular play…their nose guard won on that play.
That's football. Sometimes you go up and you make a play and sometimes you don't.

At the end of it, you have to coach the guys to do the best they can.

And as coaches, you do the best you can and second guessing yourself doesn't make the play different. You just learn from it.
What else could I have done? We do that every week, every play, whether you guys believe that or not.
We really, really sit in here and think about everything that we do.
We're not perfect, but these kids play really hard for us and we're doing everything we can to help them.
Pass Interference Call on Drake Thomas
It came down to the final drive and fourth and seven.

They get in the red zone and the play they ran, we practiced all week.

Drake Thomas made the play in practice all week.
He knew the play that was coming and he made a terrific play…the timing, broke on the football, had both hands extended, I thought he'd beat the receiver to the spot.
He did everything that we could ask him to do. I'm really proud of him for making that play.
And you know at the end of that play, we should have been out there on offense and kneeling the ball down for a win, but that's not how it ended.
And so it is what it is. Makes it hard to swallow. Like I told my team after the game I hurt for our senior class that they didn't get the satisfaction of that.
At the end of the day, everything we did led us to one play to win it, and we made the play, right? We did. You guys all saw it.
When you're playing with a Freshman Quarterback and you're missing several players with injuries and it comes down to 1 play in the game and you have a great player like Drake and he makes the play I mean, that's how you should win and you can call it an 'ugly win'…I'll take it all day long, man…but we didn't get it, so it's back to the drawing board and get ready for another one.
MJ Morris' Turnovers Against BC
Maybe when you get a True Freshman in the game that hadn't played as much, those could have happened earlier.

Maybe the fact he didn't have a mistake like that until this game made the expectations too high? I don't know.

He tried to make a play on one of them.

We're running a read play. He saw the end. He thought he'd outrun him even though, in retrospect, I'm sure he'd say he should've handed it.
He's a player trying to make a play. The running back had the ball in his belly, and it didn't get pulled out the right way, and it went right to him.

On another one, he under threw a ball.

Of course he could've thrown a better pass there.
That's going to happen from time to time. He made some mistakes.

Like I told him…'You're human, too. You're going to learn from the things that you did, and you're going to be better because of it.'

We don't expect him to be perfect.
Anytime any player, Freshman up to Senior, makes a mistake, you're going to evaluate it, and you're going to try and help them through it.
All you ask is that they learn from it.
Previewing Louisville
They've won 4 of their last 5.
We get to come down there and play on Senior Day against them, and it's really 2 similar, aggressive defenses head-to-head.
They've forced a lot of turnovers.

They forced 8 against Wake.

They bring a lot of pressure.
They're coached well.
They're aggressive, and they have good players.
On offense, Scott Satterfield has always been a balanced Offensive coach.

He has a good run game, a lot of outside zone, play actions, nakeds, and has a couple of trick plays.
He has very good personnel in the backfield.

His tailbacks are hard runners.

He has a variety of guys at the receiver position…big, small, fast.
Their tight ends are good players and experienced players.
O-line is athletic.
NC State's 2023 Football Schedule has Arrived!
NC State's 2023 Football schedule was released yesterday.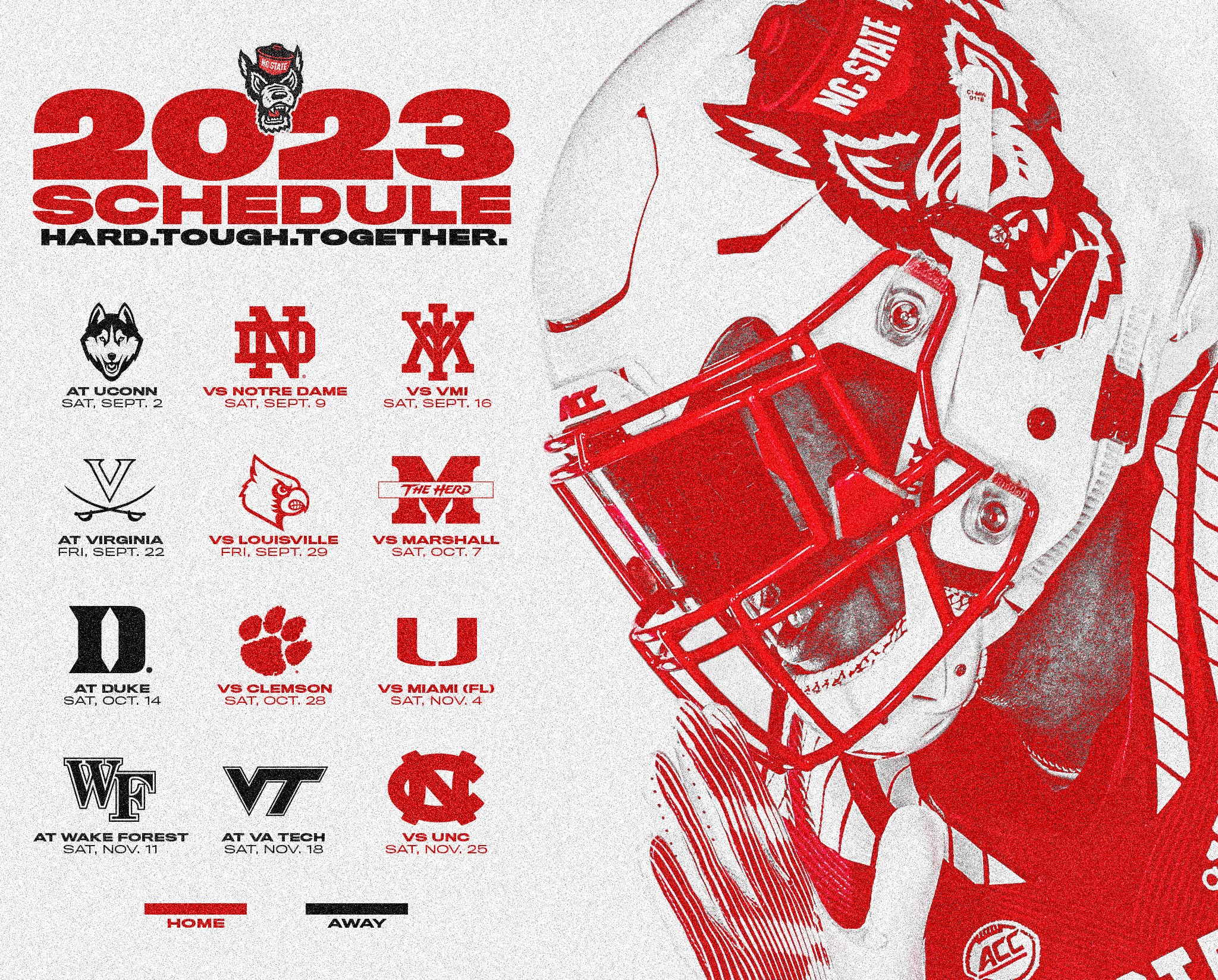 Notes
NC State will play all three in-state ACC rivals: UNC, Duke and Wake Forest
NC State has two Friday night games back to back: UVA & Louisville
NC State will play Quarterback Brennan Armstrong's former team UVA on 9/22.
NC State will host Notre Dame for the 2nd time ever, and will face a familiar face in former Wake Forest Quarterback Sam Hartman.
In the first year without Divisions in the ACC, 5 of NC State's 8 conference opponents will be teams that were in the Coastal Division last year: UVA, UNC, Miami, Duke, VT.

The three former Atlantic Division opponents are: Clemson, Wake Forest and Louisville