Dave Doeren Loves NC State and Hates UNC, & He Ain't Shy About It
Say what you want about Dave Doeren, but what can't be denied is that he LOVES NC State, and he HATES UNC.
The following quote of Doeren shared during the broadcast of the game should warm the hearts of Wolfpack Nation. Salty Dave is my favorite Dave.
View this post on Instagram
Dave Doeren: "They don't like us, we hate them. We're blue collar, they're elitist. Their coaches talk down to us, they talk behind our backs to recruits"

Reporter: "Is this on or off the record?"

Dave MF Doeren: "I DON'T GIVE A ****"

🐐

— Barstool Pack (@BarstoolPack) November 26, 2022
Also, you've freaking got to love Dave ripping off his hoodie with a "Light it RED" T-Shirt on underneath.
Ladies and gentlemen…Dave Doeren pic.twitter.com/xHChdFWzv1

— Travon Miles (@TrayABC11) November 26, 2022
The raw emotion, the love his players have for him, and his evident love he has for them is palpable.
In closing, Doeren's dance moves…someone teach this man the Griddy. But his players love his dance moves, and they make my kids laugh.
Light. It. Red. pic.twitter.com/zZUUD8dyZg

— NC State Football (@PackFootball) November 26, 2022
Doeren has led the Wolfpack to two back-to-back drama filled victories over the Heels he (and we) hate, and has won 5 of the last 7 against the boys in blue that play in Carter-Finley West.
NC State's 2023 Football Schedule has Arrived!
NC State's 2023 Football schedule was released yesterday.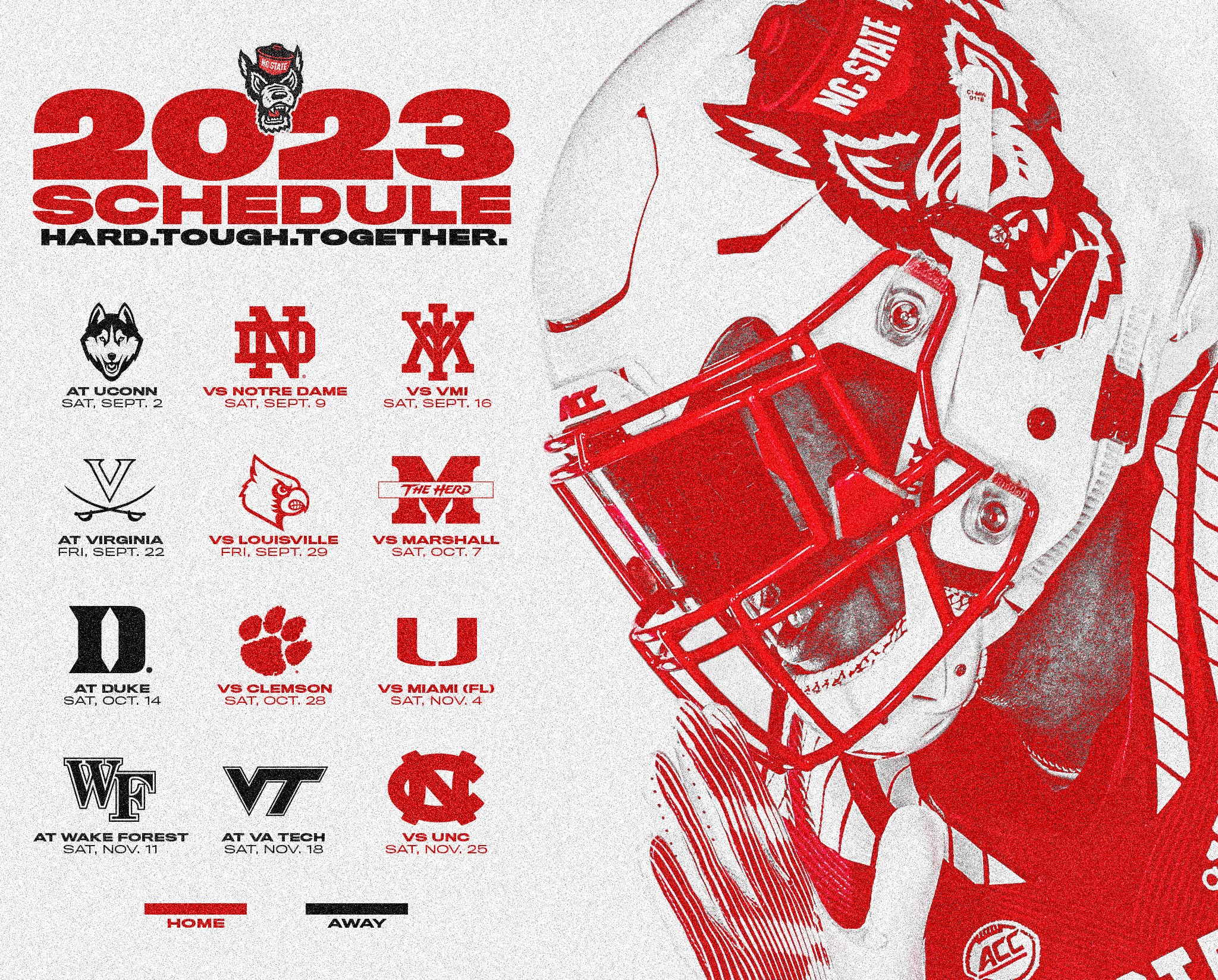 Notes
NC State will play all three in-state ACC rivals: UNC, Duke and Wake Forest
NC State has two Friday night games back to back: UVA & Louisville
NC State will play Quarterback Brennan Armstrong's former team UVA on 9/22.
NC State will host Notre Dame for the 2nd time ever, and will face a familiar face in former Wake Forest Quarterback Sam Hartman.
In the first year without Divisions in the ACC, 5 of NC State's 8 conference opponents will be teams that were in the Coastal Division last year: UVA, UNC, Miami, Duke, VT.

The three former Atlantic Division opponents are: Clemson, Wake Forest and Louisville