NC State Players Celebrate By Planting Their Flag on UNC Logo and Saying: 'UNC…What Happened???'
The NC State Football Players had fun after beating their archrival UNC today, the Wolfpack took to the field with their flag in Chapel Hill.
Ben Finley, the 4th string Quarterback through much of the season, planted that bad boy in Kenan.
Carter-FINLEY west@RFin15 @bfin_5 pic.twitter.com/5NQZB0wkXN

— NC State Football (@PackFootball) November 26, 2022
Safety Cyrus Fagan, as fiery as ever, was running the field with the flag.
Cyrus Fagan, celebrating. pic.twitter.com/HsQ2IzTMLz

— Ethan McDowell (@ethanmmcdowell) November 26, 2022
The exclamation point on the win. pic.twitter.com/qotngvWbx0

— The Wolfpacker (@TheWolfpacker) November 26, 2022
Derrek Pitts, Jordan Houston and Devin Carter planted that flag right on the UNC logo at midfield.
After the win at UNC, a couple of @PackFootball players came out and planted the flag. pic.twitter.com/okhYA3FwBR

— Ryan Henkel (@RyanHenkel_) November 26, 2022
You've got to love the sass of Nose Tackle Corey Durden taking a lap around the field waving bye to all the UNC fans.
Cory Durden was on the field for that missed field goal. He then did an entire lap of the stadium waving goodbye to Unc fans pic.twitter.com/CDH66Elgim

— Shawn Krest (@ShawnKrest) November 26, 2022
Then the boys in the locker room trolled the Heels with this…UNC…WHAT HAPPENED?
View this post on Instagram
View this post on Instagram
NC State's 2023 Football Schedule has Arrived!
NC State's 2023 Football schedule was released yesterday.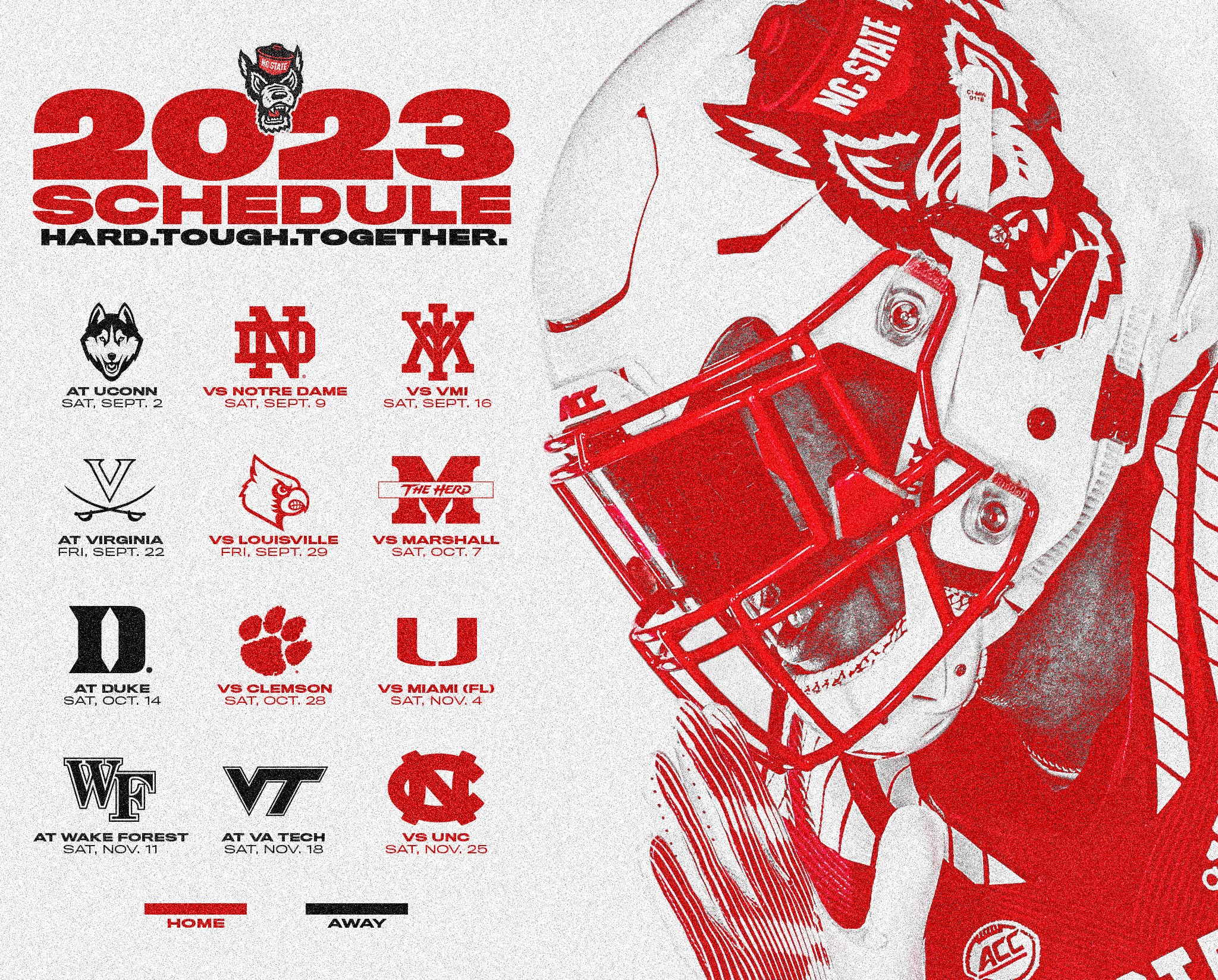 Notes
NC State will play all three in-state ACC rivals: UNC, Duke and Wake Forest
NC State has two Friday night games back to back: UVA & Louisville
NC State will play Quarterback Brennan Armstrong's former team UVA on 9/22.
NC State will host Notre Dame for the 2nd time ever, and will face a familiar face in former Wake Forest Quarterback Sam Hartman.
In the first year without Divisions in the ACC, 5 of NC State's 8 conference opponents will be teams that were in the Coastal Division last year: UVA, UNC, Miami, Duke, VT.

The three former Atlantic Division opponents are: Clemson, Wake Forest and Louisville