NC State Football Players Can Earn a Minimum of $25k Through Pack of Wolves NIL Collective in 2023
On Monday, news broke that the Pack of Wolves NIL Collective is guaranteeing that NC State scholarship Football players will have the opportunity to make a minimum of $25k in 2023.
Pack of Wolves NIL Collective today announced a strategic move to ensure that N.C. State football student–athletes can remain competitive in the NIL landscape. The program, called "Leading the Pack," creates opportunities for these student–athletes to engage in NIL activities in the community this next calendar year, where they could earn a minimum of $25,000 based upon an individual analysis of the NIL value that each student–athlete brings.
"We sought to create an enhanced NIL organization with a high standard of trust and accountability that honors N.C. State's excellence," said Charlie Stallings, chairman of the board for Pack of Wolves collective. "We have worked hard to pair businesses, brands, and local charities with N.C. State football student–athletes. This behind–the–scenes work has brought us to the point where we can make this significant commitment today. Football student–athletes will go out into the community monthly with the opportunity to earn $25,000 or more annually. These engagements can be charitable appearances working with youth in the community, partnering with the businesses or brands who have contributed, and more."
"We are excited about the continued expansion of Name, Image, and Likeness opportunities available to N.C. State student–athletes," said Dave Doeren, N.C. State football coach. "We are particularly proud that they can use their platform to impact the greater North Carolina community and its philanthropic organizations."
Several local charities have already signed on to participate, including Gigi's Playhouse of Raleigh, N.C., the Boys & Girls Clubs of Wake County, Dress for Success Triangle N.C., The Harrelson Center of Wilmington, N.C., SAFEchild, and the Food Bank of Central &  Eastern North Carolina. (Link)
The 'Leading the Pack' program is similar to one at Texas Tech, where 100 team members were guaranteed $25k annually.
It is timely for this announcement to come out when it did, because on December 5th, the Transfer Portal officially opens.
NC State's 2023 Football Schedule has Arrived!
NC State's 2023 Football schedule was released yesterday.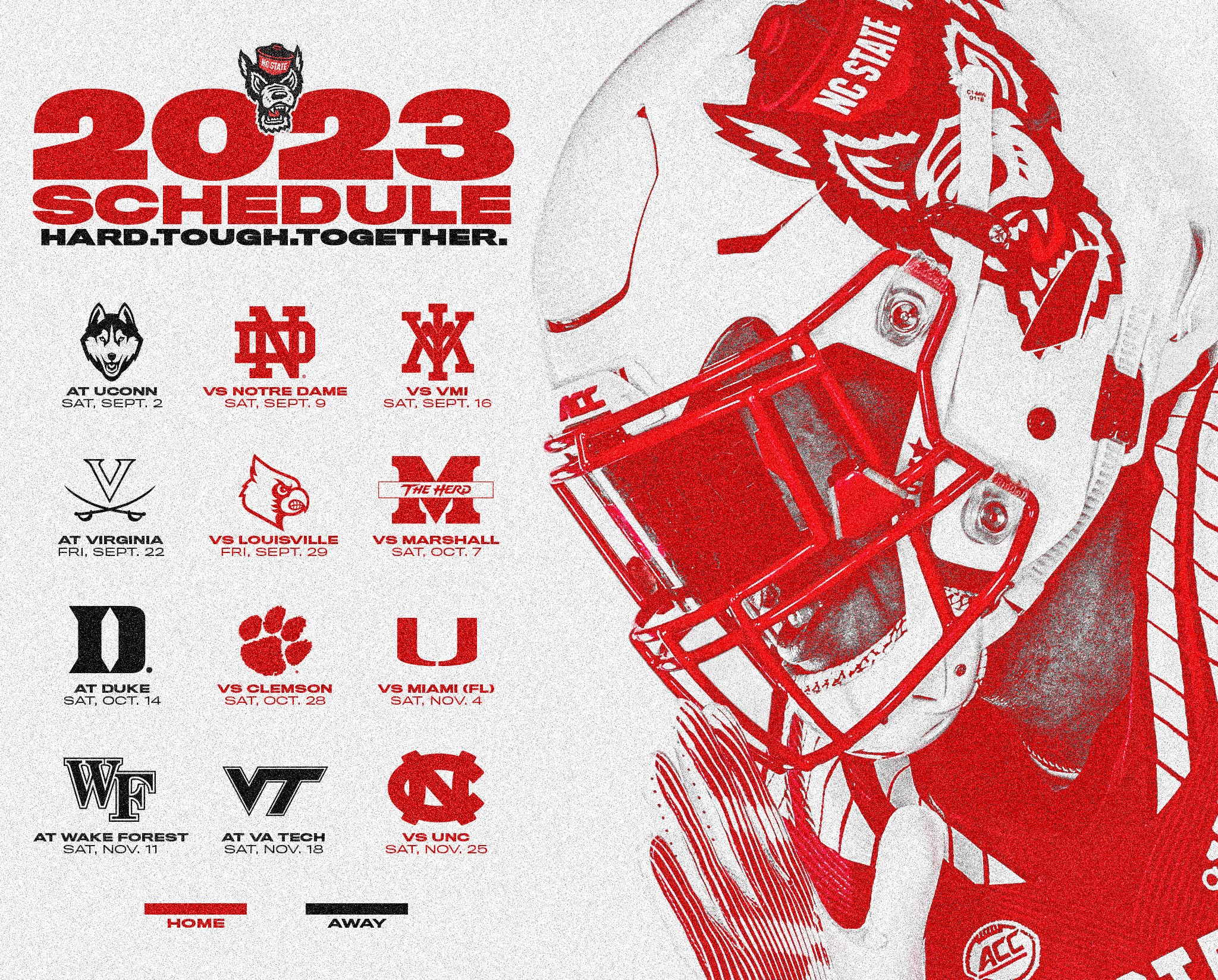 Notes
NC State will play all three in-state ACC rivals: UNC, Duke and Wake Forest
NC State has two Friday night games back to back: UVA & Louisville
NC State will play Quarterback Brennan Armstrong's former team UVA on 9/22.
NC State will host Notre Dame for the 2nd time ever, and will face a familiar face in former Wake Forest Quarterback Sam Hartman.
In the first year without Divisions in the ACC, 5 of NC State's 8 conference opponents will be teams that were in the Coastal Division last year: UVA, UNC, Miami, Duke, VT.

The three former Atlantic Division opponents are: Clemson, Wake Forest and Louisville