NC State Offensive Regular Season Player Grades
NC State's Football Regular Season has come to an end, and the Wolfpack await their bowl destination. While we wait, here's a breakdown of how the NC State Offensive players grades at the end of the regular season according to ProFootballFocus.
Offensive Players (75+ Snaps)
Senior Center Grant Gibson – 78.9
Freshman Running Back Michael Allen – 76.9
Freshman Running Back Demie Sumo-Karngbaye – 76.5
Senior Guard Chandler Zavala – 76.0
Senior Tackle Bryson Speas – 71.1
Freshman Wide Receiver Julian Gray – 70.2
Senior Wide Receiver Thayer Thomas – 69.5
Junior Quarterback Devin Leary – 68.4
Sophomore Guard Dylan McMahon – 66.0
Freshman Quarterback MJ Morris – 65.6
Junior Wide Receiver Devin Carter – 64.7
Freshman Tackle Anthony Belton – 64.3
Sophomore Tackle Timothy McKay – 63.5
Junior Running Back Jordan Houston – 63.3
Senior Wide Receiver Darryl Jones – 61.4
Freshman Wide Receiver Terrell Timmons – 61.0
Freshman Quarterback Ben Finley – 60.2
Junior Wide Receiver Keyon Lessen – 58.6
Sophomore Running Back Demarcus Jones – 58.2
Junior Guard Derrick Eason – 57.6
Junior Tight End Trent Pennix – 55.6
Sophomore Wide Receiver Porter Rooks – 54.5
Senior Quarterback Jack Chambers – 53.4
Sophomore Tight End Chris Toudle – 53.1
Junior Wide Receiver Jasiah Provillon – 48.7
Sophomore Tight End Kam Walker – 44.6
Freshman Tight End Cedric Seabrough – 43.3
Notes
Gibson was the 9th highest graded Center in the nation, and boasts the best grade for all Centers in the ACC.
Zavala was the highest graded Guard in the ACC.
Speas was the 8th highest graded Tackle in the ACC.
NC State's 2023 Football Schedule has Arrived!
NC State's 2023 Football schedule was released yesterday.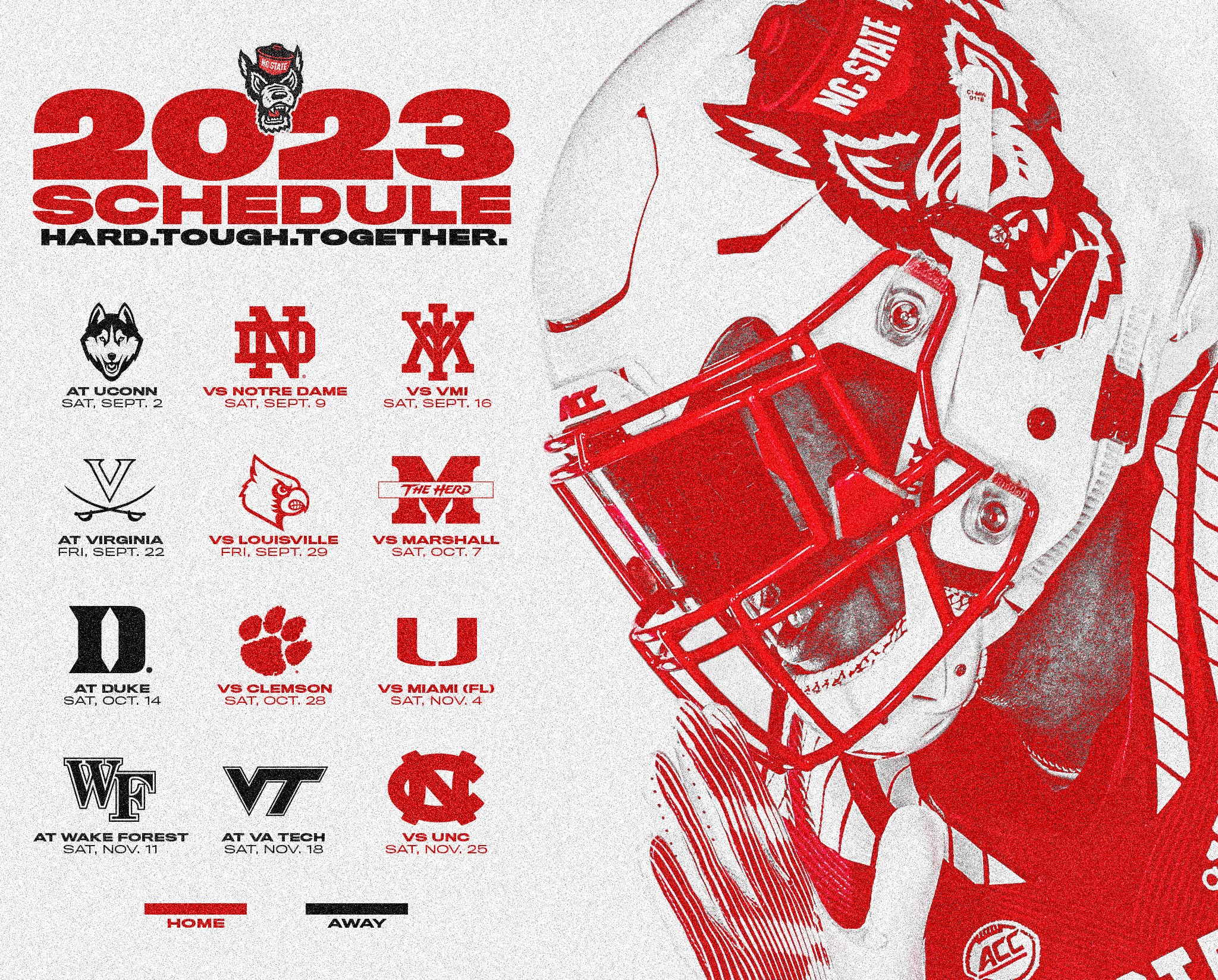 Notes
NC State will play all three in-state ACC rivals: UNC, Duke and Wake Forest
NC State has two Friday night games back to back: UVA & Louisville
NC State will play Quarterback Brennan Armstrong's former team UVA on 9/22.
NC State will host Notre Dame for the 2nd time ever, and will face a familiar face in former Wake Forest Quarterback Sam Hartman.
In the first year without Divisions in the ACC, 5 of NC State's 8 conference opponents will be teams that were in the Coastal Division last year: UVA, UNC, Miami, Duke, VT.

The three former Atlantic Division opponents are: Clemson, Wake Forest and Louisville