NC State Defensive Regular Season Player Grades
NC State's Football Regular Season has come to an end, and the Wolfpack await their bowl destination. While we wait, here's a breakdown of how the NC State Defensive players grades at the end of the regular season according to ProFootballFocus.
Defensive Players (75+ Snaps)
Junior Linebacker Drake Thomas – 81.6
Senior Linebacker Isaiah Moore – 80.4
Sophomore Cornerback Aydan White – 79.8
Sophomore Nose Tackle Joshua Harris – 77.9
Senior Nickel Tyler Baker-Williams – 77.8
Sophomore Defensive End Davin Vann – 76.2
Senior Safety Cyrus Fagan – 74.9
Sophomore Linebacker Devon Betty – 73.0
Junior Defensive End Savion Jackson – 71.5
Junior Safety Jakeen Harris – 69.8
Junior Linebacker Payton Wilson – 68.6
Sophomore Nickel Devan Boykin – 68.4
Sophomore Cornerback Shyheim Battle – 68.1
Senior Safety Tanner Ingle – 68.1
Senior Nose Tackle Cory Durden – 66.6
Freshman Defensive End Travli Price – 66.5
Junior Linebacker Jaylon Scott – 61.6
Senior Cornerback Derek Pitts – 53.2
Sophomore Defensive End CJ Clark – 52.5
Notes
Aydan White is the 5th highest graded Cornerback in the ACC. Tyler Baker-Williams ranks 7th.
Drake Thomas is the 4th highest graded Linebacker in the ACC. Isaiah Moore ranks 6th.
Cyrus Fagan is the 7th highest graded Safety in the ACC.
Joshua Harris is the 7th highest graded Interior Defensive Lineman.
NC State's Depth Chart vs. Louisville (with Notes)
NC State has released their Depth Chart for their matchup against Louisville this Friday night.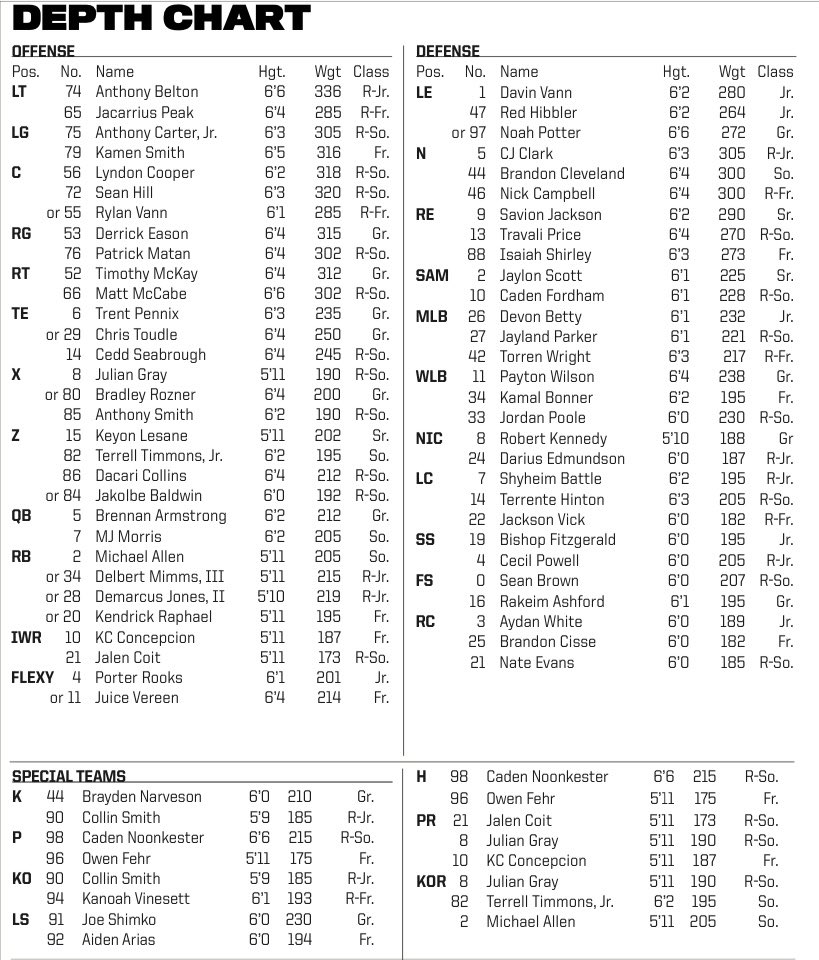 Notes
Starting Center Dylan McMahon isn't listed on the Depth Chart. Wolfpack head coach Dave Doeren said that McMahon is still "day-to-day."

As a result, Lyndon Cooper will be starting at Center once again.

Starting Strong Safety Devan Boykin had to leave the game almost immediately last Friday night up at UVA. He is not listed on the Depth Chart, but thankfully, it doesn't seem like something major. According to Doeren, it's not very likely that Boykin will be able to play Friday, but it hasn't been completely ruled out.

As a result, Bishop Fitzgerald will be starting at Strong Safety.

The Depth Chart for the Running Backs is a hoot. While Michael Allen is listed at the top, there is an "or" in between everyone's name, treating everyone as if they are starters.
Last week, Cecil Powell was listed as the third string Nickel, but Doeren said after the UVA game that he had been serving as Boykin's backup at Strong Safety that week in practice. Both went out of the game due to injuries.

This weeks depth chart reflects the fact that he'd been getting run at Strong Safety last week. He's listed as Bishop Fitzgerald's backup at SS.

Last week Rakeim Ashford was listed as the backup at Strong Safety, and now he is listed as the backup at Free Safety.