NC State Defensive Regular Season Player Grades
NC State's Football Regular Season has come to an end, and the Wolfpack await their bowl destination. While we wait, here's a breakdown of how the NC State Defensive players grades at the end of the regular season according to ProFootballFocus.
Defensive Players (75+ Snaps)
Junior Linebacker Drake Thomas – 81.6
Senior Linebacker Isaiah Moore – 80.4
Sophomore Cornerback Aydan White – 79.8
Sophomore Nose Tackle Joshua Harris – 77.9
Senior Nickel Tyler Baker-Williams – 77.8
Sophomore Defensive End Davin Vann – 76.2
Senior Safety Cyrus Fagan – 74.9
Sophomore Linebacker Devon Betty – 73.0
Junior Defensive End Savion Jackson – 71.5
Junior Safety Jakeen Harris – 69.8
Junior Linebacker Payton Wilson – 68.6
Sophomore Nickel Devan Boykin – 68.4
Sophomore Cornerback Shyheim Battle – 68.1
Senior Safety Tanner Ingle – 68.1
Senior Nose Tackle Cory Durden – 66.6
Freshman Defensive End Travli Price – 66.5
Junior Linebacker Jaylon Scott – 61.6
Senior Cornerback Derek Pitts – 53.2
Sophomore Defensive End CJ Clark – 52.5
Notes
Aydan White is the 5th highest graded Cornerback in the ACC. Tyler Baker-Williams ranks 7th.
Drake Thomas is the 4th highest graded Linebacker in the ACC. Isaiah Moore ranks 6th.
Cyrus Fagan is the 7th highest graded Safety in the ACC.
Joshua Harris is the 7th highest graded Interior Defensive Lineman.
NC State's 2023 Football Schedule has Arrived!
NC State's 2023 Football schedule was released yesterday.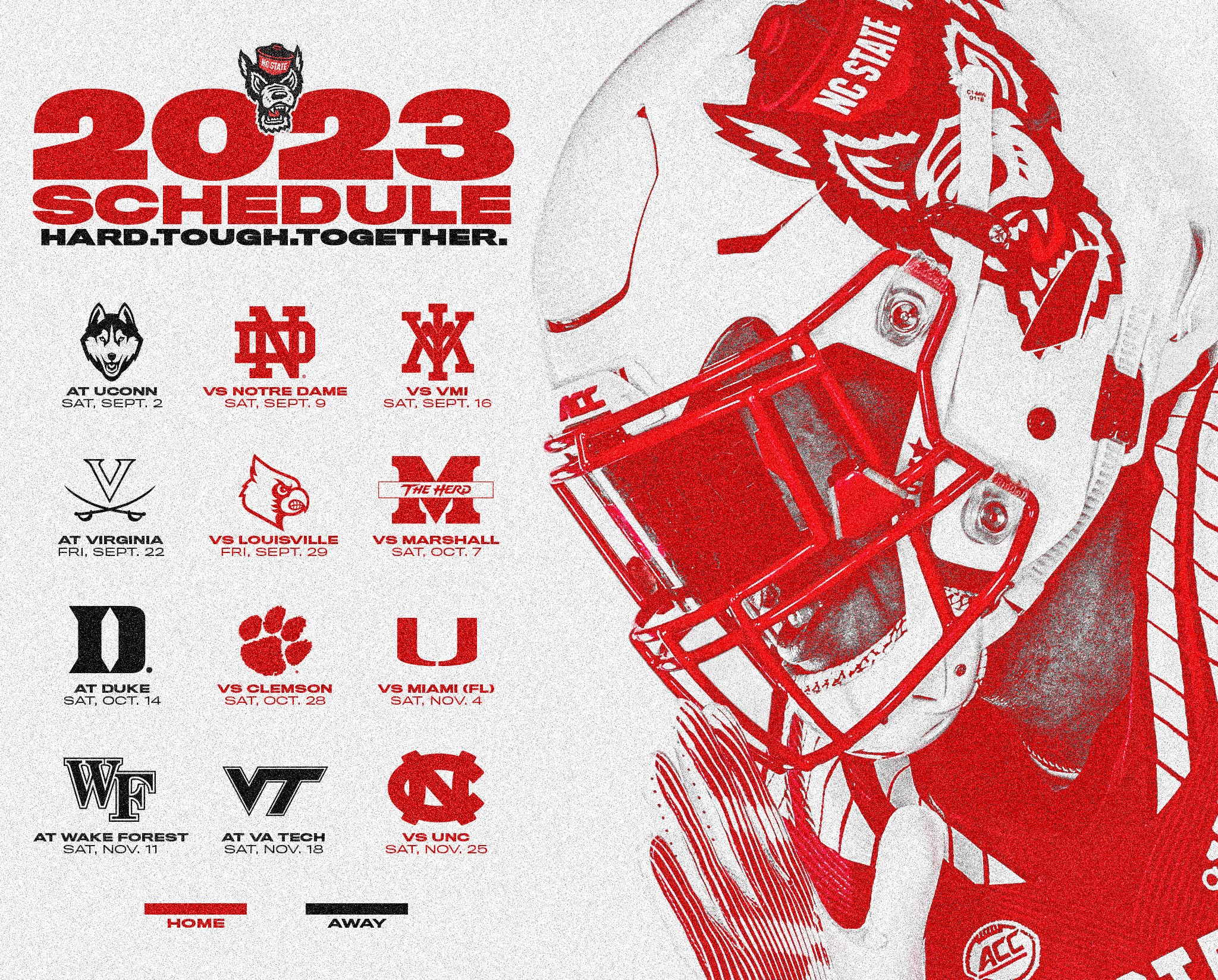 Notes
NC State will play all three in-state ACC rivals: UNC, Duke and Wake Forest
NC State has two Friday night games back to back: UVA & Louisville
NC State will play Quarterback Brennan Armstrong's former team UVA on 9/22.
NC State will host Notre Dame for the 2nd time ever, and will face a familiar face in former Wake Forest Quarterback Sam Hartman.
In the first year without Divisions in the ACC, 5 of NC State's 8 conference opponents will be teams that were in the Coastal Division last year: UVA, UNC, Miami, Duke, VT.

The three former Atlantic Division opponents are: Clemson, Wake Forest and Louisville