7 NC State Players Make PFF's 2022 All-ACC Football Teams
ProFootballFocus has released their 2022 All-ACC Football Teams, and 7 NC State players were represented. Four made the 1st Team: Center Grant Gibson, Left Guard Chandler Zavala, Cornerback Aydan White, Place Kicker Christopher Dunn. Linebacker Drake Thomas made the 2nd Team, and Linebacker Isaiah Moore and Right Guard Dylan McMahon made the 3rd Team.
FIRST TEAM
Offense
QB Drake Maye, North Carolina
RB Trey Benson, Florida State
RB Israel Abanikanda, Pittsburgh
WR Josh Downs, North Carolina
WR Zay Flowers, Boston College
WR Jared Wayne, Pittsburgh
TE Will Mallory, Miami (FL)
LT Graham Barton, Duke
LG Chandler Zavala, N.C. State
C Grant Gibson, N.C. State
RG D'Mitri Emmanuel, Florida State
RT Matt Goncalves, Pittsburgh
Defense
DI Calijah Kancey, Pittsburgh
DI Kobie Turner, Wake Forest
ED K.J. Henry, Clemson
ED Yasir Abdullah, Louisville
LB Cedric Gray, North Carolina
LB SirVocea Dennis, Pittsburgh
CB Fentrell Cypress II, Virginia
CB Aydan White, N.C. State
S Kamren Kinchens, Miami (FL)
S Darius Joiner, Duke
FLEX D Barrett Carter, Clemson
Special teams
RS Tucker Holloway, Virginia Tech
K Christopher Dunn, N.C. State
P Lou Hedley, Miami (FL)
SECOND TEAM
Offense
QB Jordan Travis, Florida State
RB Sean Tucker, Syracuse
RB Will Shipley, Clemson
WR A.T. Perry, Wake Forest
WR Oronde Gadsden II, Syracuse
WR Tyler Hudson, Louisville
TE Bryson Nesbit, North Carolina
LT Matthew Bergeron, Syracuse
LG Marcus Minor, Pittsburgh
C Bryan Hudson, Louisville
RG Loic Ngassam Nya, Wake Forest
RT DeVonte Gordon, Wake Forest
Defense
DI Tyler Davis, Clemson
DI Leonard Taylor, Miami (FL)
ED Donovan Ezeiruaku, Boston College
ED Akheem Mesidor, Miami (FL)
LB Jeremiah Trotter Jr., Clemson
LB Drake Thomas, N.C. State
CB Marquis Williams, Pittsburgh
CB Anthony Johnson, Virginia
S LaMiles Brooks, Georgia Tech
S James Williams, Miami (FL)
FLEX D Erick Hallett II, Pittsburgh
Special teams
RS Sahmir Hagans, Duke
K Andres Borregales, Miami (FL)
P Daniel Sparks, Virginia
THIRD TEAM
Offense
QB Sam Hartman, Wake Forest
RB Treshaun Ward, Florida State
RB Jawhar Jordan, Louisville
WR Jalon Calhoun, Duke
WR Antoine Green, North Carolina
WR Johnny Wilson, Florida State
TE Davis Allen, Clemson
LT Jordan McFadden, Clemson
LG Dillan Gibbons, Florida State
C Maurice Smith, Florida State
RG Dylan McMahon, N.C. State
RT DJ Scaife Jr., Miami (FL)
Defense
DI DeWayne Carter, Duke
DI Ruke Orhorhoro, Clemson
ED Jared Verse, Florida State
ED Keion White, Georgia Tech
LB Marlowe Wax, Syracuse
LB Isaiah Moore, N.C. State
CB Zamari Walton, Georgia Tech
CB Tyrique Stevenson, Miami (FL)
S R.J. Mickens, Clemson
S Jammie Robinson, Florida State
FLEX D Brandon Johnson, Duke
Special teams
RS Key'Shawn Smith, Miami (FL)
K B.T. Potter, Clemson
P Ivan Mora, Wake Forest
(PFF)
NC State's 2023 Football Schedule has Arrived!
NC State's 2023 Football schedule was released yesterday.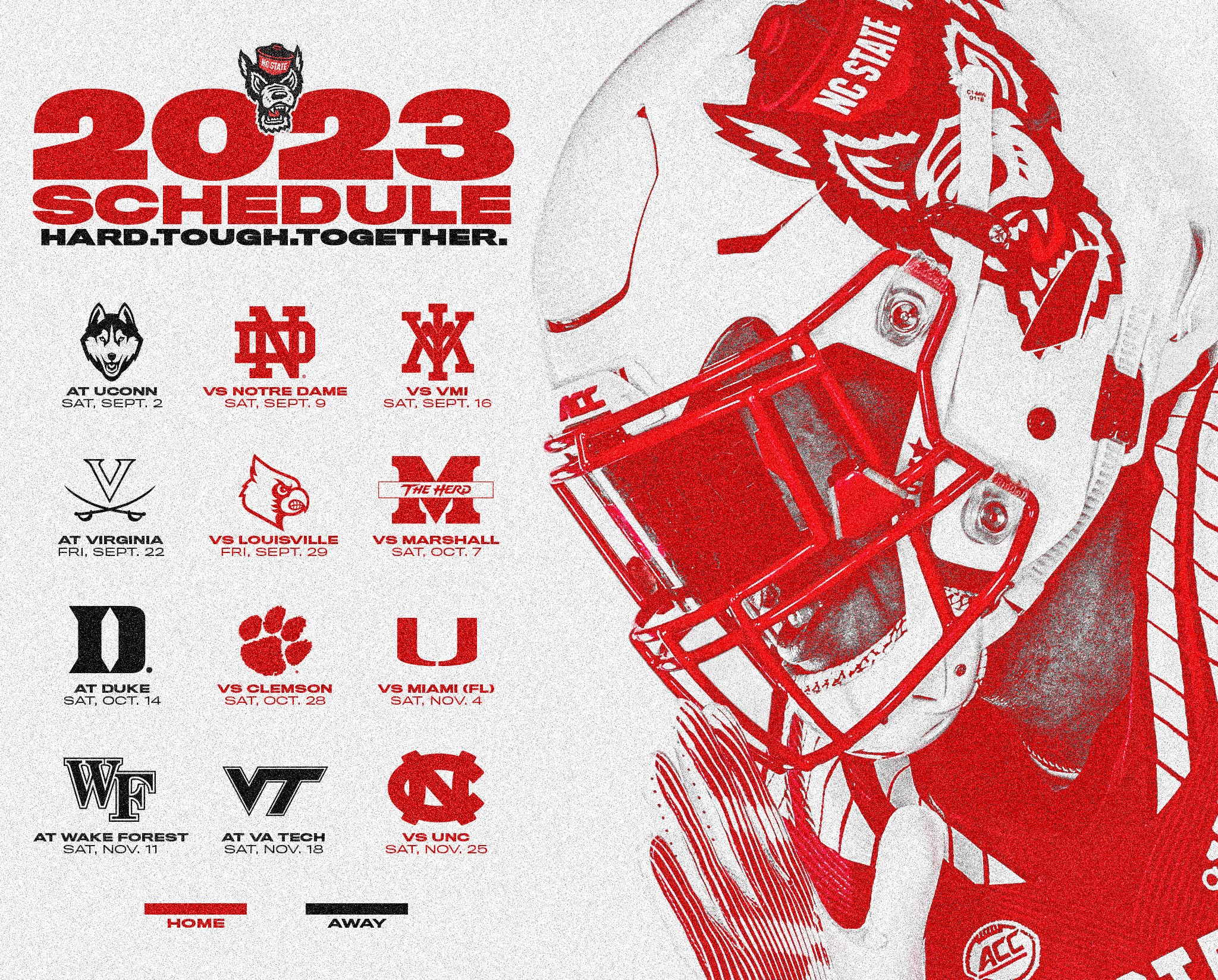 Notes
NC State will play all three in-state ACC rivals: UNC, Duke and Wake Forest
NC State has two Friday night games back to back: UVA & Louisville
NC State will play Quarterback Brennan Armstrong's former team UVA on 9/22.
NC State will host Notre Dame for the 2nd time ever, and will face a familiar face in former Wake Forest Quarterback Sam Hartman.
In the first year without Divisions in the ACC, 5 of NC State's 8 conference opponents will be teams that were in the Coastal Division last year: UVA, UNC, Miami, Duke, VT.

The three former Atlantic Division opponents are: Clemson, Wake Forest and Louisville