NC State Quarterback Devin Leary Enters Transfer Portal
According to Pete Thamel of ESPN, NC State Quarterback Devin Leary is entering the Transfer Portal.
Source: N.C. State quarterback Devin Leary intends to enter the NCAA transfer portal. Leary will have one year of eligibility remaining. He's thrown for 6,807 yards and 62 touchdowns, making him one of the most productive portal quarterbacks available. https://t.co/N36c52JU47

— Pete Thamel (@PeteThamel) December 5, 2022
Leary has 1 year of eligibility remaining, and he will likely be the top Quarterback name in the Portal.
Big programs with a need at Quarterback will be picking up the phone quickly, and many of these schools likely have the ability to offer significant NIL money.
Heading into this season, Leary was not expected to be back for the Pack in 2023. After the numbers he put up in 2021, he was expected to forgo his final year of eligiblity, and enter the 2023 NFL Draft. With that being said, after not having the start to the season that was expected, and tearing his pec in the 6th game of the season against FSU, the future for Leary became blurry.
When True Freshman Quarterback MJ Morris entered the scene for the Wolfpack, playing at a high level, things got even more blurry.
Would he still go pro, even though he didn't have a season that saw his stock rise? Would he return to NC State, where there might be a position battle in 2023? Would he transfer to another school of higher prestige giving him more of a spotlight for the 2024 NFL Draft?
This isn't a shocking decision by Leary. It probably is what makes the most sense to Leary, and also what makes the most sense to NC State. It is clear that MJ Morris seems to be the future at Quarterback at NC State. I love NC State, but I'm not dumb. Leary can also see his draft stock rise by transferring to a bigger program.
Leary has been incredible at NC State, throwing for 6,807 yards and 62 touchdowns in 4 seasons. In total he has been at NC State 5 years, and he has been nothing short of an exemplary representative of the university. When he went down, he was an incredible teammate and leader, despite not being on the field.
We wish you the best Devin! You have a bright future ahead of you, and you will always be a part of the Wolfpack family.
NC State's 2023 Football Schedule has Arrived!
NC State's 2023 Football schedule was released yesterday.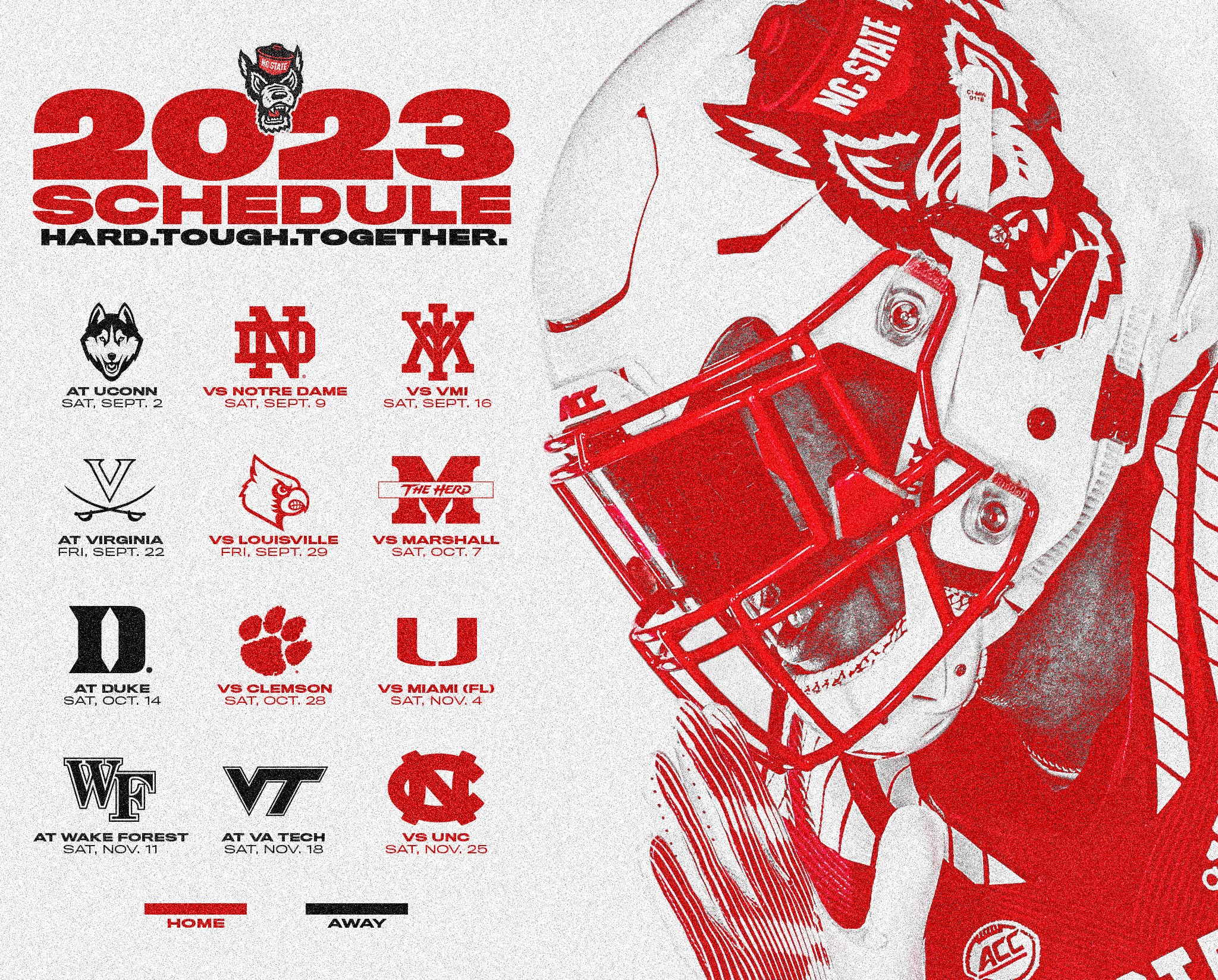 Notes
NC State will play all three in-state ACC rivals: UNC, Duke and Wake Forest
NC State has two Friday night games back to back: UVA & Louisville
NC State will play Quarterback Brennan Armstrong's former team UVA on 9/22.
NC State will host Notre Dame for the 2nd time ever, and will face a familiar face in former Wake Forest Quarterback Sam Hartman.
In the first year without Divisions in the ACC, 5 of NC State's 8 conference opponents will be teams that were in the Coastal Division last year: UVA, UNC, Miami, Duke, VT.

The three former Atlantic Division opponents are: Clemson, Wake Forest and Louisville