There has been a lot of speculation swirling around the future of former NC State quarterback Russell Wilson's contract at Seattle.  Will he stay in Seattle?  Will he get Cam Newton-like money, in the range of $103.5 million over 5 years?  Or will he seek for more?
Jason Cole of Bleacher Report started a Twitter tornado on Thursday night when he reported that Wilson wants to be the highest paid player in the NFL.
Currently the Green Bay Packers' Aaron Rodgers holds the title of the highest paid player in the NFL, worth $110 million over 10 years.  According to Cole's report, Wilson has turned down an offer equivalent to Rodgers.
NBC's Mike Garafolo confirmed Jason Cole's report as being factual yesterday afternoon.
@12th_Man_Brian@JasonPhilCole Fact: Jason's report is correct. Fact: Seahawks offered Cam-like deal. Fact: Wilson/Rodgers turned it down.

— Mike Garafolo (@MikeGarafolo) June 26, 2015
The salary cap has increased by $20 million, which opens the door for much larger contracts.  Wilson's agent apparently is seeking a "relevant structure" to his contract, according to Cole's report.
Will Brinson of CBSSports explains what this "relevant structure" means.
Mark Rodgers told Cole "he wanted to create a contract that created a relevant structure for Wilson going forward." Put another way, if Wilson isn't paid like a top-five quarterback now, he won't be paid like a top-10 quarterback in a year, when Andrew Luck, Philip Rivers and Eli Manning all sign new deals, to say nothing of a new contract for Aaron Rodgers. (Via CBS)
Russell Wilson 5th Fastest to 200 Touchdown Passes
Former NC State Quarterback Russell Wilson threw his 200th career touchdown pass today, becoming the 5th fastest player to do so, bumping Tom Brady out of the Top-5.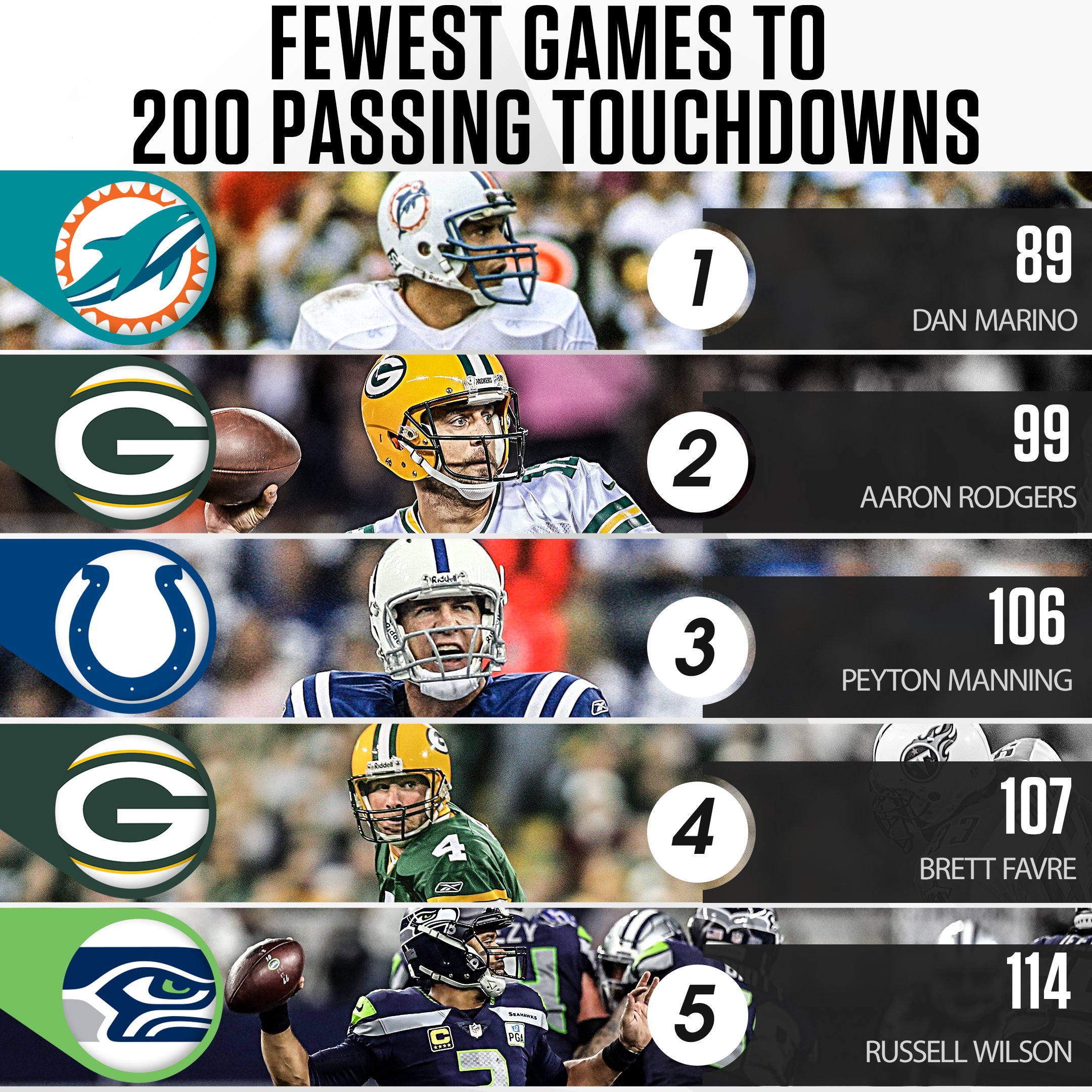 Wilson, who is 5'11", is only the 2nd player in NFL history under 6'0″ to throw for 200 touchdowns.
Russell Wilson is 2 TD passes shy of 200 for his NFL career.

In reaching that mark, Wilson will become the 2nd player listed under 6'0" in NFL history to throw 200 TD passes, following Hall of Famer Sonny Jurgensen who is listed at 5'11" and threw 255 passing TD in his career. pic.twitter.com/qM7RVm0adA

— ESPN Stats & Info (@ESPNStatsInfo) September 15, 2019
Wilson finished today 29/35 for 300 yards with 3 touchdowns (QB Rating – 131.0).