NC State Ranked 5th in the Final Director's Cup Winter Standings!
The final Director's Cup Winter Standings are out, and NC State is ranked 5th overall.
FINAL – Winter Division I Top 5:
▫@GoStanford 1104.00
▫@GoPSUsports 889.25
▫@UMichAthletics 881.50
▫@OhioStAthletics 830.75
▫@PackAthletics 722.75

View Full DI Standings: https://t.co/klk37WUgfx pic.twitter.com/RMc7q0OPk6

— Learfield Directors' Cup (@LDirectorsCup) April 26, 2018
This marks the highest the Wolfpack has ever been ranked at the end of Winter Sports.
Today marks the release of the final winter standings of the @LDirectorsCup. We are No. 5️⃣ in the nation, the highest that we've ever been ranked at the end of winter sports! Excited to see our department continue to make a #STATEment! #GoPack #ncsu pic.twitter.com/iazuWOpyZ0

— NC State Athletics (@PackAthletics) April 26, 2018
To put into perspective how impressive this is, here's a look at how NC State has been ranked in the Final Winter Standings in years prior.
2017-18 – 5th
2016-17 – 16th
2015-16 – 22nd
2014-15 – 22nd
2013-04 – 38th
2012-13 – 37th
2011-12 – 41st
2010-11 – 71st
—Debbie Yow Takes over as Athletic Director
2009-10 – 88th
NC State Releases 2020 Baseball Schedule
The NC State 2020 Baseball schedule was released today.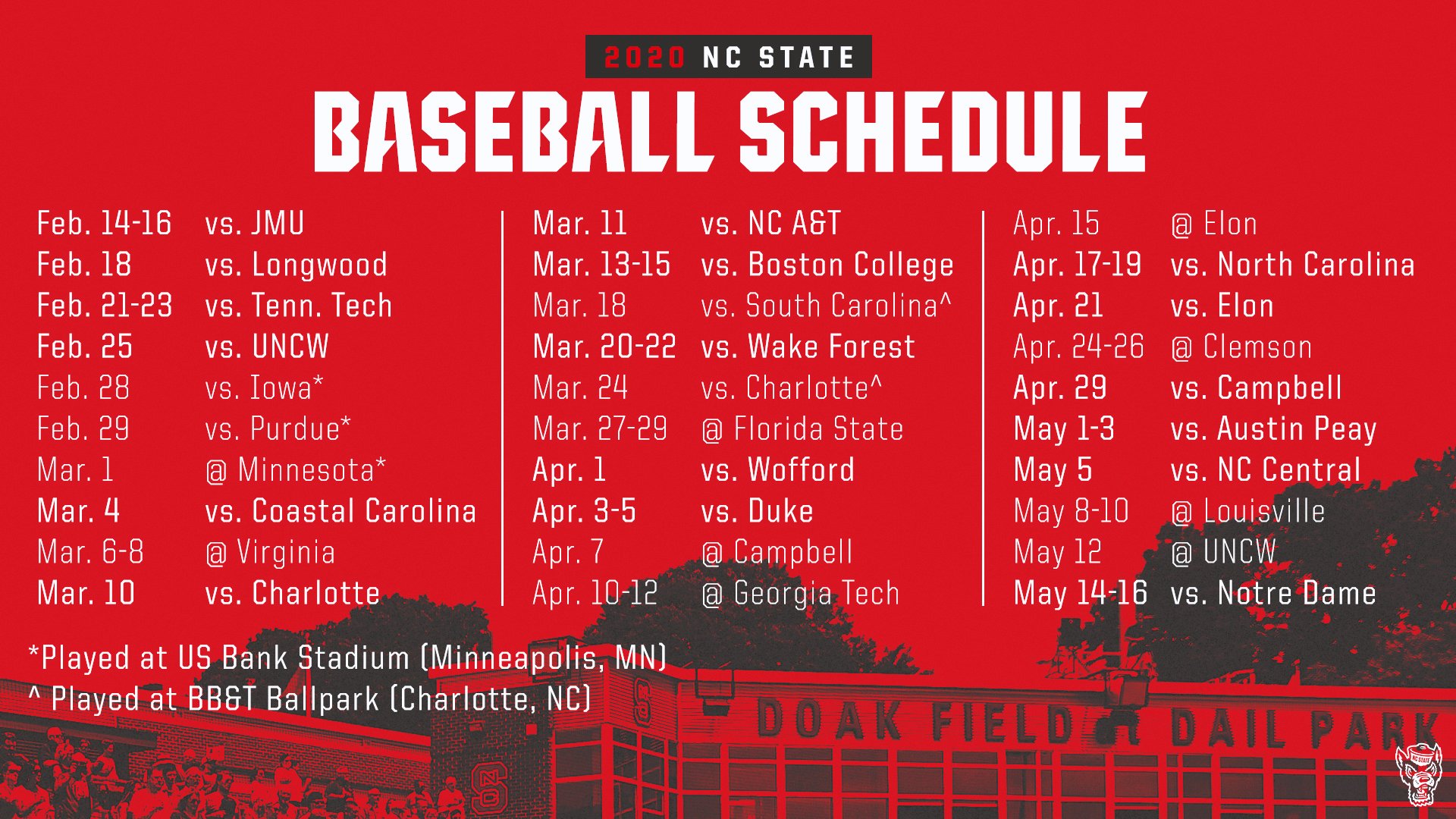 The schedule features 23 games against 2019 NCAA Tournament opponents, including three-game series at Florida State and Louisville, who both advanced to the College World Series last season. The Wolfpack's slate additionally features 13 opponents and a combined 31 games against teams that finished the 2019 season among the top 100 of the NCAA RPI.

NC State's nonconference schedule is highlighted by games against Iowa, Minnesota and Purdue Feb. 28-March 1 at the US Bank Stadium, home of the Minnesota Vikings. The weekend in Minneapolis is a part of the ACC/Big Ten Challenge. The Pack will also play a pair of games at BB&T Ballpark in Charlotte, N.C., home of the Charlotte Knights, AAA affiliate of the Chicago White Sox, against Charlotte and South Carolina March 18 and 24, respectively. (GoPack)
NC State finished the 2019 season with a 42-19 record, and a 18-12 conference record. They finished the regular season ranked 13th nationally, and 3rd in the ACC.
The Wolfpack finished the year ranked 21st in the final Collegiate Baseball Rankings.