NC State Crushes Western Carolina 100-67, Improves to 8-1
NC State crushed Western Carolina tonight 100-67 in the Heritage Game at Reynolds Coliseum, improving to 8-1.
Ironically, the Wolfpack won by 33 points, and created 33 turnovers.
Redshirt Sophomore Devon Daniels had struggled to find a rhythm through the first 8 games, but he was clicking on all cylinders tonight, leading the Wolfpack in scoring with 21 points (8-12 FG/3-5 3PT). The 21 points were a career high, with his previous high being 20 against UNC-Asheville.
Freshman Jericole Hellems continues to not play like a Freshman, scoring 16 points (Career High. Previous High – 13) against the Catamounts, lighting up the nets, shooting 5 of 7 from the field, and 2 of 4 from deep.
Redshirt Sophomore Blake Harris also had his best night in the Red and White, scoring a career high 15 points (5-7 FG/2-2 3 PT) (Previous High – 8), and dishing a team high 5 assists, which was also a career high.
The Wolfpack as a team shot the ball extremely well, shooting 53.6% from the field and 47.8% from beyond the arch.
After leading by 12 at the half, NC State's constant pressure, and relentless attack wore Western Carolina down.
Also, Wolfpack head coach Kevin Keatts swag was on point tonight, rocking an all-RED suit with these shoes.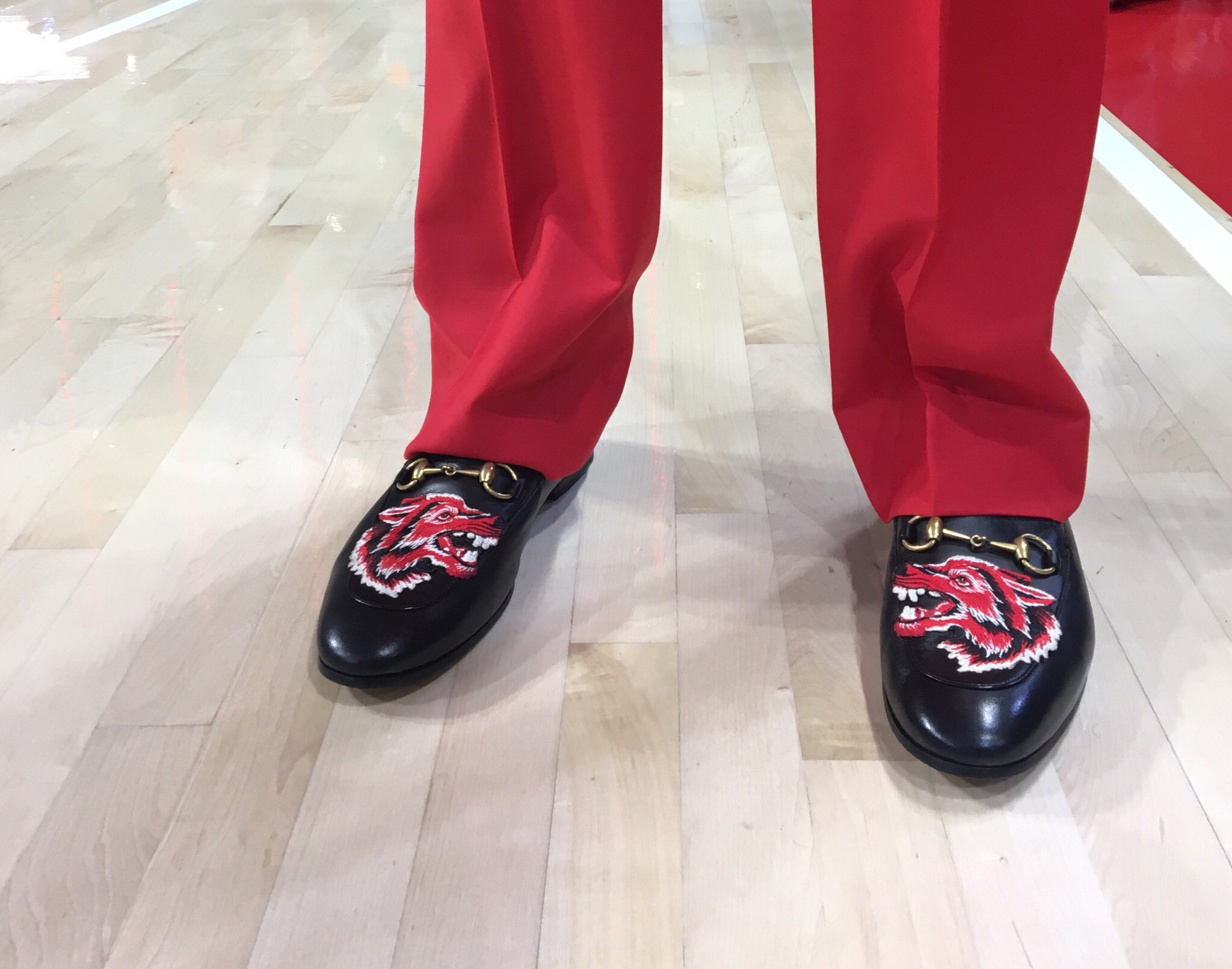 .@PackMensBball Coach Kevin Keatts is sporting all red threads!! Some dudes can pull this off. @CoachKeattsNCSU can. pic.twitter.com/KmoHc7x9WZ

— Jeff Gravley (@jgravleyWRAL) December 6, 2018
The Wolfpack's next game is against Penn State in the Boardwalk Classic in Atlantic City on Saturday, December 15th at 2pm.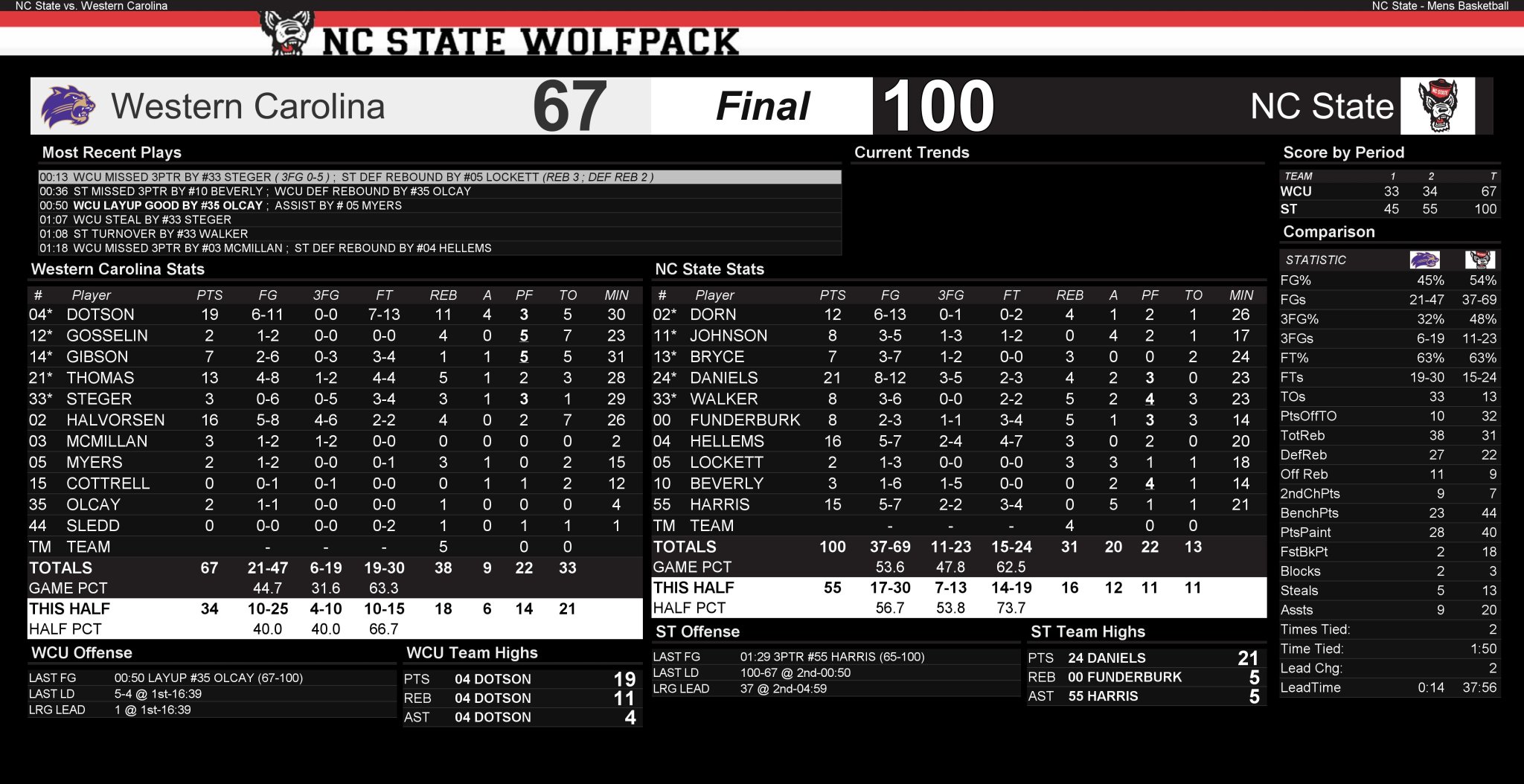 CBS Picks NC State as 1 of 5 that Could Make a Run in March who Missed Dance in 2019
Matt Ward of CBSSports picked 5 schools that missed the NCAA Tournament in 2019, that could even make a run at the Final Four in 2020. In the past 9 years, 5 teams have made the Final Four who missed the Big Dance the year prior.
NC State was 1 of the 5 teams picked that could make a run.
NC State Wolfpack

After posting a 24-12 record last season, including a 9-9 record in the ACC and an ACC Tournament win over Clemson, the Wolfpack were on the outside looking in at the NCAA Tournament and will look to return this season. The selection committee didn't exactly look highly on the Wolfpack's' record last season and they had to settle for an NIT bid, ultimately bowing out to Lipscomb. They finished 36th in the final NET rankings, and while 11 at-large bids went to teams ranked below them in the NET, there was just one team ranked above them also left out: NIT champion Texas.

The issue? NC State's nonconference schedule was ranked dead last in all of Division I — that's 353rd. The ACC offers a myriad of opportunities, but they didn't take advantage against the likes of Duke, Virginia, North Carolina and Florida State. The Wolfpack will need to get at least one of those games this season and their nonconference schedule will also be more challenging. Beyond traveling to Auburnand hosting Wisconsin, whom they played last season, they will travel to Greensboro to play UNC Greensboro and will play Memphis at Barclays Center.

Kevin Keatts brings back a wealth of talent, specifically in the backcourt, led by Markell Johnson. The senior point guard is one of the best in the country. C.J. Bryce, Braxton Beverly, and Devon Daniels are also key returners. Their biggest area of improvement will be in the frontcourt. Keatts struggled to find consistency there last season, but the additions of graduate transfers in 6-10 Danny Dixon (UMKC) and 6-8 forward Pat Andree (Lehigh) should reap rapid rewards. Both big men, especially Andree, can stretch out and make shots from 3-point range. Add redshirt freshman Immanuel Bates to the mix, and the Wolfpack frontcourt is much improved.

The Wolfpack are a serious candidate here to go from out to Atlanta. They have experience to couple with young talent led by incoming freshman Dereon Seabron and redshirt sophomore Atticus Taylor. Keatts' pressing defense can cause difficulties for teams without much time to prepare. The difference maker is Johnson. He is an elite point guard who will have plenty of opportunities to lead the Pack to big wins this season. (CBS)
Ironically, one of the other 5 teams was Memphis, who NC State will be playing in non-conference play in the Barclays Center Classic.