NC State Crushes Western Carolina 100-67, Improves to 8-1
NC State crushed Western Carolina tonight 100-67 in the Heritage Game at Reynolds Coliseum, improving to 8-1.
Ironically, the Wolfpack won by 33 points, and created 33 turnovers.
Redshirt Sophomore Devon Daniels had struggled to find a rhythm through the first 8 games, but he was clicking on all cylinders tonight, leading the Wolfpack in scoring with 21 points (8-12 FG/3-5 3PT). The 21 points were a career high, with his previous high being 20 against UNC-Asheville.
Freshman Jericole Hellems continues to not play like a Freshman, scoring 16 points (Career High. Previous High – 13) against the Catamounts, lighting up the nets, shooting 5 of 7 from the field, and 2 of 4 from deep.
Redshirt Sophomore Blake Harris also had his best night in the Red and White, scoring a career high 15 points (5-7 FG/2-2 3 PT) (Previous High – 8), and dishing a team high 5 assists, which was also a career high.
The Wolfpack as a team shot the ball extremely well, shooting 53.6% from the field and 47.8% from beyond the arch.
After leading by 12 at the half, NC State's constant pressure, and relentless attack wore Western Carolina down.
Also, Wolfpack head coach Kevin Keatts swag was on point tonight, rocking an all-RED suit with these shoes.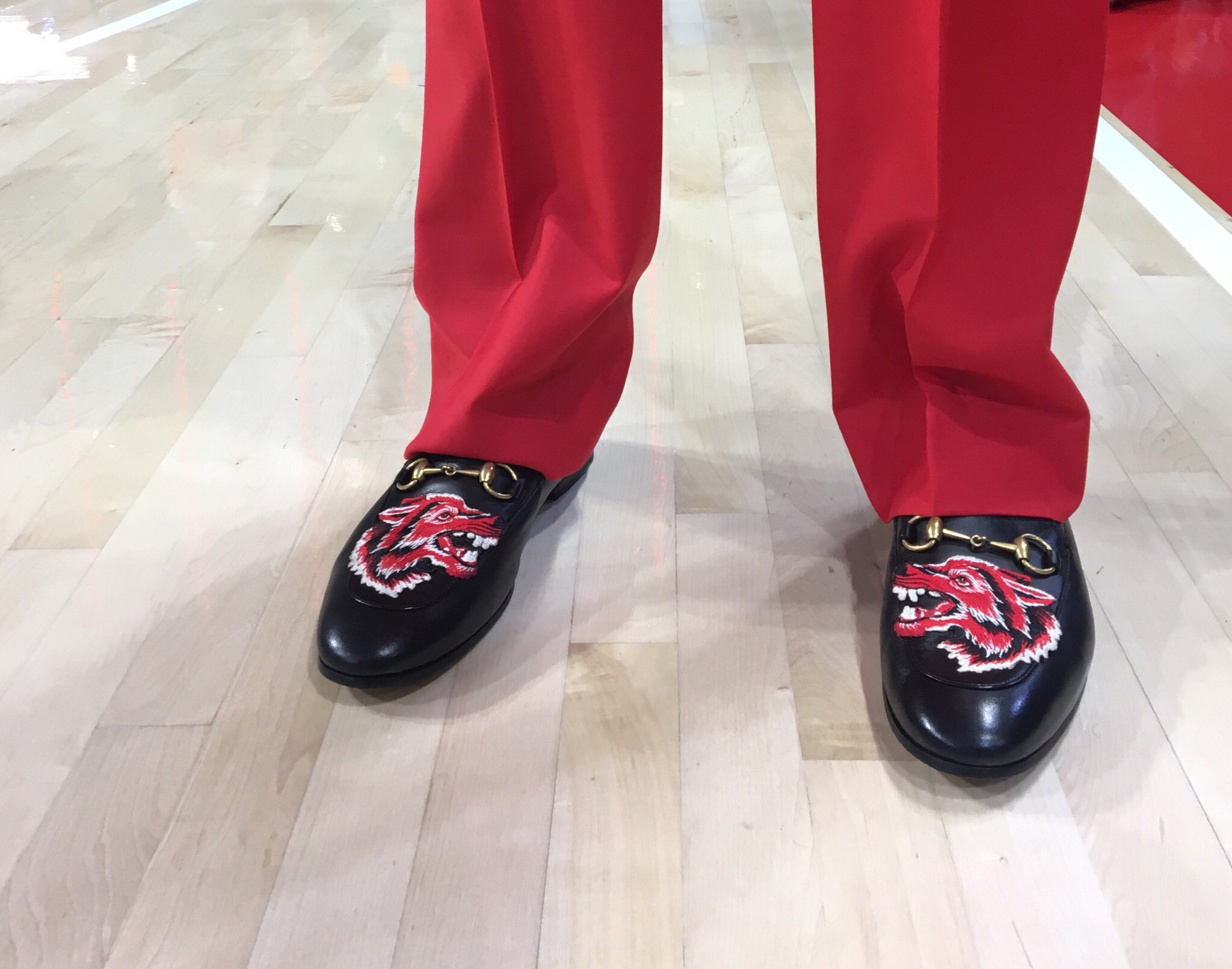 .@PackMensBball Coach Kevin Keatts is sporting all red threads!! Some dudes can pull this off. @CoachKeattsNCSU can. pic.twitter.com/KmoHc7x9WZ

— Jeff Gravley (@jgravleyWRAL) December 6, 2018
The Wolfpack's next game is against Penn State in the Boardwalk Classic in Atlantic City on Saturday, December 15th at 2pm.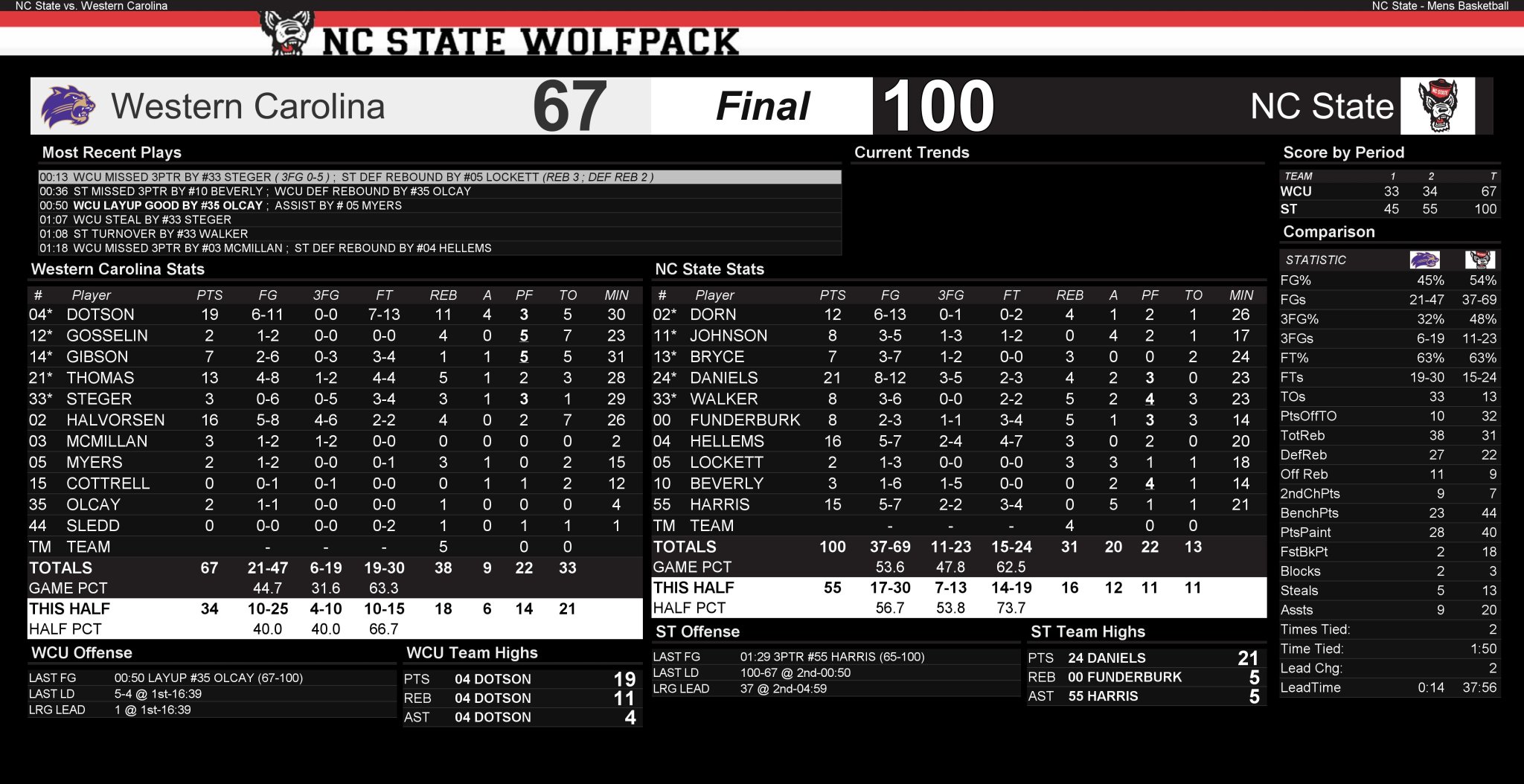 WatchStadium: NC State Has Picked Up 2 of the Top-50 Transfers
Jeff Goodman of Watch Stadium ranked the Top-50 Graduate Transfers this offseason, and NC State has already inked two of them in Guard Thomas Allen and Forward Pat Andree.
21) Thomas Allen, 6-1, 185, SG, Soph., Nebraska
Stats: 8.7 ppg, 2.8 rpg, 2.0 apg
Scout's take: "2-guard who shoots it well. Crafty off the bounce. Average defender."
Schools: COMMITTED TO NC STATE

27) Pat Andree, 6-8, 225, F, Lehigh
Stats: 12.9 ppg, 6.2 rpg, 42% 3-pointers
Scout's take: "Elite catch and shoot with deep range at a legit 6-foot-7. Good passer if a team values passing, limited off the bounce. Can stretch the defense, but limited on defense."
Schools: COMMITTED TO NC STATE

Watch Stadium
They are also still in the mix for a few of the other Graduate Transfers in Goodman's rankings.
Charleston Southern Graduate Transfer Christian Keeling will be taking an official visit to NC State on May 3rd.
9) Christian Keeling, 6-4, 175, G, Charleston Southern
Stats: 18.7 ppg, 6.9 rpg, 38% 3-pointers
Scout's take: "Elite scorer from 3 and mid-range. Very, very good shooter off the catch-and-bounce. Creative to get his spots. Long and good athlete for his size. Good finisher at the rim, but trusts his jump shot more. Defends."
Schools: Purdue, NC State (5-3), Clemson (4-19), Georgia Tech, North Carolina (4-23)

Watch Stadium
Valparaiso Center Derrik Smits took an official visit to Raleigh this past weekend.
28) Derrik Smits, 7-1, 240, C, Valparaiso
Stats: 12.2 ppg, 5.7 rpg
Scout's take: "Huge, very skilled, posts hard. Scores with his back to the basket. Good passer when doubled. Rebounds at both ends. Needs to improve defensively."
Schools: Arizona State, NC State, Butler

Watch Stadium