NC State Crushes Western Carolina 100-67, Improves to 8-1
NC State crushed Western Carolina tonight 100-67 in the Heritage Game at Reynolds Coliseum, improving to 8-1.
Ironically, the Wolfpack won by 33 points, and created 33 turnovers.
Redshirt Sophomore Devon Daniels had struggled to find a rhythm through the first 8 games, but he was clicking on all cylinders tonight, leading the Wolfpack in scoring with 21 points (8-12 FG/3-5 3PT). The 21 points were a career high, with his previous high being 20 against UNC-Asheville.
Freshman Jericole Hellems continues to not play like a Freshman, scoring 16 points (Career High. Previous High – 13) against the Catamounts, lighting up the nets, shooting 5 of 7 from the field, and 2 of 4 from deep.
Redshirt Sophomore Blake Harris also had his best night in the Red and White, scoring a career high 15 points (5-7 FG/2-2 3 PT) (Previous High – 8), and dishing a team high 5 assists, which was also a career high.
The Wolfpack as a team shot the ball extremely well, shooting 53.6% from the field and 47.8% from beyond the arch.
After leading by 12 at the half, NC State's constant pressure, and relentless attack wore Western Carolina down.
Also, Wolfpack head coach Kevin Keatts swag was on point tonight, rocking an all-RED suit with these shoes.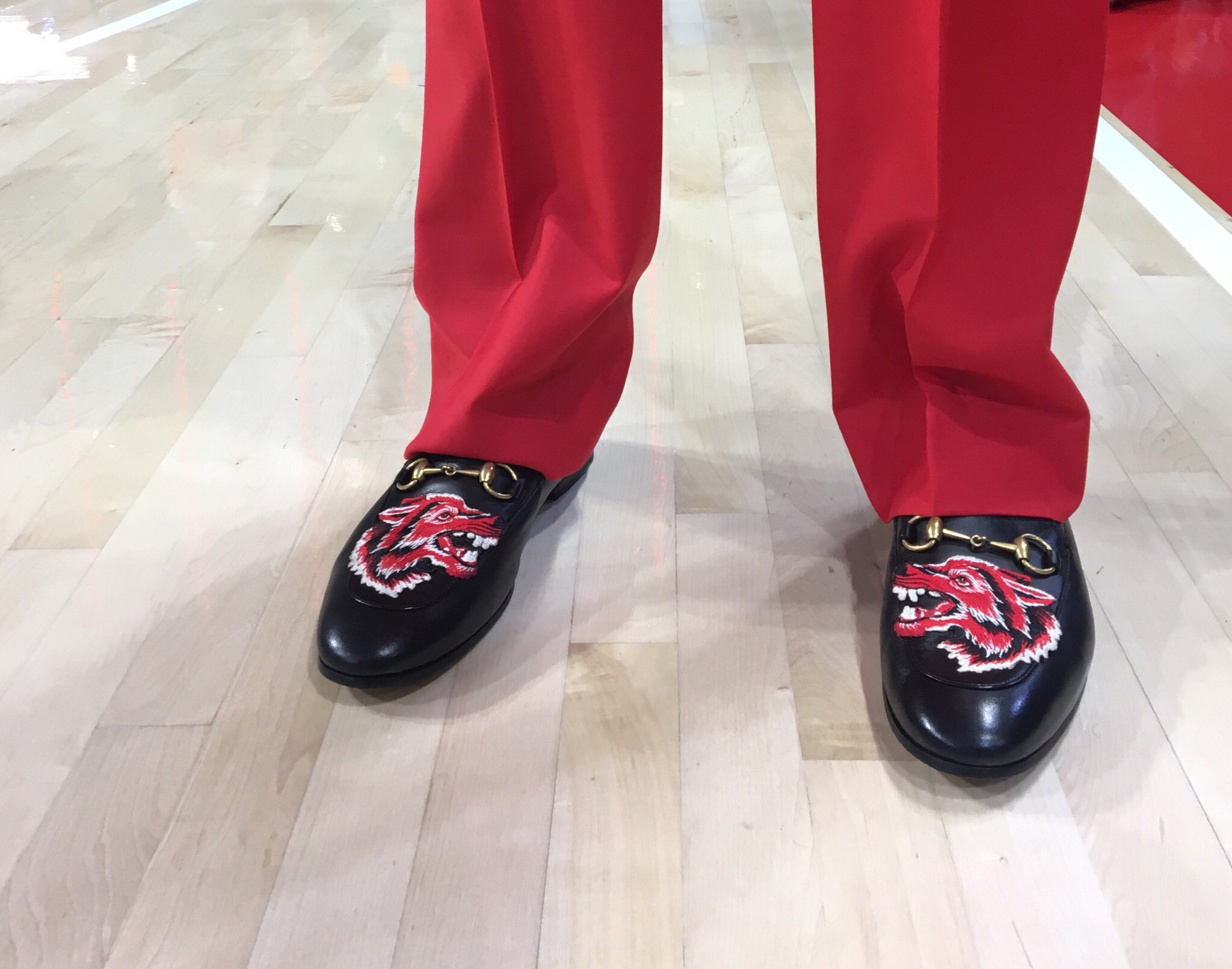 .@PackMensBball Coach Kevin Keatts is sporting all red threads!! Some dudes can pull this off. @CoachKeattsNCSU can. pic.twitter.com/KmoHc7x9WZ

— Jeff Gravley (@jgravleyWRAL) December 6, 2018
The Wolfpack's next game is against Penn State in the Boardwalk Classic in Atlantic City on Saturday, December 15th at 2pm.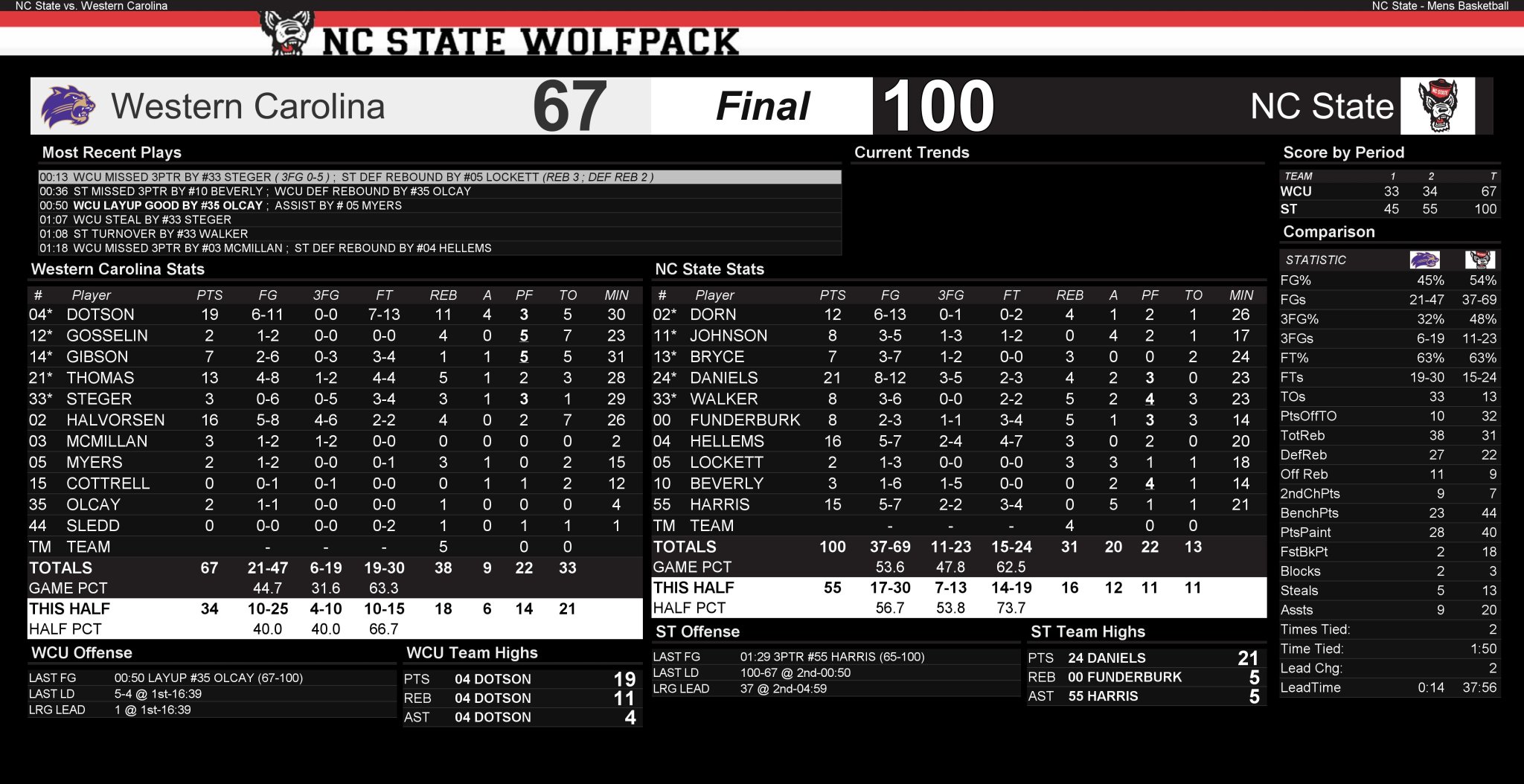 NC State Moved up to #31 in the NET Rankings After Syracuse
NC State moved up 6 spots, from #37 to #31, in the NET Rankings after beating Syracuse 73-58 on Wednesday night. 
The NET Rankings have replaced the RPI as the primary shaper of the NCAA Tournament field.
The NCAA Evaluation Tool, which will be known as the NET, relies on game results, strength of schedule, game location, scoring margin, net offensive and defensive efficiency, and the quality of wins and losses. To make sense of team performance data, late-season games (including from the NCAA tournament) were used as test sets to develop a ranking model leveraging machine learning techniques. The model, which used team performance data to predict the outcome of games in test sets, was optimized until it was as accurate as possible. The resulting model is the one that will be used as the NET going forward.

The NET was built to create a ranking system that was as accurate as possible while also evaluating team performance fairly. To ensure fairness, certain types of data were omitted from the model. Of key importance, game date and order were omitted to give equal importance to both early and late-season games. In addition, a cap of 10 points was applied to the winning margin to prevent rankings from encouraging unsportsmanlike play, such as needlessly running up the score in a game where the outcome was certain. (NCAA)