Virginia's 2nd Half Explosion Cripples NC State, Wolfpack Fall 76-56
NC State might have led by 2 at halftime, but Virginia exploded in the 2nd half, putting the Wolfpack away 76-56 in the quarterfinals of the ACC Tournament.
Redshirt Sophomore DJ Funderburk was the star of the 1st half for the Wolfpack, scoring 10 points. Unfortunately, after getting poked in the eye, and being underutilized when he returned, he only scored 2 more points in the contest.
So NC State led by 2 points at halftime, and lost by 20 points…what gives?
Welp.
NC State didn't tank offensively in the 2nd half. In fact, you could argue they were better.  The Wolfpack shot 39% in the first half, and 38% in the 2nd, but they went from 0% in the 1st from beyond the arch, to 25% in the 2nd half.
On the other hand, the Wolfpack shut down the Cavaliers in the 1st, but there was no stopping Virginia in the 2nd half. They shot 42% in the 1st from the field, and 63% in the 2nd, and 36% from beyond the arch in the 1st, and 60% in the 2nd.
Virginia's Kyle Guy was pure fire, finishing the day with 29 points, propped up by 7 three-pointers.
Also, the Cavaliers big fella Jack Salt, who typically is non-existent, splashed the box score today. Salt finished with 18 points today. For perspective, Salt had 18 combined points in the past 10 games.
Despite leading at the half, Virginia nearly beat NC State in nearly every single statistical category.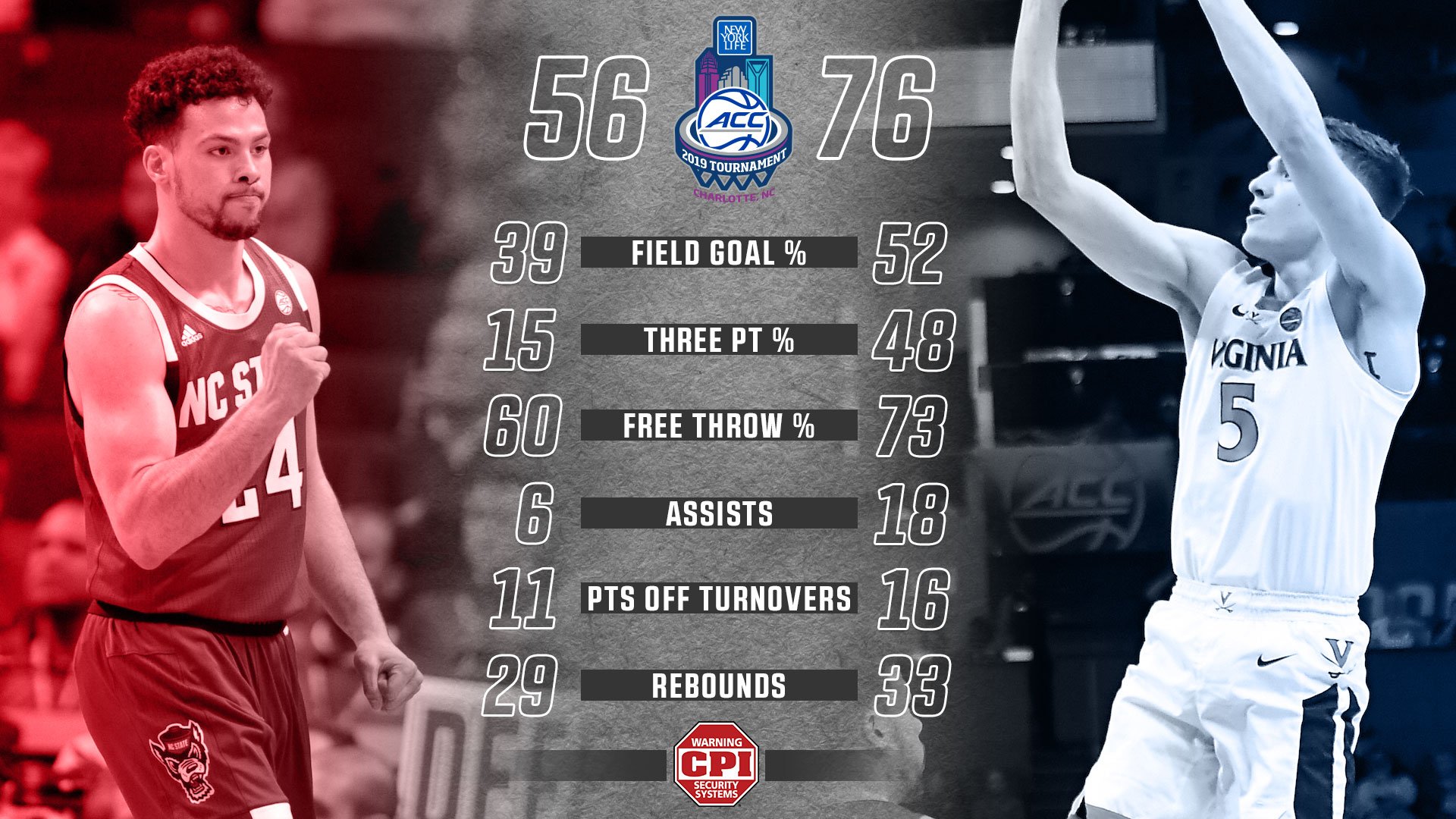 The Wolfpack's Markell Johnson led the Pack in scoring with 13 points (4-9 FG).
All NC State can do now is sit back and wait for selection Sunday.
Andy Katz Lists NC State's Markell Johnson as Honorable Mention for Top-25 College Basketball Players
NCAA.com's Andy Katz released his Top-25 College Basketball players heading into the 2019-20 Men's Basketball seasons, and NC State Senior Point Guard earned Honorable Mention status. Out of the 15 players receiving Honorable Mention, there is no indication of ranking order. With that being said, it is clear that Katz thinks that Johnson is one of the Top-40 players in College Basketball.
25. Isaiah Stewart, Fr., C, Washington

24. Andrew Nembhard, So., G, Florida

23. Ashton Hagans, So., G, Kentucky

22. Ayo Dosunmu, So., G, Illinois

21. Killian Tillie, Sr., F, Gonzaga

20. Xavier Tillman, Jr., F, Michigan State

19. Trevion Williams, So., F, Purdue

18. Jalen Smith, So., F, Maryland

17. Tristan Clark, Jr., F, Baylor

16. Sam Merrill, Sr., G, Utah State

15. Kaleb Wesson, Jr., C, Ohio State

14. Udoka Azubuike, Sr., C, Kansas

13. Jarron Cumberland, Sr., G, Cincinnati

12. Devon Dotson, So., G, Kansas

11. Anthony Edwards, Fr., G, Georgia

10. Lamar Stevens, Sr., F, Penn State

9. Anthony Cowan Jr., Sr., Maryland

8. Tre Jones, So., G, Duke

7. Kerry Blackshear Jr., Sr., Florida

6. Jordan Nwora, Jr., F, Louisville

5. Cole Anthony, Fr., G, North Carolina

4. James Wiseman, Fr., C, Memphis

3. Myles Powell, Sr., G, Seton Hall

2. Markus Howard, Sr., G, Marquette

1. Cassius Winston, Sr., G, Michigan State

Honorable mention: McKinley Wright IV, Jr., G, Colorado; Yoeli Childs, Sr., F, BYU; Kamar Baldwin, Sr., G, Butler; Anthony Lamb, Sr., F, Vermont; Nathan Knight, Sr., C, William & Mary; Zavier Simpson, Sr., G, Michigan; Markell Johnson, Sr., G, NC State; Nico Mannion, Fr., G, Arizona; Davide Moretti, Jr., G, Texas Tech; Jordan Ford, Sr., G, Saint Mary's; Tres Tinkle, Sr., F, Oregon State; Payton Pritchard, Sr., G, Oregon; Mamadi Diakite, Jr., Virginia; Xavier Sneed, Sr., Kansas State; Joe Wieskamp, Iowa.


NCAA