Virginia's 2nd Half Explosion Cripples NC State, Wolfpack Fall 76-56
NC State might have led by 2 at halftime, but Virginia exploded in the 2nd half, putting the Wolfpack away 76-56 in the quarterfinals of the ACC Tournament.
Redshirt Sophomore DJ Funderburk was the star of the 1st half for the Wolfpack, scoring 10 points. Unfortunately, after getting poked in the eye, and being underutilized when he returned, he only scored 2 more points in the contest.
So NC State led by 2 points at halftime, and lost by 20 points…what gives?
Welp.
NC State didn't tank offensively in the 2nd half. In fact, you could argue they were better.  The Wolfpack shot 39% in the first half, and 38% in the 2nd, but they went from 0% in the 1st from beyond the arch, to 25% in the 2nd half.
On the other hand, the Wolfpack shut down the Cavaliers in the 1st, but there was no stopping Virginia in the 2nd half. They shot 42% in the 1st from the field, and 63% in the 2nd, and 36% from beyond the arch in the 1st, and 60% in the 2nd.
Virginia's Kyle Guy was pure fire, finishing the day with 29 points, propped up by 7 three-pointers.
Also, the Cavaliers big fella Jack Salt, who typically is non-existent, splashed the box score today. Salt finished with 18 points today. For perspective, Salt had 18 combined points in the past 10 games.
Despite leading at the half, Virginia nearly beat NC State in nearly every single statistical category.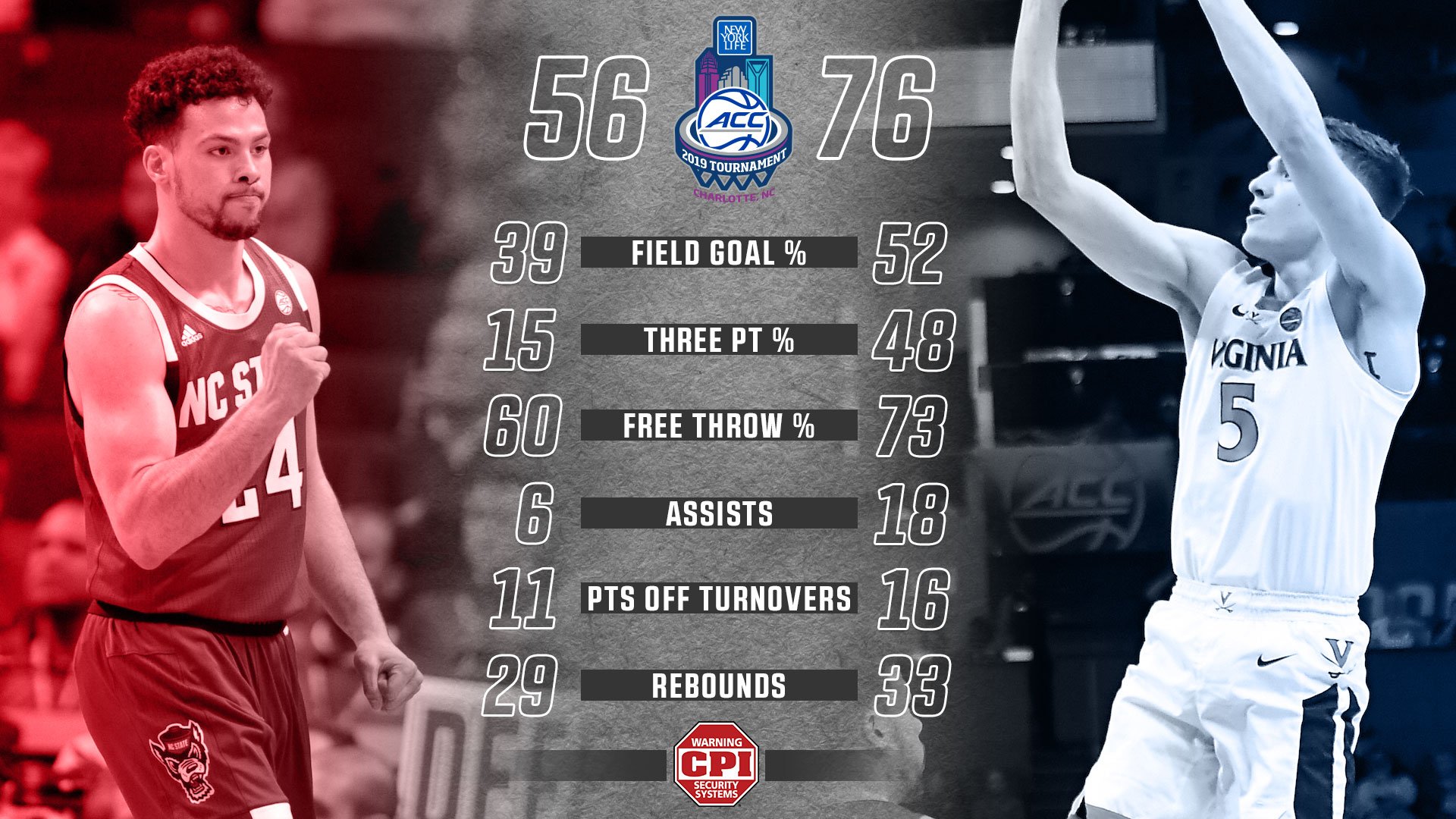 The Wolfpack's Markell Johnson led the Pack in scoring with 13 points (4-9 FG).
All NC State can do now is sit back and wait for selection Sunday.
Kevin Keatts Talks With Media Before UNCG: BULLETED
Head Coach Kevin Keatts met with the media today before NC State hits the road to play UNC-Greensboro on Sunday. You can watch the video here, or check out a bulleted breakdown below.
With us, it's been a good week for us.

Even though I do think we're playing good basketball because we're only playing 8 guys in a game, we needed the week to be able to get some guys some rest.
We needed the week for some guys to study and take care of their academics.
Tried to break the week up.

The 1st couple of days, we got some shots up, and toward the end of this week, we started working toward UNCG.

Jericole Hellems hasn't practiced.

I will see him this morning. On the road recruiting yesterday, and I haven't seen him since 2 days ago.
Probably be a game-time decision.

Got to make sure with our doctors and trainers that he's fully healthy to be able to go.
He's got to feel good about it, but I also have to feel good about it.

Had a low-grade concussion. Passed a couple of tests for the concussion.
As far as his back goes, it was great news. No fractures.

Probably going to be a 7-man rotation against UNC-G.

Danny Dixon was able to go a couple of days ago and was able give us something in practice.
If Jericole doesn't play, then hopefully we can get something out of Danny, which will give us the ability to play D.J. Funderburk a little bit at the 4-spot.

It's good to have the opportunity to be able to play on that court (UNC-G) because we will play the ACC Tournament there.
Head Coach Wes Miller has done a good job at UNC-G.

They've gotten great wins over the years.

Beat Georgetown at Georgetown this year.
Kansas game was a really great game all the way up until the end.
Won against really good mid-major teams on the road.
We have the chance to go on the road and play against a very good mid-major team.

It's a game that will be looked upon as a very good non-conference game for us.

UNC-G plays with a lot of confidence.

Has some veteran guys.

James Dickey is a tremendous shot-blocker.
Isaiah Miller's a very good player overall.

They shoot the basketball from 4 different positions.
Take a lot of threes
Tremendous job of mixing defenses up with a 1-2-2 press back to a man-to-man and sometimes zone.

They slow you down with their defensive press. They only have to defend you for 17-20 seconds, and if you get a little bit careless they'll steal the ball from you.

In regards to the loss to UNC-G 2 years ago, I care, but the players don't.

They don't know anything about it. They don't remember the game.
I do. I didn't realize that we were playing without Markell Johnson.
To their credit, they came on the road and got a very good road win.