NC State Baseball Selected as #2 Seed in Greenville Regional
RALEIGH – For the ninth time in 10 years, NC State baseball will be competing in NCAA Regional play. The Wolfpack has been selected as the No. 2 seed to the Greenville Regional, hosted by East Carolina at Lewis Field at Clark-LeClair Stadium, in Greenville, N.C.
The Pirates will play host as the top seed in the regional and will face fourth-seeded Quinnipiac in its opening-round game Friday at 6 p.m. Meanwhile, The Wolfpack will take on third-seeded Campbell at 12 p.m.
NC State will be making its 31st postseason appearance and fifth consecutive, as the Pack has earned an NCAA bid in 15 of the last 17 years.
Beginning at 9 a.m. Wednesday, sales open for the general public. All-session ticket books are available for $90, $72 and $60 depending on seat locations, while tickets for single sessions (games) – priced at $15, $12 and $10 – will go on sale Friday at 11 a.m. Tickets can be purchased in person or over the phone by calling (800) DIAL-ECU or (252) 737-4500 during normal business hours from Tuesday through Thursday. The ECU Athletics Ticket Office is closed on Monday, May 27 in observance of Memorial Day.
2019 NCAA Baseball Greenville Regional
Lewis Field at Clark-LeClair Stadium – Greenville, N.C. (All Times Eastern)
Friday, May 31st
Game 1 – No. 2 NC State vs. No. 3 Campbell @ 12 PM
Game 2 – No. 1 East Carolina vs. No. 4 Quinnipiac @ 6 PM
Saturday, June 1
Game 3 – Winner Game 1 vs. Winner Game 2 – TBD
Game 4 – Loser Game 1 vs. Loser Game 2 – TBD
Sunday, June 2
Game 5 – Winner Game 4 vs. Loser Game 3 – TBD
Game 6 – Winner Game 3 vs. Loser Game 5 – TBD
Monday, June 3rd (If Necessary)
Game 7 – Winner Game 6 vs. Loser Game 6 – TBD
NC State Releases 2020 Baseball Schedule
The NC State 2020 Baseball schedule was released today.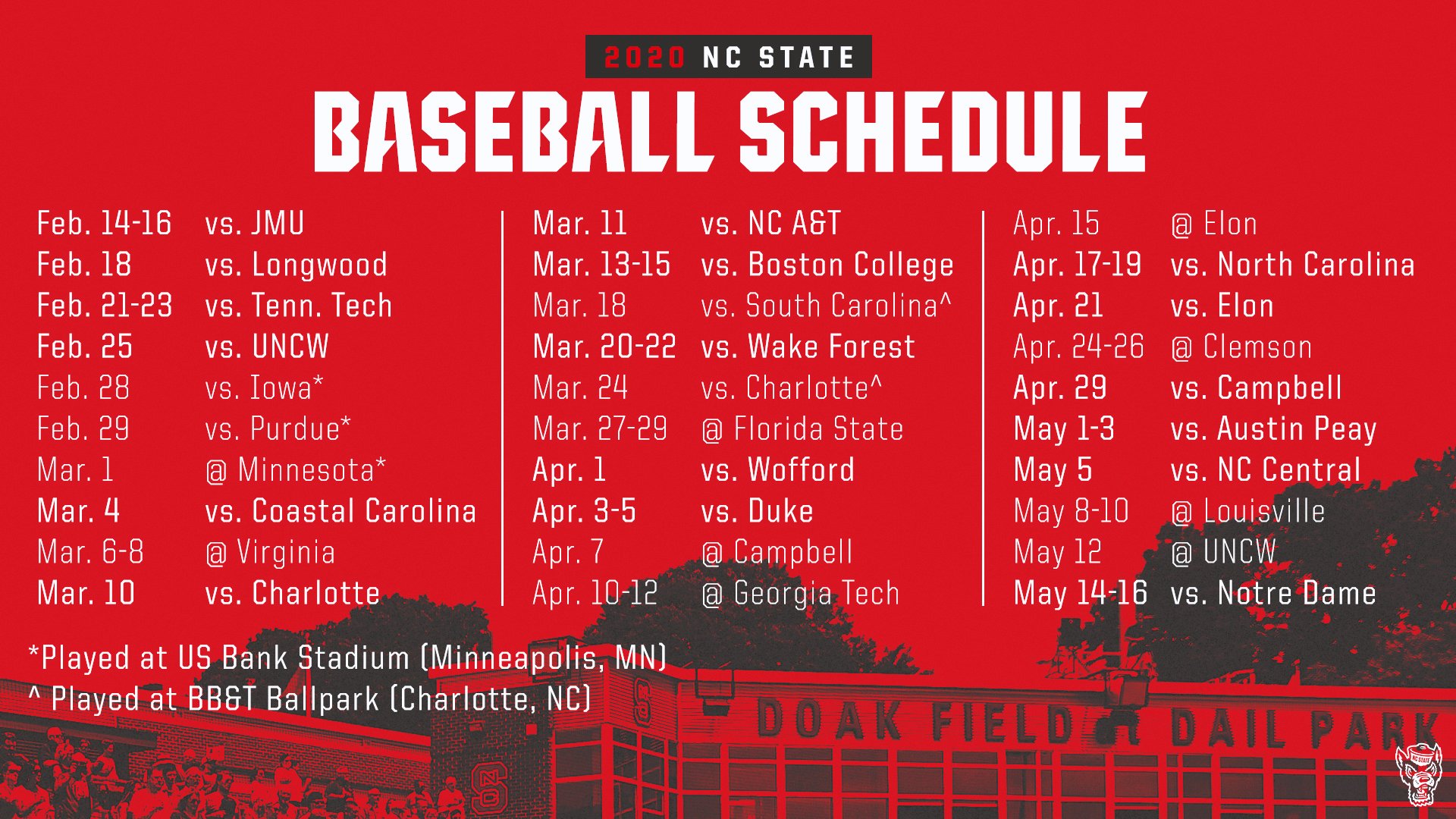 The schedule features 23 games against 2019 NCAA Tournament opponents, including three-game series at Florida State and Louisville, who both advanced to the College World Series last season. The Wolfpack's slate additionally features 13 opponents and a combined 31 games against teams that finished the 2019 season among the top 100 of the NCAA RPI.

NC State's nonconference schedule is highlighted by games against Iowa, Minnesota and Purdue Feb. 28-March 1 at the US Bank Stadium, home of the Minnesota Vikings. The weekend in Minneapolis is a part of the ACC/Big Ten Challenge. The Pack will also play a pair of games at BB&T Ballpark in Charlotte, N.C., home of the Charlotte Knights, AAA affiliate of the Chicago White Sox, against Charlotte and South Carolina March 18 and 24, respectively. (GoPack)
NC State finished the 2019 season with a 42-19 record, and a 18-12 conference record. They finished the regular season ranked 13th nationally, and 3rd in the ACC.
The Wolfpack finished the year ranked 21st in the final Collegiate Baseball Rankings.