UCLA DROPS OUT OF HOLIDAY BOWL – GAME CANCELED
My god…it happened again…Season ends on short notice in a damn ballpark…
The UCLA football team is unable to participate in tonight's San Diego County Credit Union Holiday Bowl due to COVID-19 protocols within the Bruins' program. pic.twitter.com/rHXEmGv9gl

— UCLA Football (@UCLAFootball) December 28, 2021
As of Monday morning, it seemed as though only a handful of UCLA Bruins had tested positive. Only one of which, a true starter. But just four hours before kickoff, they dropped out completely. On the verge of going for their second double-digit win season in school history, State won't even get the chance.
Deja Vu
In all honesty, this is heartbreaking. To have it happen twice in a span of months, all the more devastating.
The NCAA wasn't forthright at times with the baseball program. Then their lack of adjusting for current conditions, inexcusable. The team that traveled an hour is out. The school with fans that went cross country, sit.
It's infuriating.
Heartbroken to not be able to compete one more time this season. We were informed a short time ago that our opponent would be unable to play this evening.

— NC State Football (@PackFootball) December 28, 2021
The timing in the two situations, also borderline insane. A middle of the night decision for baseball. Hours before kickoff for football. Just feels dirty, no?
Also have to love Chip Kelly talking about how, "Our whole mindset's always been, if we've got 11, we're going to go play." Yeah, cool. State is the only ones that can say they'd go to war with a fraction of their team.
What Now?
Alcohol in the near term, revenge in the far.
Glad that this team was able to come together and be one this week. Zoo trips and military history. Bonding amongst brothers, as the thoughts of history making were on the horizon. It's a shame, but in the very slightest of slight consolations, they got to be with each other.
Does this fire them up more? Does this make Bam and Thayer want to stay? Can this team somehow go more into "F U" mode then we ever could have imagined?
Time will tell. Until then. F*ck the NCAA. Go to hell UCLA. Vandy we still hate you too.
NC State's 2023 Football Schedule has Arrived!
NC State's 2023 Football schedule was released yesterday.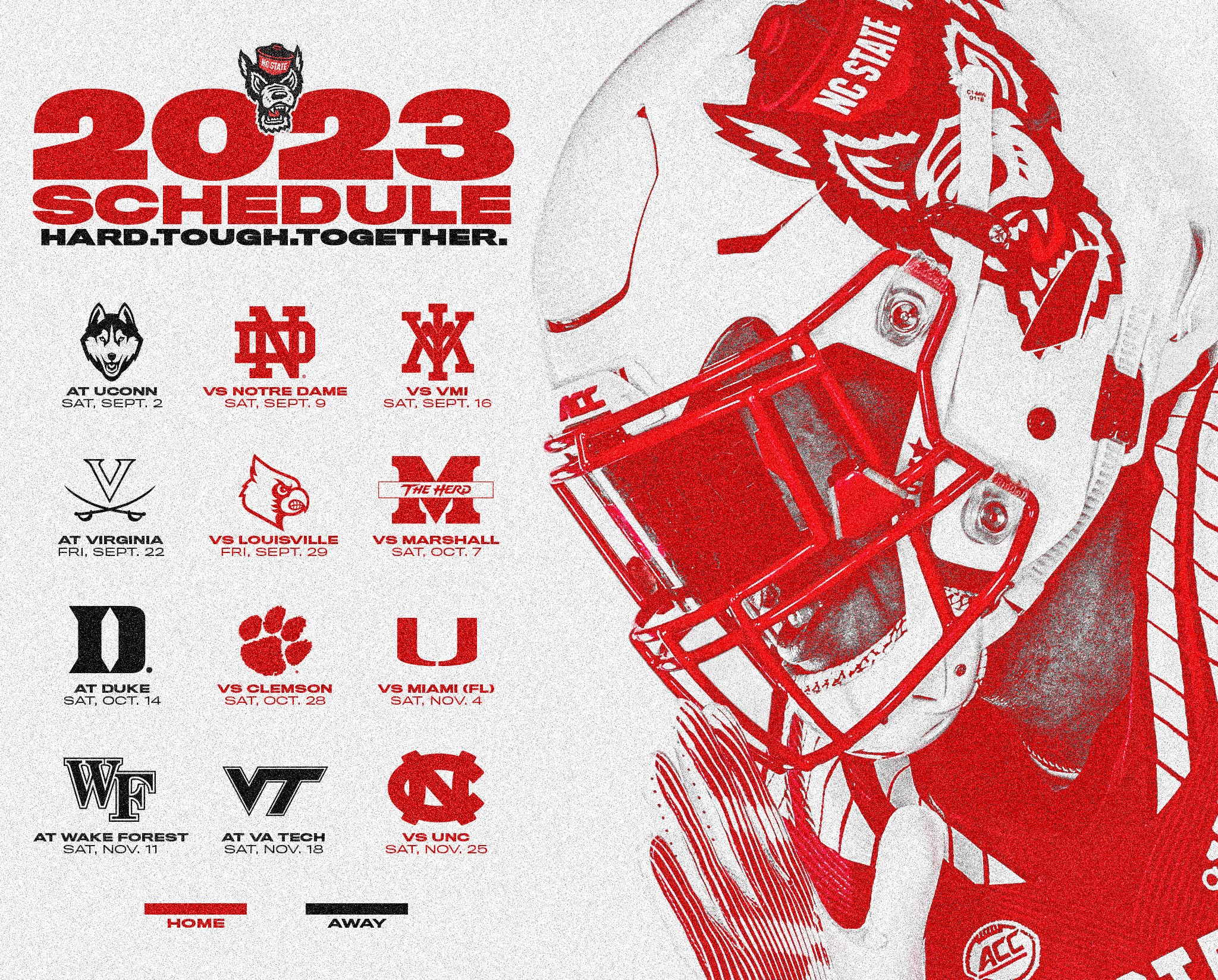 Notes
NC State will play all three in-state ACC rivals: UNC, Duke and Wake Forest
NC State has two Friday night games back to back: UVA & Louisville
NC State will play Quarterback Brennan Armstrong's former team UVA on 9/22.
NC State will host Notre Dame for the 2nd time ever, and will face a familiar face in former Wake Forest Quarterback Sam Hartman.
In the first year without Divisions in the ACC, 5 of NC State's 8 conference opponents will be teams that were in the Coastal Division last year: UVA, UNC, Miami, Duke, VT.

The three former Atlantic Division opponents are: Clemson, Wake Forest and Louisville