THUNDERCATS: Episode 4 with NC State RB Jordan Houston
Look out world, if you haven't checked out the THUNDERCATS interview series on NC State's social media, then you're missing out.
Strength coach, Dantonio "Thunder" Burnette's kids surprise NC State football players with a hard-hitting interview session. This week it's Jordan Houston who gets on the hot seat. Check it out.
THUNDERCATS, Episode 4: Jordan Houston

(the one where @ballout_jordo does a 🐆 impression!)#HTT pic.twitter.com/qCQdpkklUr

— NC State Football (@PackFootball) August 29, 2022
Just a quick take here, but this is great content by NC State Athletics. It's engaging for all ages, it humanizes the players and it helps fans get to know the players. Oh, and honestly, in today's world where players are numb to media attention and old guys interviewing them for website clicks, it might be the move to have kids do the interviews. They keep it simple. The players get into great detail and open up more, and there's an element of humor to it. The only problem might be those pesky child labor laws. (We're kidding.)
If you missed the prior episodes, check them out below…
Here's what you spent all weekend waiting for: Episode 3 of THUNDERCATS!

This week's subject: @BigGrant73_#HTT pic.twitter.com/WkNOA0SW2K

— NC State Football (@PackFootball) August 22, 2022
The THUNDERCATS are back!

Episode 2 features (a very surprised) @TannerIngle#HTT pic.twitter.com/k6UOG8AflY

— NC State Football (@PackFootball) August 15, 2022
Look out @ReceDavis & @KirkHerbstreit!

The THUNDERCATS are coming for your jobs.

Episode 1: Thayer Thomas @thayerthomas1 pic.twitter.com/ljxoIMRAKE

— NC State Football (@PackFootball) August 8, 2022
NC State's Depth Chart vs. Clemson with Notes
NC State's Football team has released their Depth Chart for this Saturday's game vs. Clemson on the road at 7:30pm.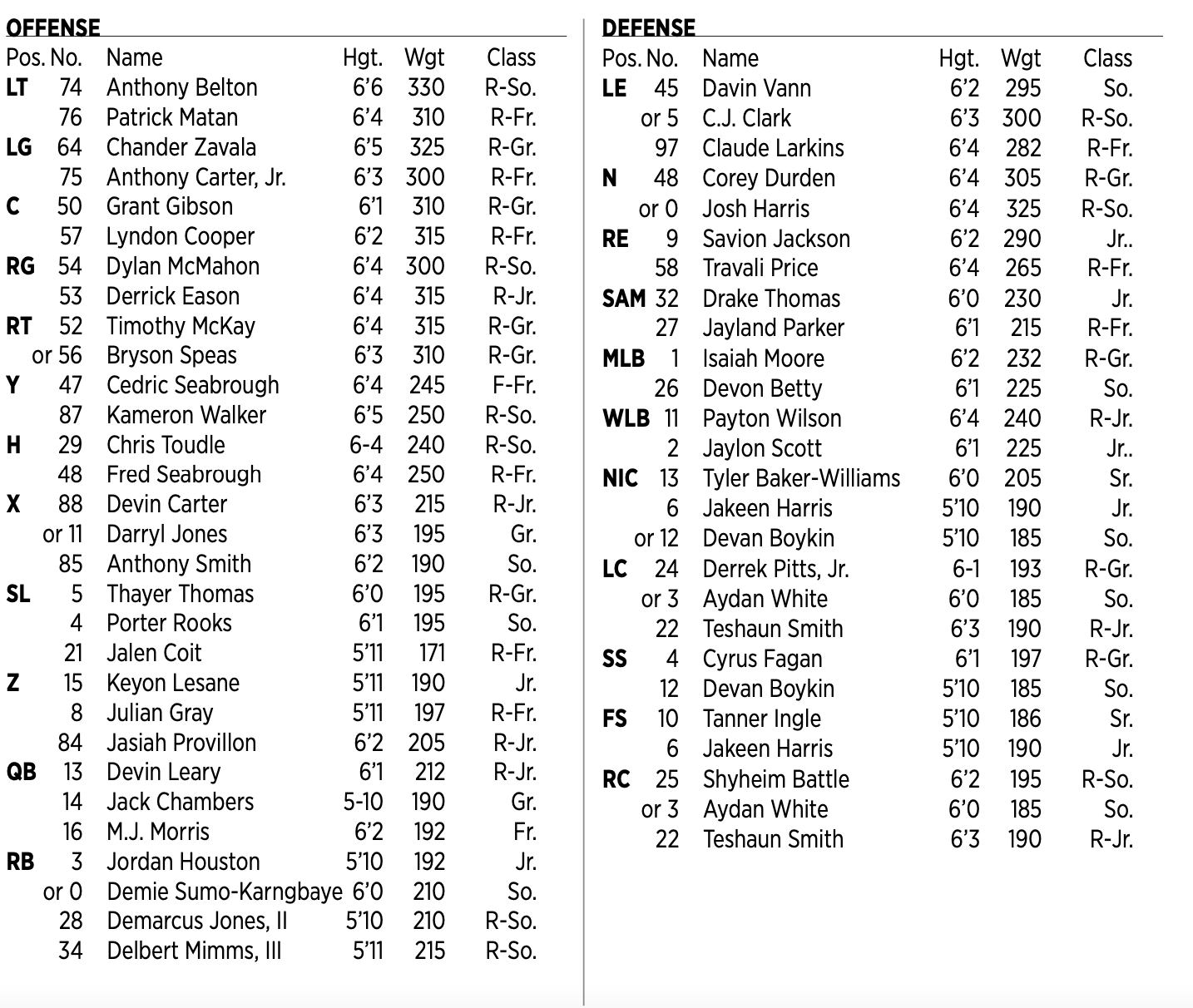 Notes
There have been a few significant changes on this weeks Depth Chart:
Graduate Timothy McKay has moved into the starting spot at Right Tackle. Graduate Bryson Speas has been listed as the starter on the first 4 Depth Charts, but McKay actually ended up starting the game against UCONN.

This isn't a shocking move. Even though Speas has started 3 games out of 4, McKay has played 72 more snaps on the year. Also, According to PFF grades, McKay's grade on the season is 74.6 on the year, compared to Speas' 73.2.
Interestingly, McKay is stronger in run block (82.2/69.1), and Speas is stronger in pass block (83.8/70.1). McKay is the Wolfpack's highest graded run blocker.
Also, it's worth noting, while McKay is listed as the starter, there is an "or" in between their names.

Things have been shaken up in regards to Senior Tyler Baker-Williams at Nickel.

Sophomore Joshua Pierre-Louis has been listed as the backup in the first 4 depth chart's, but he isn't anywhere to be found on this weeks depth chart.
Junior Jakeen Harris, who has been listed as Senior Tanner Ingle's backup at Free Safety all year, is listed as Baker-Williams backup at Nickel now.

He is still also listed as the backup for Ingle at Free Safety.

Sophomore Devan Boykin is listed as the third Nickel, with an "or" in between his name and Harris.

Boykin is still listed as Graduate Cyrus Fagan's backup at Strong Safety, which is where he's been listed all year.