THUNDERCATS: Episode 4 with NC State RB Jordan Houston
Look out world, if you haven't checked out the THUNDERCATS interview series on NC State's social media, then you're missing out.
Strength coach, Dantonio "Thunder" Burnette's kids surprise NC State football players with a hard-hitting interview session. This week it's Jordan Houston who gets on the hot seat. Check it out.
THUNDERCATS, Episode 4: Jordan Houston

(the one where @ballout_jordo does a 🐆 impression!)#HTT pic.twitter.com/qCQdpkklUr

— NC State Football (@PackFootball) August 29, 2022
Just a quick take here, but this is great content by NC State Athletics. It's engaging for all ages, it humanizes the players and it helps fans get to know the players. Oh, and honestly, in today's world where players are numb to media attention and old guys interviewing them for website clicks, it might be the move to have kids do the interviews. They keep it simple. The players get into great detail and open up more, and there's an element of humor to it. The only problem might be those pesky child labor laws. (We're kidding.)
If you missed the prior episodes, check them out below…
Here's what you spent all weekend waiting for: Episode 3 of THUNDERCATS!

This week's subject: @BigGrant73_#HTT pic.twitter.com/WkNOA0SW2K

— NC State Football (@PackFootball) August 22, 2022
The THUNDERCATS are back!

Episode 2 features (a very surprised) @TannerIngle#HTT pic.twitter.com/k6UOG8AflY

— NC State Football (@PackFootball) August 15, 2022
Look out @ReceDavis & @KirkHerbstreit!

The THUNDERCATS are coming for your jobs.

Episode 1: Thayer Thomas @thayerthomas1 pic.twitter.com/ljxoIMRAKE

— NC State Football (@PackFootball) August 8, 2022
NC State's 2023 Football Schedule has Arrived!
NC State's 2023 Football schedule was released yesterday.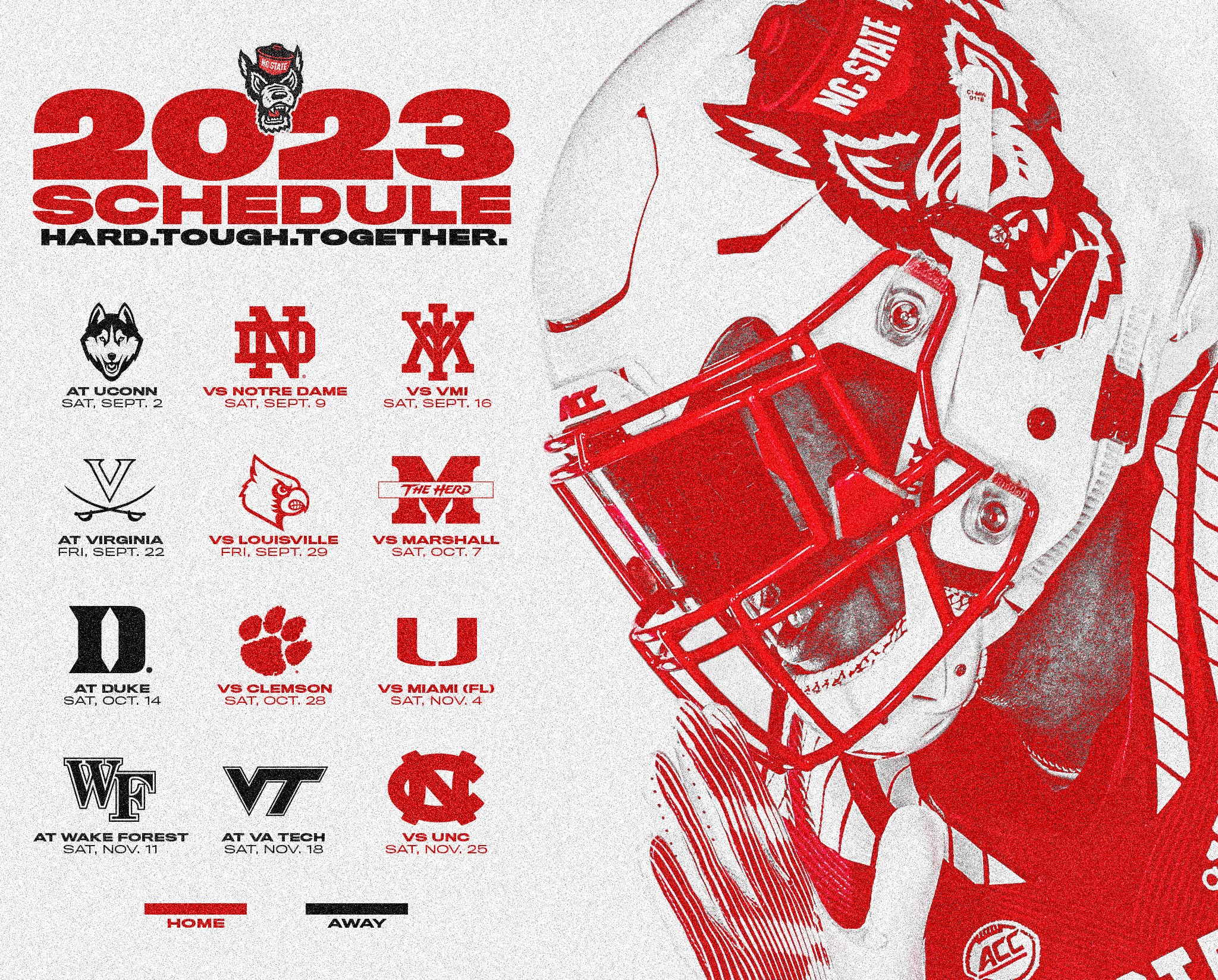 Notes
NC State will play all three in-state ACC rivals: UNC, Duke and Wake Forest
NC State has two Friday night games back to back: UVA & Louisville
NC State will play Quarterback Brennan Armstrong's former team UVA on 9/22.
NC State will host Notre Dame for the 2nd time ever, and will face a familiar face in former Wake Forest Quarterback Sam Hartman.
In the first year without Divisions in the ACC, 5 of NC State's 8 conference opponents will be teams that were in the Coastal Division last year: UVA, UNC, Miami, Duke, VT.

The three former Atlantic Division opponents are: Clemson, Wake Forest and Louisville