What Texas Tech Head Coach Joey McGuire had to say about NC State this Week
Texas Tech Head Football Coach Joey McGuire spoke with the media at his weekly press conference earlier this week, and he had a lot to say about the Wolfpack, the Red Raiders opponent tomorrow night in Carter-Finley Stadium. You can watch the video above, but a breakdown of what McGuire had to say is below.
"This is a team that plays with incredible passion. They play really fast. It's a veteran team."
"He's [Devin Leary] is a pro. He's going to play in the NFL. He's the real deal. He has a big arm. He can extend the play. He's played a lot of snaps. When we were recruiting him [when McGuire was at Baylor], we thought he was legit, and he definitely is.
"They've got two really, really good running backs, 3 and 0 [Jordan Houston and Demie Sumo]. They're physical. They finish runs. Zero [Sumo] gave them a Spark in their win against East Carolina. Going to be important how we tackle."
"They've got a veteran offensive line. They bring 4 of their 5 back, and the one they didn't bring back was a 1st round draft pick [Ikem Ekwonu]."
"Defensively, extremely aggressive. We have history with their Defensive Coordinator [Tony Gibson], who was at West Virginia. A lot of pressure. They are an odd stack team. He's really one of the originators of that kind of defense. He does a great job with it."
"It [the 3-3-5 defensive scheme] is going to close the middle of the field, taking a lot of it away from you. They are going to pressure you. They do such a great job showing you one thing, disguise it, and then bring pressure from everywhere.
"I think they return 10 starters on defense. The guys that really standout when you watch film are 32 and 1 [Drake Thomas and Isaiah Moore], and #10 [Tanner Ingle]…he's one of the best players in the country. Hey plays that hybrid safety in that odd stack…man…he's deep when the balls being thrown, but when the ball is run, he's around the football. We've got to do a good job accounting for him."
"Everything I hear from people that have played there is that it is an electric environment. It's going to be a great road test. They're a ranked team."
"They kind of have a chip on their shoulder. Last year, what happened to them in the bowl game was ridiculous. That should not happen. That was bad on the other teams part that it even got to that. They had an opportunity to have a 10 win season, and that means a lot, that would mean a lot around here. Not only do they have a chip on their shoulder, but they have a lot of people back that have a chip on their shoulder."
"He [Doeren] has a lot of leadership. He has a lot of NFL guys. There's a lot of guys on that team that are going to be playing on Sundays."
"I just think he's done a good job. He's established his culture. He's got a good coaching staff. They have one of the longest home winning streaks.
"Excited for him [Malik Dunlap who transferred from NC State to Texas Tech]. He's going to see a lot of his family. He's excited. I was excited that he played the way he did Saturday, so he could carry some confidence into the game. It's going to be a lot of fun for him."
NC State's Depth Chart vs. Clemson with Notes
NC State's Football team has released their Depth Chart for this Saturday's game vs. Clemson on the road at 7:30pm.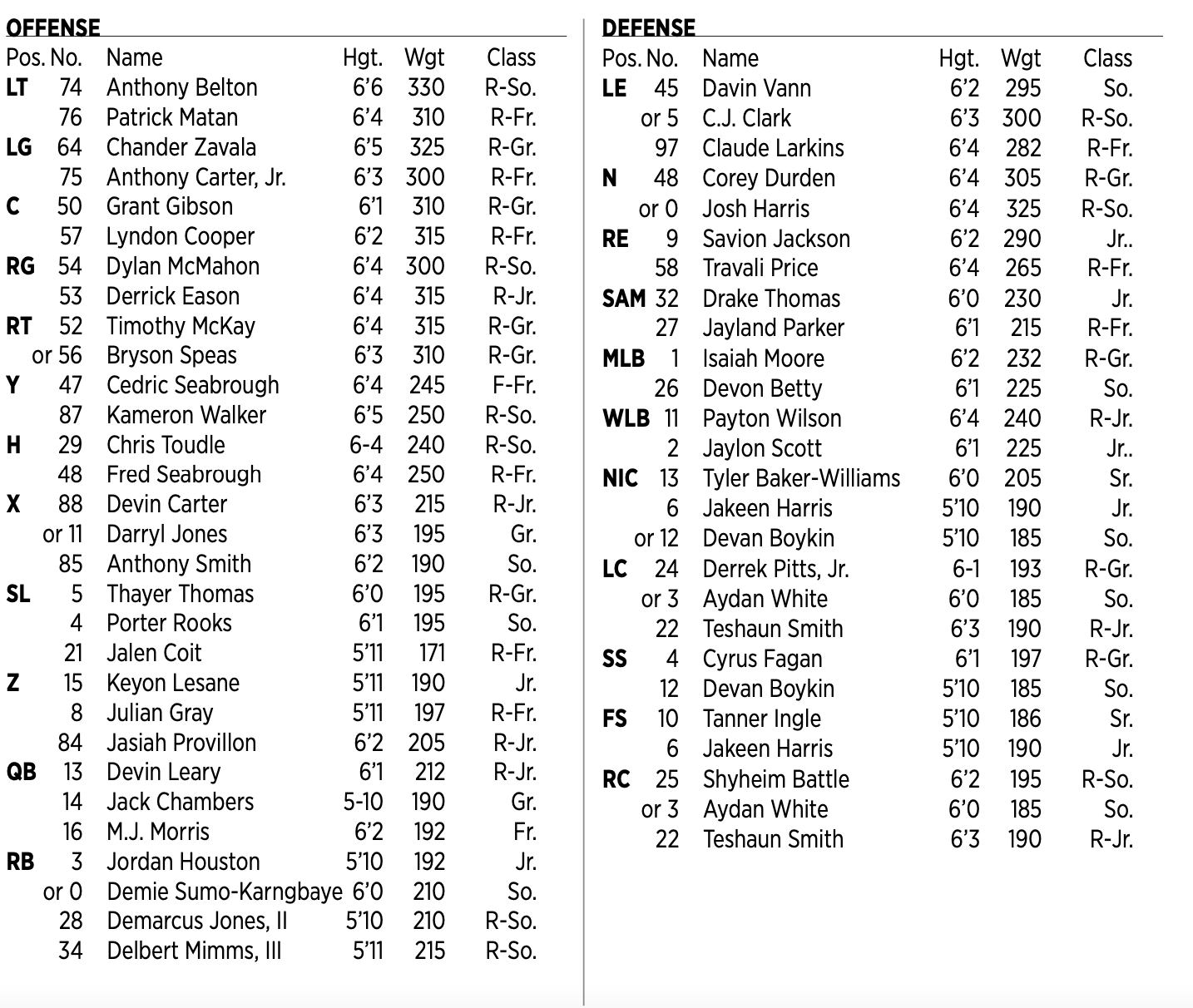 Notes
There have been a few significant changes on this weeks Depth Chart:
Graduate Timothy McKay has moved into the starting spot at Right Tackle. Graduate Bryson Speas has been listed as the starter on the first 4 Depth Charts, but McKay actually ended up starting the game against UCONN.

This isn't a shocking move. Even though Speas has started 3 games out of 4, McKay has played 72 more snaps on the year. Also, According to PFF grades, McKay's grade on the season is 74.6 on the year, compared to Speas' 73.2.
Interestingly, McKay is stronger in run block (82.2/69.1), and Speas is stronger in pass block (83.8/70.1). McKay is the Wolfpack's highest graded run blocker.
Also, it's worth noting, while McKay is listed as the starter, there is an "or" in between their names.

Things have been shaken up in regards to Senior Tyler Baker-Williams at Nickel.

Sophomore Joshua Pierre-Louis has been listed as the backup in the first 4 depth chart's, but he isn't anywhere to be found on this weeks depth chart.
Junior Jakeen Harris, who has been listed as Senior Tanner Ingle's backup at Free Safety all year, is listed as Baker-Williams backup at Nickel now.

He is still also listed as the backup for Ingle at Free Safety.

Sophomore Devan Boykin is listed as the third Nickel, with an "or" in between his name and Harris.

Boykin is still listed as Graduate Cyrus Fagan's backup at Strong Safety, which is where he's been listed all year.