Devin Leary & Thayer Thomas Move Up in NC State's Record Book in UCONN Win
Quarterback Devin Leary and Wide Receiver Thayer Thomas both moved up in the NC State Record Book in tonight's Wolfpack 41-10 victory over the UCONN Huskies.
Leary threw 4 touchdowns tonight, tying a career high. He entered the game ranked 6th all-time in school history in career touchdowns, but now finds himself tied with Ryan Finley for 4th place.
1. Philip Rivers – 95
2. Russell Wilson – 76
3. Mike Glennon – 63
4. Devin Leary – 60
4. Ryan Finley – 60
5. Jamie Barnette – 59
On the first play from scrimmage, Leary threw a 75-yard touchdown pass to Thomas, giving the former walk-on 22 for his career. Thomas entered the night tied with Jerricho Cotchery for 2nd place in school history, but now holds sole possession of 2nd place, 9 touchdowns behind Torry Holt (31).
NC State's 2023 Football Schedule has Arrived!
NC State's 2023 Football schedule was released yesterday.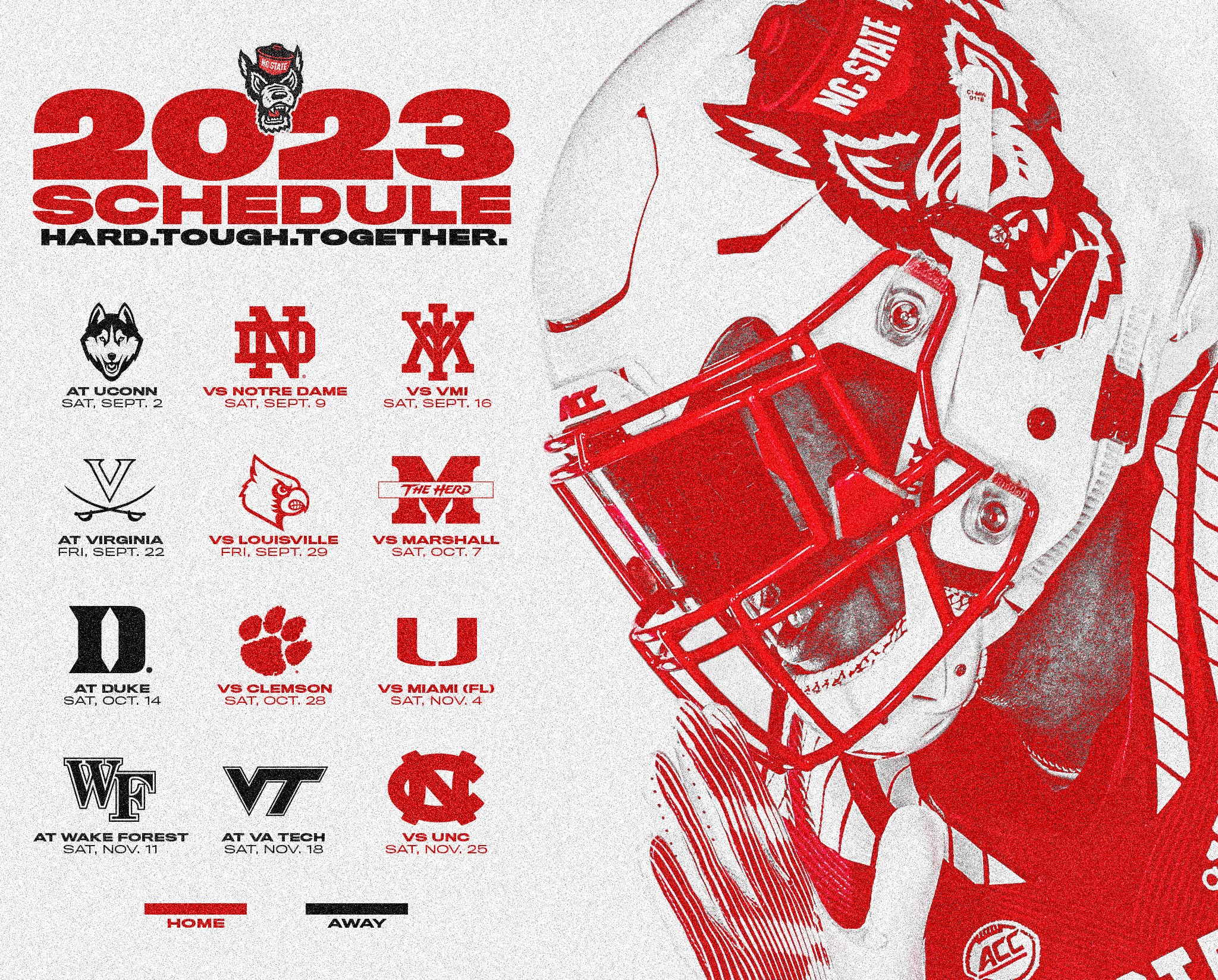 Notes
NC State will play all three in-state ACC rivals: UNC, Duke and Wake Forest
NC State has two Friday night games back to back: UVA & Louisville
NC State will play Quarterback Brennan Armstrong's former team UVA on 9/22.
NC State will host Notre Dame for the 2nd time ever, and will face a familiar face in former Wake Forest Quarterback Sam Hartman.
In the first year without Divisions in the ACC, 5 of NC State's 8 conference opponents will be teams that were in the Coastal Division last year: UVA, UNC, Miami, Duke, VT.

The three former Atlantic Division opponents are: Clemson, Wake Forest and Louisville