LOVED IT, HATED IT : From NC State's letdown in Death Valley
Welp, that was a let down. After circling this game and waiting a full off-season for it, it's over and it didn't end the way we wanted it to. And honestly, I've got mixed emotions about it.
The realist in me says I should be happy we played it close, and we still can have an elite-level season. But the real me is pissed at a few things and knows we could have won this one.
I'll get into the specifics in this week's 'Loved it, Hated it.'
LOVED IT
Wolfpack D came to play– All I heard for the first 4 weeks was Will Shipley this and Will Shiply that. Clemson's version of Christian McCaffrey was supposed to cause all kinds of havoc for the Wolfpack in this game. Instead, Shipley turned in his worst game of the season, rushing 14 times for just 60 yards. The Pack's defense was great, especially against Shipley. They were going to force DJ Uiagelelei to beat them, and he did (sort of). Uiagelelei threw for 209 yards and a touchdown, but the real damage he did was with his legs. He ran 14 times for 73 yards and 2 TDs. NC State's secondary wasn't bad either, and if it weren't for Uiagelelei taking matters into his own hands, the Pack wins this one. The NC State defense came to play, they were dealing out some big hits and they were swarming to the ball. I loved it.
The Leary to Thomas connection – Devin Leary didn't have a great night, but I'm not letting him take all the blame for that. When Leary had time, he was good. He threw some amazing balls in this one, threading the needle multiple times to Thayer Thomas. But it shouldn't be this hard. For one, the NC State run game was nowhere to be found (we'll get into that later), so Clemson's D was able to sit back. Meanwhile, when Leary threw it, his receivers weren't creating much separation, nor were they coming down with tough catches (most of the time). Clemson really needed to just focus on covering Thomas, and while they tried, they failed. Despite all of this, Leary connected with Thayer Thomas 9 times for 84 yards.
Christopher Dunn's revenge– Yes, I'm using my last "Loving it" on the kicker. One reason is, there isn't anything else I really LOVED, and two, Dunn had a horrific game last year vs Clemson. In this one he was 4 for 4 on the night. 2 extra points and 2 FG's, the longest being a 49 yarder. Dunn was kicking in the biggest game in NC State history and trying to exorcize some demons of his own. Him being perfect on the night took a lot of focus and a lot of confidence.
HATED IT
The Play Calling – You had a full off-season to gameplan this one. You had 4 weeks of watching your opponent. And somehow Clemson was sitting on every running play and every screen you called. This was a real buzz-kill for me. I wanted to see the Pack get a little creative and show some wrinkles we hadn't seen. I mean, it is the biggest game your program has ever had, right? Let's throw it all at them, no?
Instead, we got more conservative play calling. Wake Forest had just brutalized Clemson's depleted secondary a week before, so you'd have thought Leary was going to be trigger-happy throwing the ball downfield. Welp, it didn't happen. State took a few shots downfield but didn't really put enough pressure on Clemson in my opinion.
If you want to find that is extremely frustrating about this team, it's with the offensive play calling. It's obvious Dave is a defense-first coach. The offense plays like they are trying to just manage the game and not make mistakes while leaning on the defense. This works most of the time in the ACC, but if you want to get to that next level and really be competition for Clemson, you have to get a more aggressive approach on offense, especially when you have a talent like Leary behind center.
The Ground Game- This was the fear all off-season. NC State had proven vets at nearly every position, except running back. Jordan Houston isn't bad and Demi Sumo had a lot of hype around him, but when you face a Top-10 defense, can these guys produce? Houston actually ran hard, hit holes fast, and did what he could. And while a lot of pundits are going to say NC State couldn't get anything going on the ground, Jordan Houston actually ran 7 times for 32 yards. That's good for 4.6 YPC. Now, his longest run was just 6 yards, but he only got 7 chances. Meanwhile, Sumo couldn't get anything going. He ran 5 times for 10 yards (2 YPC). He was slow to the holes and was a little too indecisive against a defense this good.
The truth is, NC State's RBs just didn't scare Clemson at all. They were giving them no respect and they didn't get burned for it. The inability to move the chains on the ground put it all on Leary to make plays, and while he did what he could, it wasn't ever going to be enough.
Questionable Reffing– There weren't that many bad calls, but the bad calls were REALLY bad and ended up really hurting the Pack. First off, NC State did themselves no favors with a 'running into the kicker penalty that gave Clemson a new set of downs. But they were about to get the ball back with no harm done…until this happened (excuse the tweet language, not our account)
Dogshit flag pic.twitter.com/wbdy8Npn47

— Quigs (@BigSeanQ_) October 2, 2022
That's not pass intereference. That's nearly perfect defense. That led to 3 points, giving Clemson a 6-3 lead.
Then there was the Will Shipley touchdown fumble.
THAT BALL IS OUT BY A MILE pic.twitter.com/9diASqt9my

— Barstool Pack (@BarstoolPack) October 2, 2022
Now, that ball is not "out by a mile" like the tweet suggests, but this was a TD call that was reviewed and reversed, putting the ball back on the 1. But wait, did the refs just refuse to look at whether or not this ball was fumbled? Slow it all the way down and follow Shipley's hands. It appears the ball is loose a split second before his left knee hits the ground. If this is ruled a fumble, NC State takes over, instead of the eventual TD that Clemson scored, giving them a 10-6 lead.
So, NC State loses by 10 and there are 10 questionable points on the board. Not going to blame the refs here, because the fumble was a close play and because NC State did themselves no favors, but without a doubt, as a State fan, I did hate these calls.
NC State's 2023 Football Schedule has Arrived!
NC State's 2023 Football schedule was released yesterday.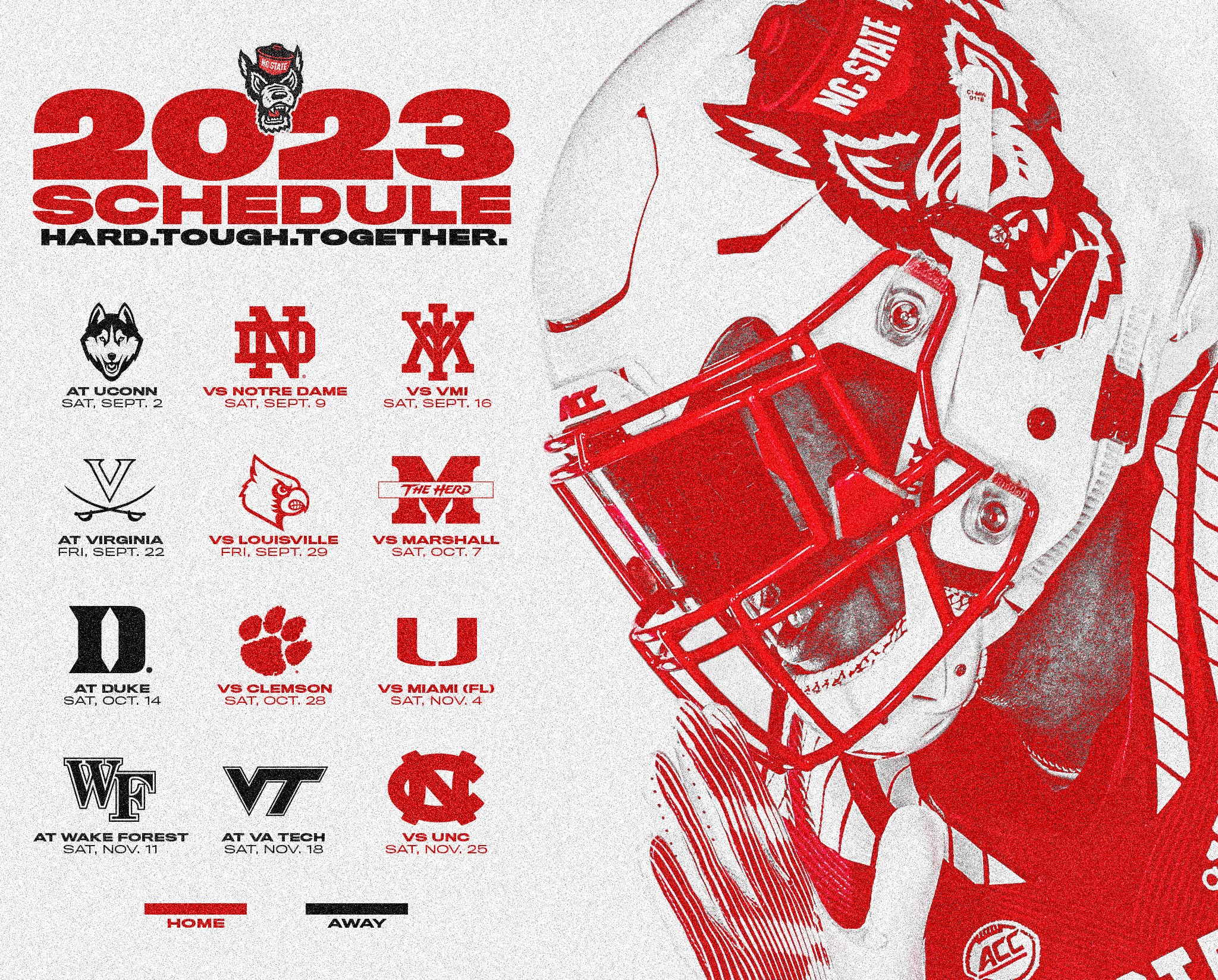 Notes
NC State will play all three in-state ACC rivals: UNC, Duke and Wake Forest
NC State has two Friday night games back to back: UVA & Louisville
NC State will play Quarterback Brennan Armstrong's former team UVA on 9/22.
NC State will host Notre Dame for the 2nd time ever, and will face a familiar face in former Wake Forest Quarterback Sam Hartman.
In the first year without Divisions in the ACC, 5 of NC State's 8 conference opponents will be teams that were in the Coastal Division last year: UVA, UNC, Miami, Duke, VT.

The three former Atlantic Division opponents are: Clemson, Wake Forest and Louisville