All Signs Pointing to NC State Playing in the Mayo Bowl in Charlotte
We will not officially know what Bowl Game NC State will play in until Sunday, but all signs are pointing to the Wolfpack playing in the Duke's Mayo Bowl in Charlotte on December 30th.
NC State fans will have an easy drive to Charlotte for Dec. 30. Multiple sources have been consistent all week that the 'Pack will play in the Mayo Bowl. Announcement Sunday.

— Brad Crawford (@BCrawford247) December 2, 2022
NC State has never played in the Mayo Bowl, which started in 2002. The coach of the winning team gets dunked with 4.5 gallons of Duke's Mayonnaise.
The Wolfpack have played played a Bowl Game in Charlotte 3 times, which was the Belk Bowl (2x – 2015 & 2011) and the Meineke Car Care Bowl (2005). They have gone 2-1 in Bowl Games in Charlotte, defeating South Florida and Louisville, and losing to Mississippi State.
While opinion is high that NC State will play in the Mayo Bowl, there is debate on who they will play, with the primary candidates being Iowa, Maryland or Minnesota.
A Bowl Game in Charlotte should lead to a packed Bank of America Stadium, filled with Wolfpack fans dressed in Red.
NC State's 2023 Football Schedule has Arrived!
NC State's 2023 Football schedule was released yesterday.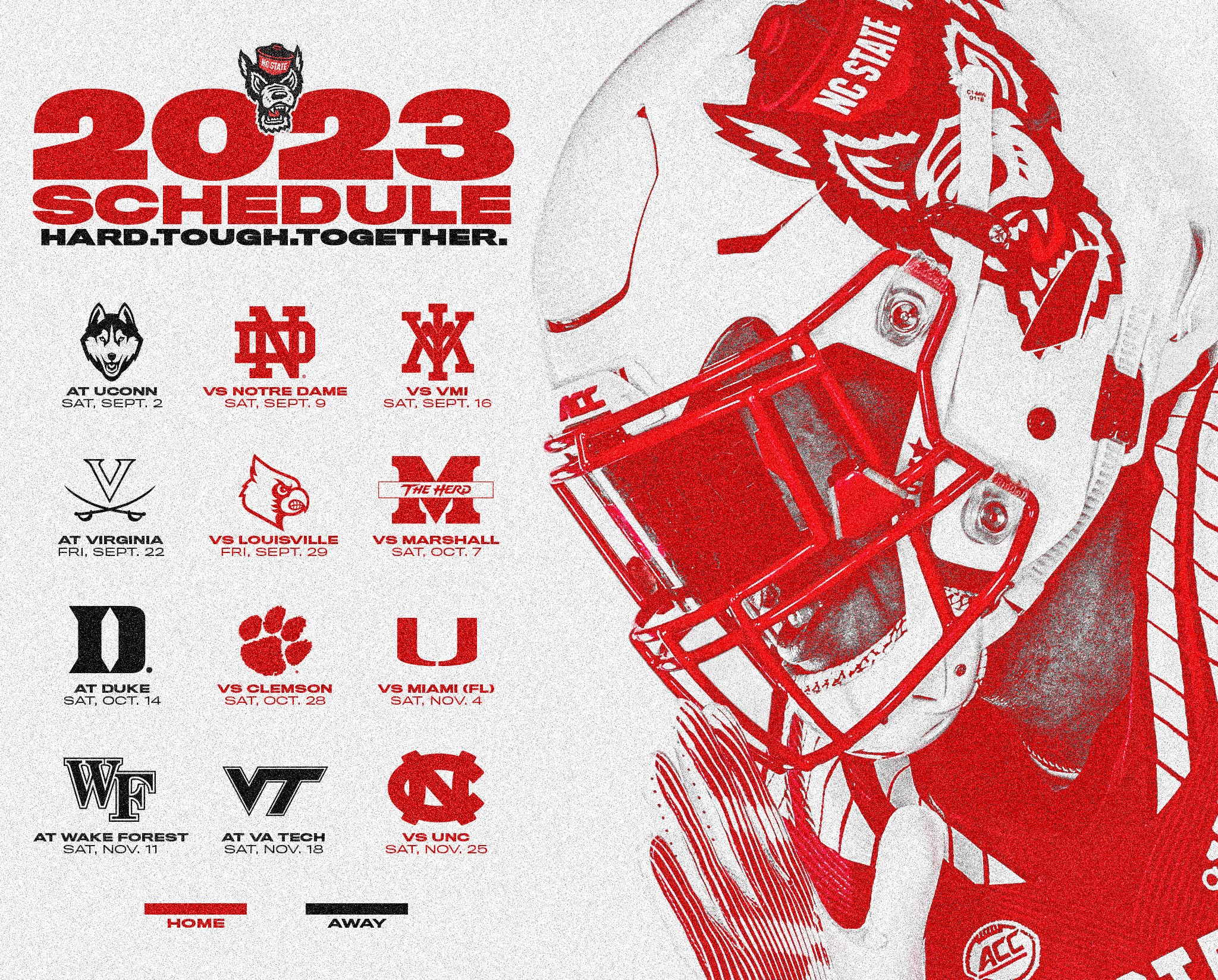 Notes
NC State will play all three in-state ACC rivals: UNC, Duke and Wake Forest
NC State has two Friday night games back to back: UVA & Louisville
NC State will play Quarterback Brennan Armstrong's former team UVA on 9/22.
NC State will host Notre Dame for the 2nd time ever, and will face a familiar face in former Wake Forest Quarterback Sam Hartman.
In the first year without Divisions in the ACC, 5 of NC State's 8 conference opponents will be teams that were in the Coastal Division last year: UVA, UNC, Miami, Duke, VT.

The three former Atlantic Division opponents are: Clemson, Wake Forest and Louisville