NC State Offensive Coordinator Tim Beck Agrees to Become the Head Coach at Coastal Carolina
NC State Offensive Coordinator Tim Beck has agreed to become the next Head Football Coach at Coastal Carolina, agreeing to a 5-year deal worth nearly $1 million per year according to Pete Thamel of ESPN
Sources: NC State OC Tim Beck is finalizing a five-year deal to make him Coastal Carolina's next head coach. Beck is finalizing a five-year contract that will pay him nearly $1 million per year.

— Pete Thamel (@PeteThamel) December 4, 2022
Tim Beck Named Head Football Coach at Coastal Carolina#TEALNATION | #CHANTSUP https://t.co/Gos0LwUN0Q

— Chants. (@GoCCUsports) December 4, 2022
This is Beck's first opportunity to be a head coach at the collegiate level.
Beck has been the Offensive Coordinator and Quarterbacks Coach at NC State since 2020. The last time Beck has been a head coach was at Mansfield Summitt High School in Texas, in 2004.
Since then he has been an Assistant Coach at Kansas, Nebraska, Ohio State, Texas, and obviously, NC State. Beck served as the Offensive Coordinator at Nebraska, Ohio State, Texas and NC State.
"I could not be more excited to be the Head Football Coach at Coastal Carolina University. The complete alignment between Dr. Benson, Joe Moglia, and Matt Hogue has helped establish a championship program that is a tremendous fit for me and my family," said Coach Beck. "I fully embrace the expectations for how we will run this program each and every day. Coastal is a special place with special people. We are humbled and honored to become a part of the Chanticleer family and the Conway community." (Link)
Beck has also served as the Quarterback's Coach at NC State since 2020, and has done a tremendous job with the Wolfpack's Quarterback room. After Devin Leary was injured in 2020, he helped Bailey Hockman lead the Pack to 5 wins. Last year, he helped Devin Leary have one of the best seasons by a Quarterback in ACC and NC State history. This year, he helped the Wolfpack win 8 games with 4 different starting Quarterbacks.
With the exodus of Beck, Dave Doeren has now sent two Offensive Coordinators off to be Head Football coaches. Eliah Drinkwitz left NC State to become the Head Coach at Appalachian State in 2018, and he is now the head coach at Missouri.
Congratulations Coach Beck! Couldn't have have happened to a better guy!
NC State's 2023 Football Schedule has Arrived!
NC State's 2023 Football schedule was released yesterday.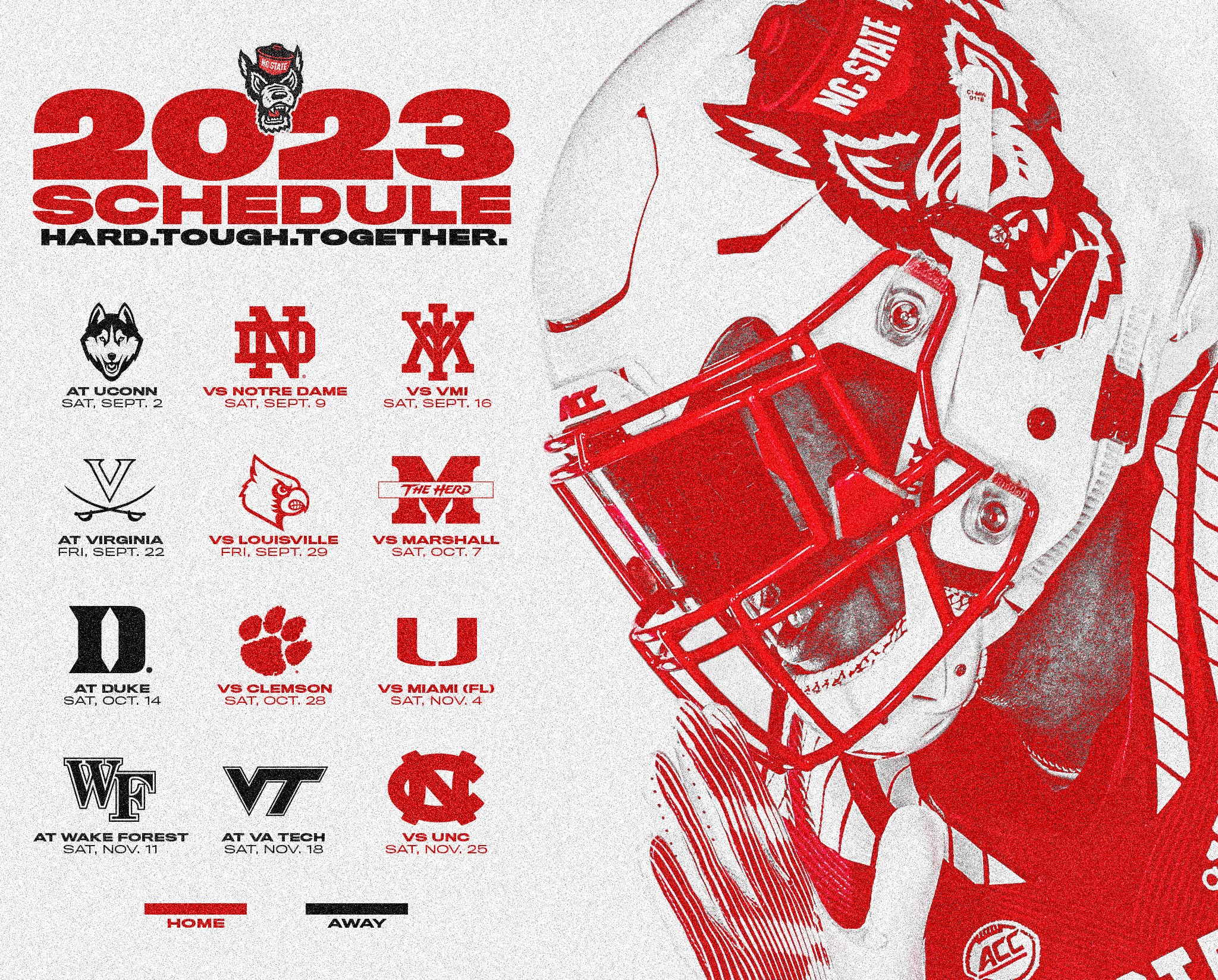 Notes
NC State will play all three in-state ACC rivals: UNC, Duke and Wake Forest
NC State has two Friday night games back to back: UVA & Louisville
NC State will play Quarterback Brennan Armstrong's former team UVA on 9/22.
NC State will host Notre Dame for the 2nd time ever, and will face a familiar face in former Wake Forest Quarterback Sam Hartman.
In the first year without Divisions in the ACC, 5 of NC State's 8 conference opponents will be teams that were in the Coastal Division last year: UVA, UNC, Miami, Duke, VT.

The three former Atlantic Division opponents are: Clemson, Wake Forest and Louisville