Virginia Quarterback Transfer Brennan Armstrong Commits to NC State!
Former Virginia Quarterback Brennan Armstrong has committed to run with the Wolfpack.
Final chapter🐺 pic.twitter.com/CEmFLLKQ4B

— Brennan Armstrong (@bstrong34) January 7, 2023
Armstrong has reunited with Offensive Coordinator Robert Anae, who was the OC at UVA from 2016-21. Most notably, he was the OC in 2021 when Brennan Armstrong threw for 4,449 yards and 31 touchdowns (10 interceptions), completing 65.2% of his passes. He also rushed for 9 touchdowns.
Armstrong struggled in 2022 without Anae, passing for only 2,210 yards and 7 touchdowns in 10 games, while only completing 54.7% of his passes and throwing 12 interceptions.
While those numbers aren't encouraging, there is no denying what he was able to do in Anae's system. Virginia ranked #3 in the nation in Total Offense in 2021, and Armstrong averaged 405 yards passing per game.
NC State is now heading into the 2023 season with 4 scholarship Quarterbacks, which is exactly the way you want it. It would have been dumb to not pursue a Transfer Quarterback, and it would be dumb not to take the best available.
This isn't a guarantee that Armstrong is automatically the starter. He will have to compete for the position, just like MJ Morris, Ben Finley and Lex Thomas.
MJ Morris, in my opinion, is the future at the position. Maybe he beats out Armstrong for the job. Maybe he doesn't, redshirts next year, and learns Anae's offensive system, setting him up for 2024. That's a great opportunity for Morris as well.
Will this lead to someone transferring? I hope not. I believe competition drives every player to be the best they can be.
In my opinion, this is a dream scenario to bring a guy like Armstrong into the Wolfpack Quarterback room in 2023.
NC State's Depth Chart vs. Louisville (with Notes)
NC State has released their Depth Chart for their matchup against Louisville this Friday night.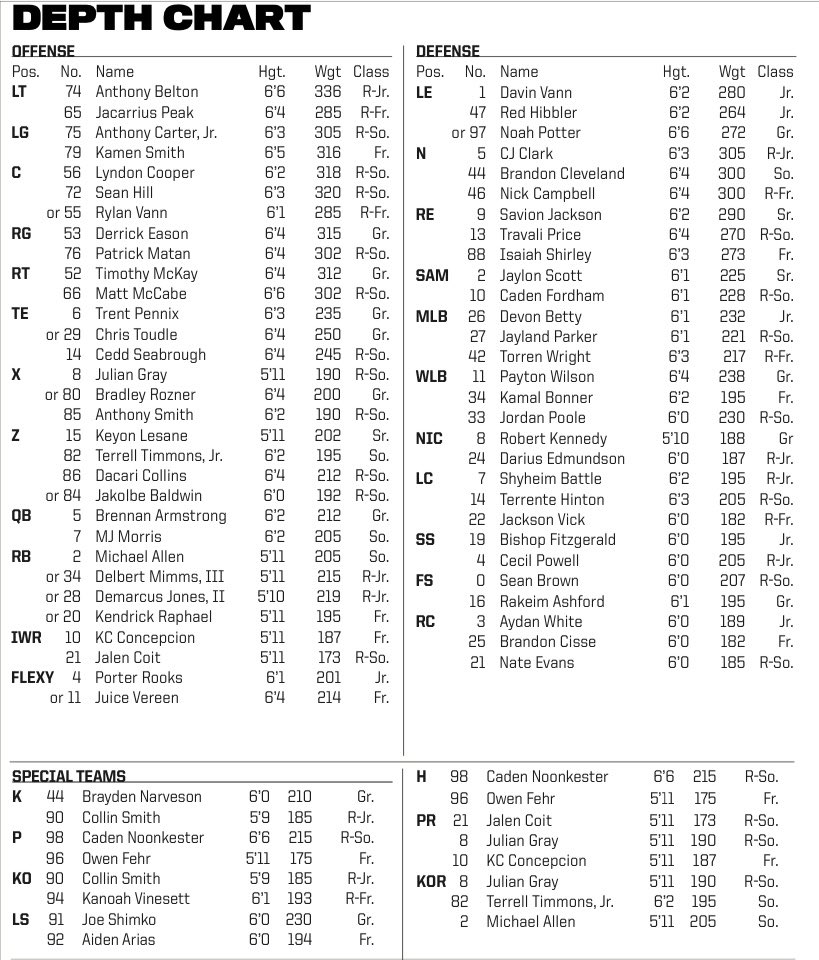 Notes
Starting Center Dylan McMahon isn't listed on the Depth Chart. Wolfpack head coach Dave Doeren said that McMahon is still "day-to-day."

As a result, Lyndon Cooper will be starting at Center once again.

Starting Strong Safety Devan Boykin had to leave the game almost immediately last Friday night up at UVA. He is not listed on the Depth Chart, but thankfully, it doesn't seem like something major. According to Doeren, it's not very likely that Boykin will be able to play Friday, but it hasn't been completely ruled out.

As a result, Bishop Fitzgerald will be starting at Strong Safety.

The Depth Chart for the Running Backs is a hoot. While Michael Allen is listed at the top, there is an "or" in between everyone's name, treating everyone as if they are starters.
Last week, Cecil Powell was listed as the third string Nickel, but Doeren said after the UVA game that he had been serving as Boykin's backup at Strong Safety that week in practice. Both went out of the game due to injuries.

This weeks depth chart reflects the fact that he'd been getting run at Strong Safety last week. He's listed as Bishop Fitzgerald's backup at SS.

Last week Rakeim Ashford was listed as the backup at Strong Safety, and now he is listed as the backup at Free Safety.