Dave Doeren Knows How to Send Players to the NFL
Yesterday I shared that NC State ranks 9th all-time in the ACC in producing NFL Draft Picks. That's not what you want to see.
What you do want to see is that under Dave Doeren, NC State has produced more NFL Draft picks than any other team in the ACC since 2018.
Who's next?#PackPros | #HTT pic.twitter.com/Qlu1uXQfLn

— NC State Football (@PackFootball) April 26, 2023
Not to mention the fact, he's been able to do that without top-ranked recruiting classes. Doeren has developed more recruits with 3-stars or less into NFL Draft Picks than any other coach in the ACC over the last 7 years, and ranks 3rd nationally.
NC State's Depth Chart vs. Louisville (with Notes)
NC State has released their Depth Chart for their matchup against Louisville this Friday night.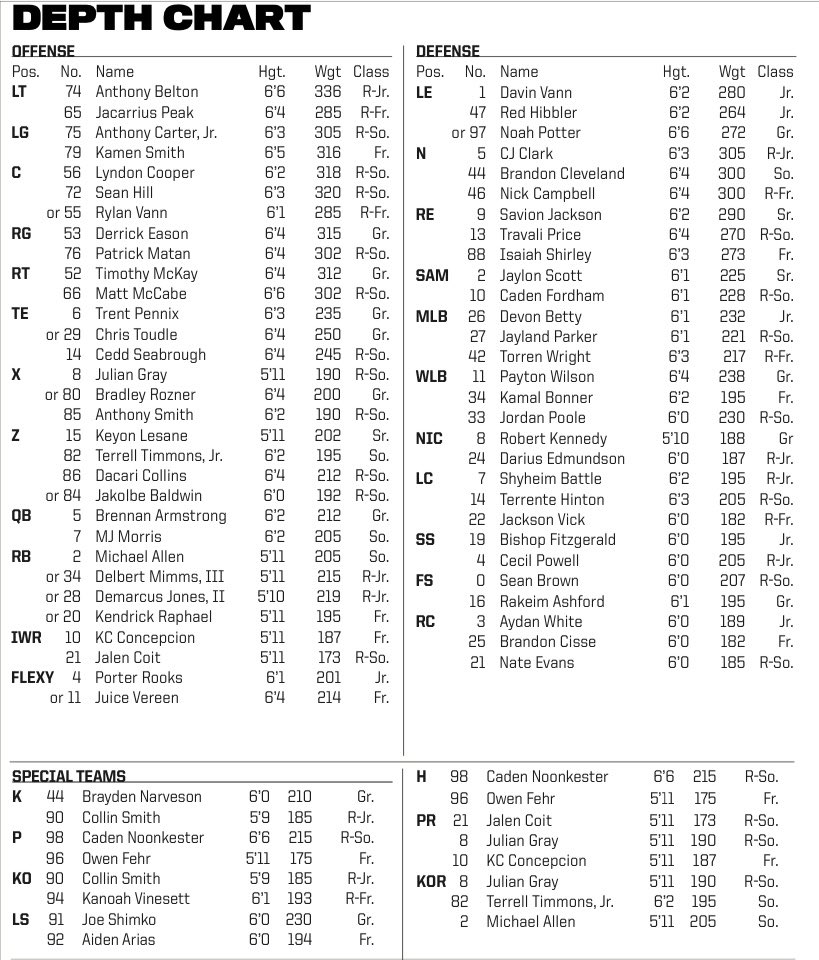 Notes
Starting Center Dylan McMahon isn't listed on the Depth Chart. Wolfpack head coach Dave Doeren said that McMahon is still "day-to-day."

As a result, Lyndon Cooper will be starting at Center once again.

Starting Strong Safety Devan Boykin had to leave the game almost immediately last Friday night up at UVA. He is not listed on the Depth Chart, but thankfully, it doesn't seem like something major. According to Doeren, it's not very likely that Boykin will be able to play Friday, but it hasn't been completely ruled out.

As a result, Bishop Fitzgerald will be starting at Strong Safety.

The Depth Chart for the Running Backs is a hoot. While Michael Allen is listed at the top, there is an "or" in between everyone's name, treating everyone as if they are starters.
Last week, Cecil Powell was listed as the third string Nickel, but Doeren said after the UVA game that he had been serving as Boykin's backup at Strong Safety that week in practice. Both went out of the game due to injuries.

This weeks depth chart reflects the fact that he'd been getting run at Strong Safety last week. He's listed as Bishop Fitzgerald's backup at SS.

Last week Rakeim Ashford was listed as the backup at Strong Safety, and now he is listed as the backup at Free Safety.