NC State's Depth Chart vs. Notre Dame (with Notes)
NC State released their Depth Chart for their home opener against Notre Dame this weekend.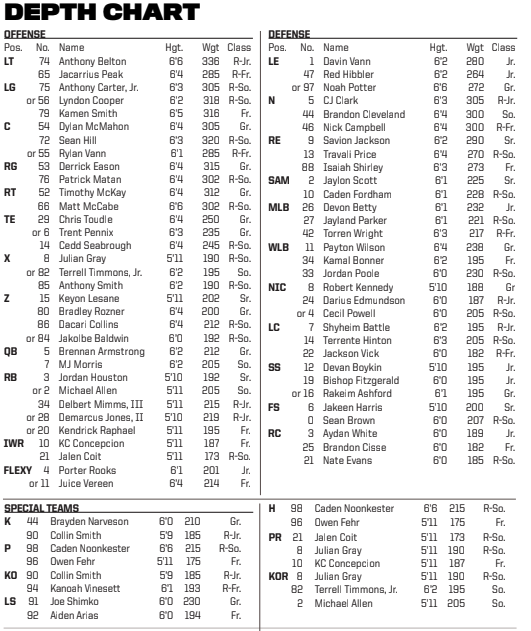 Notes
As expected, Redshirt Sophomore Lyndon Cooper is back on the depth chart after missing the season opener against UCONN with a leg injury. Coach Doeren said today that Cooper "is back." Redshirt Sophomore Anthony Carter is listed as the starter, but there is an "or" between their names. Prior to the injury, Cooper was expected to start at Left Guard.
Despite missing the season opener, Senior Defensive End Savion Jackson is listed as the starter, and Coach Doeren said he should be "full-go."
Senior Jordan Houston is still listed as the starter at Running Back, but there is now an "or" in between his name and Sophomore Michael Allen. Hopefully this is a sign that more touches are coming Allen's way.
Graduate Rakeim Ashford is still on the Depth Chart at Strong Safety, despite the scary injury he suffered up at UCONN. It is worth noting, that Ashfrod is only listed on the Depth Chart at Strong Safety, whereas last week he was listed as 3rd string there and Free Safety. With that being said, Coach Doeren said today that Ashford won't play this week, and his injury was a "whiplash-type thing." He said that he would play again, but they "just don't know how long it will take."
NC State LB Payton Wilson Wins the Bednarik Award!
NC State's Payton Wilson won the Butkus Award earlier this week, naming him the best Linebacker in college football. Tonight he won the Bednarik Award, which has been given out annually to the best defensive player in college football since 1995.
Wilson beat out Alabama Linebacker Dallas Turner and UCLA's Defensive End Laiatu Latu.
Prior to this week, no NC State Linebacker had ever won the Butkus Award. Prior to tonight, no NC State defensive player had ever won the Bednarik Award.
Below is a list of the former Bednarik Award winners.
In one week, Wilson has done what no other Linebacker of defensive player at NC State has ever done.
Go ahead and retire the #11 already!