Brennan Armstrong's Grade Against Wake Forest was the 3rd Highest in Week 11
Brennan Armstrong's 2023 narrative is the making of a movie.
After coming to Raleigh for his final year of eligibility to reunite with Offensive Coordinator Robert Anae, expectations were high. Sure, he didn't play well in 2022, but there was reason for optimism.
Armstrong started the first 5 games of the season, and the results were less than desirable. The Wolfpack offense was anemic, and Armstrong didn't look like the player from 2021. In those 5 games, his Passing Efficiency Rating was a painful 112.54. He had thrown 6 interceptions to go along with his 5 touchdown passes.
I was the guy that wrote the article "The Brennan Armstrong Experiment Needs to be Over after the Louisville loss." After 5 games, it was clear things weren't working, and a change needed to be made. Something needed to be done to try to bring some life to the Wolfpack offense. The NC State coaches concurred, and inserted Sophomore MJ Morris into the starting role.
After 4 games at the helm, and leading NC State to a 3-1 record in that span, Morris decided to redshirt the remainder of the season, after the Wolfpack's win over Miami.
Even if Morris didn't make the decision to redshirt, the reality is the MJ Morris experiment wasn't working either. His numbers were down in every single category from the year before. Sure, NC State beat Clemson and Miami, but it was the defense that carried the Wolfpack across the finish line. The Wolfpack averaged 216.5 yards of total offense in those two games. Morris completed 53.6% of his passes against the Tigers and the Hurricanes.
In those 4 games that Morris played, Armstrong continued in his role as captain. He was a model teammate. He was booed by fans when he was brought out in a goal line package against Marshall, but that didn't stop him from doing whatever was asked of him. Armstrong was brought in to strictly run the ball, or serve as a distraction or decoy, yet there was still a smile on his face after running the ball.
In a whirlwind of events, Armstrong found himself back in the role of QB1 this past Saturday against Wake Forest, and the results were incredible.
As you can see below, Armstrong posted the 3rd highest grade by a Quarterback in all of college football this past week, according to ProFootballFocus.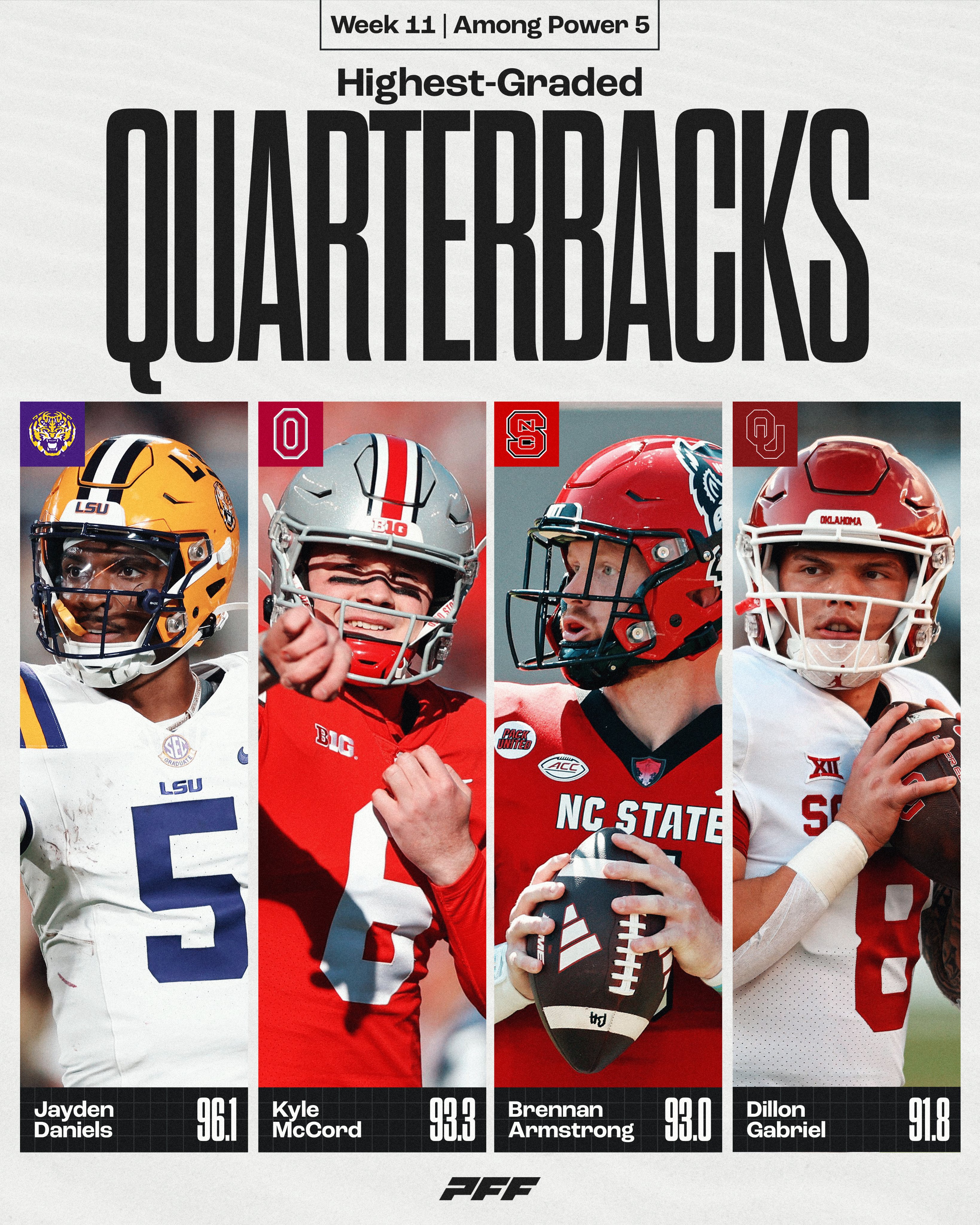 Armstrong's grade of 93.0 was his highest graded performance since Week 2 of the 2021 season. He completed 12 of his 17 passes for 113 yards and a touchdown. Armstrong also rushed the ball for 96 yards and a touchdown.
Do I think Armstrong deserved to be benched after Louisville? Yes. Do I think MJ Morris played much better than Armstrong? No.
I'm not sure how Armstrong will finish the 3 remaining games, but I couldn't be happier for a young man who has handled an extremely challenging year with extreme class. I won't soon forget how Brennan Armstrong handled himself this year, no matter how he finishes things out.
With that being said, after Morris' decision, it is clear that the players have rallied around Armstrong. It's apparent he has his head on straight. Thankfully, schematically NC State is running a much more creative and nuanced offense now, in comparison to when Armstrong started the season.
I'm completely here for Part 2 of the Brennan Armstrong experiment. It might just have the makings of something special.
Kansas State Rolls Out Hype Video of Their Freshman Quarterback
When Kansas State lost their Offensive Coordinator Collin Klein to Texas A&M, the fear of Wildcat fans was that Freshman Quarterback Avery Johnson would follow. After 4-year starter Will Howard announced he would be entering the Transfer Portal, holding onto Johnson, who was a 4-star consensus prospect in high school, was a desperate need for K-State.
Kansas State rolled out a hype video of Johnson, revealing that he was changing his number from 5 to 2, which has been his number his entire life prior to college, establishing the fact that Johnson wasn't going anywhere.
Mission hasn't changed@avery2johnson pic.twitter.com/aoavAwKp4Y

— K-State Football (@KStateFB) December 7, 2023
Johnson played in 7 games this season, completing 25 of 35 passes for 301 yards and 3 touchdowns, with no interceptions. He also rushed the ball for 225 yards and 6 touchdowns, averaging 5.0 yards per carry.
Out of high school, ESPN ranked Johnson as the #77 overall player nationally, the #3 dual threat Quarterback, and the #1 player in the state of North Carolina. Rivals ranked him as the #1 dual threat Quarterback.