NC State's DL Daniel Joseph Selected 4th Overall in CFL Draft
A story from our neighbors to the North, as D-Lineman Daniel Joseph was selected 4th by the BC Lions in the Canadian Football League Draft Tuesday night. Joseph lead the Wolfpack in sacks (6.5), which was good enough for 8th in the ACC.
But….but what does that even mean?
After just going through seven rounds of the NFL Draft, I'm sure there is quite a few folks confused at why Joseph was drafted, let alone in the pool to begin with. Let's go a step deeper to lay it all out.
The CFL Draft
Simply put, you have to be Canadian to be drafted into the CFL. Thus, with Joseph hailing from Toronto, so CHECK. If you're American or other nationality, you can also play in the CFL, but you have to be picked up as a free agent signing at a later time. (Remember when Johnny Manziel played like two games up there?)
Normally, beyond Canadian roots, draft picks hail from smaller schools (University of Maine, Texas State and Canadian colleges). Therefore, the chances that they come and sign after college is elevated. That doesn't mean that guys from bigger schools aren't targeted with the hope they maybe want to give it a shot.
Decisions for Daniel Joseph
Again, trying to simplify things. Joseph will be back for his last year of eligibility. If he really wants that $50K payday, he can leave, but chances are that's not happening. Hopefully, after another solid season (fingers crossed), he'll enter the NFL Draft and almost be assured that some team will take a flyer on him. If somehow no NFL team selects him, his "playing rights" will remain with the BC Lions.
In short:
BC Lions own his professional rights. He can still play college football through eligibility. If selected in the NFL draft, his rights transfer. If he goes unselected, hello British Columbia.
Congrats DJ on the draft selection, looking forward to hearing your name in another draft a year from now.
NC State's 2023 Football Schedule has Arrived!
NC State's 2023 Football schedule was released yesterday.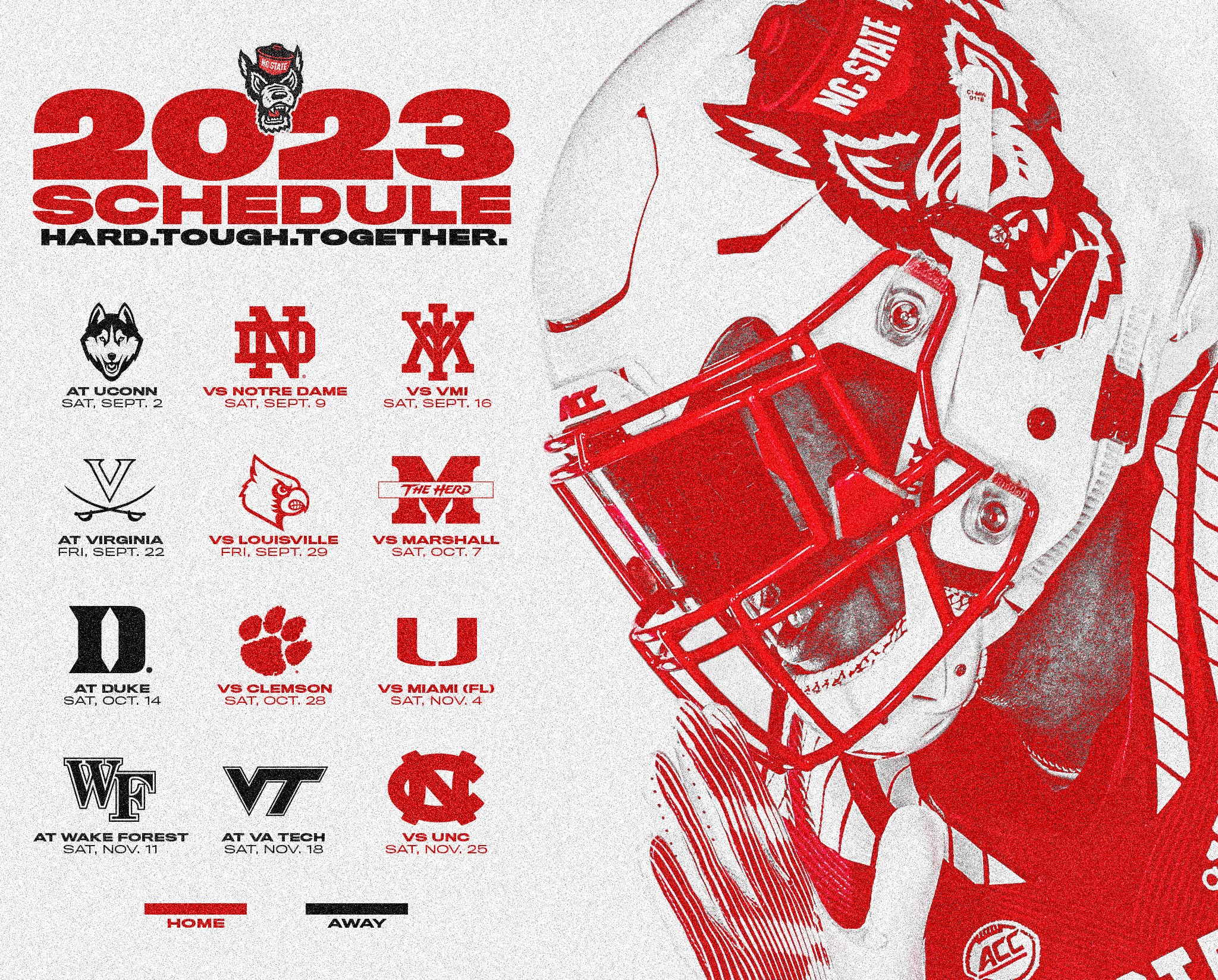 Notes
NC State will play all three in-state ACC rivals: UNC, Duke and Wake Forest
NC State has two Friday night games back to back: UVA & Louisville
NC State will play Quarterback Brennan Armstrong's former team UVA on 9/22.
NC State will host Notre Dame for the 2nd time ever, and will face a familiar face in former Wake Forest Quarterback Sam Hartman.
In the first year without Divisions in the ACC, 5 of NC State's 8 conference opponents will be teams that were in the Coastal Division last year: UVA, UNC, Miami, Duke, VT.

The three former Atlantic Division opponents are: Clemson, Wake Forest and Louisville