Release: NC State Faces Off Against ECU
NC State Wolfpack vs. ECU Pirates
12:30pm | Raleigh, NC | ACCN
RALEIGH, N.C. – Talk about a contrast in styles. One week after facing one of the most rugged, physical running attacks in the country in Boston College, the NC State defense will get a very different test this weekend when it runs up against the fast-paced, pass-happy Pirates of East Carolina.
The 28th meeting between ECU and NC State is slated to begin Saturday afternoon at 12:30 p.m. from Carter-Finley Stadium.
During its current four-game winning streak, East Carolina's explosive offense has taken it to another level by averaging 53 points per game. That eye-popping average only improved with a 63-point outburst in a lopsided victory over UAB last week.
Now in their fourth season under head coach Ruffin McNeill, the Pirates have assembled a winning formula: a veteran group of players who have been in the same system for three and sometimes four years.
"When you have a coach that has been somewhere five or six years and he has his guys, his players are three and four year starters that are redshirt kids," said NC State head coach Dave Doeren. "They have seven seniors and two juniors on offense. It makes a difference. You can see it in their play."
With 21 starts under his belt, junior quarterback Shane Carden understands ECU's up-tempo spread offense like the back of his hand, and the results have been impressive. Not only does Carden have 29 touchdown passes compared to just seven interceptions, he's also completed 72 percent of his throws.
To put that into perspective for those familiar with past NC State quarterbacks, Philip Rivers completed 72 percent of his passes in his senior season of 2003. And just as Rivers had Jerricho Cotchery as his main target, Carden has Justin Hardy, who has 87 receptions with an average of 104 receiving yards per game.
"ECU is a good football team," said Wolfpack receiver Rashard Smith. "They are the front-runners in Conference USA. They have guys that can play. Hardy is a candidate for the Biletnikoff Award as the best receiver. And they have players on defense that make plays all over the field."
While Doeren is facing East Carolina for the very time, his coaching counterpart has ventured into Carter-Finley Stadium previously as both a player and a coach. A safety at ECU from 1976-79, McNeill played on teams that split four games against the Wolfpack. His last visit to Carter-Finley came in 2003 when, as the defensive tackles coach at Texas Tech, he saw first-hand why the aforementioned Rivers was in the process of becoming the ACC's all-time leading passer.
"I think we made Philip Rivers a first round draft choice that day," McNeill said, referring to the Wolfpack's 49-21 victory over the Red Raiders. "This is the first time as a head coach going there. As a player, I remember it being intense, just like it is with the other in-state schools. Our kids probably played in high school or all-star games or made official visits with some of their players. We know they'll have their guys ready to play and we have to do the same thing here."
As they proved earlier in the season when they went into Chapel Hill and beat North Carolina, the Pirates always relish the opportunity to take down any of their in-state neighbors from the ACC. Still, Doeren won't be conceding an incentive edge to the visitors from Greenville on Saturday.
"It is a chip on your shoulder game for us and them," he said. "We really have a lot to prove. We really want to play well for our seniors and we want to finish the season the right way."
Finishing the season the right way will involve finishing the fourth quarter the right way. Getting over the hump in the final period of games has proven to be a thorn in the Pack's side. Even though NC State has actually had the lead or been within one score in the fourth quarter in six of its seven losses, the Wolfpack hasn't been able to make plays when it matters most.
"It's kind of a broken record because in six of our seven losses, we've been in the game and had a chance to win in the fourth quarter," Doeren said. "We haven't been able to make the plays or sustain or overcome the fourth quarter to this point. There are a lot of reasons, obviously, but if it were one it would have been fixed."
Two weeks ago, State led at Duke with less than six minutes to play before falling 38-20. Then last week, after closing to within 20-14 at Boston College with nine minutes showing on the clock, the Wolfpack ended up losing 38-21.
"We're real close," Smith said. "We haven't made the plays in the fourth quarter to finish games. We're working hard each week; we just have to finish games."
One week after having its bowl hopes dashed with the loss at Boston College, NC State is now focused on finishing a frustrating season on a positive note, while also sending its seniors out with a better taste in their mouths. Being one of those seniors, Smith is determined to make the most of his last two games in a Wolfpack uniform.
"We have to match their intensity and bring our own intensity," he said. "It also helps that we're playing in front of our home crowd this week. Playing the last two games at home is helpful because the momentum you get from playing at home is great. Those guys are coming in here from a non-BCS conference, so they want to get a win. They're playing good football right now and coming off a win, so we just need to come out and make plays."
Both teams will employ fast, no-huddle attacks in an attempt to wear the opposition's defense down. Chances are, spread formations and quick, short passes will be plentiful, a far cry from how the games were played when Ruffin McNeill was suiting up for the Pirates. Back in those days, ECU employed the run-oriented wishbone offense preferred by coach Pat Dye, while NC State ran something similar with its split-back veer attack.
Whatever the case, the history of this series is littered with memorable games and unpredictable moments. ECU's come-from-behind 37-34 triumph over the Pack in the 1992 Peach Bowl was one of the most fiercely waged battles ever between the two teams. In their last visit to Carter-Finley Stadium in 2008, the Pirates got a glimpse of a future star when quarterback Russell Wilson, making just his third career start at State, had a coming out party of sorts when he rallied the Wolfpack to a 30-24 victory over ECU in overtime.
"For our team, just 12 days remain for this football team," Doeren said. "We want to enjoy those 12 days and do everything we can as a coaching staff to have our seniors finish the right way. That will be our goal. I told our team that every obstacle that's put in front of us is put there for a reason and you're judged by how you deal with those obstacles."
NC State's Depth Chart vs. Louisville (with Notes)
NC State has released their Depth Chart for their matchup against Louisville this Friday night.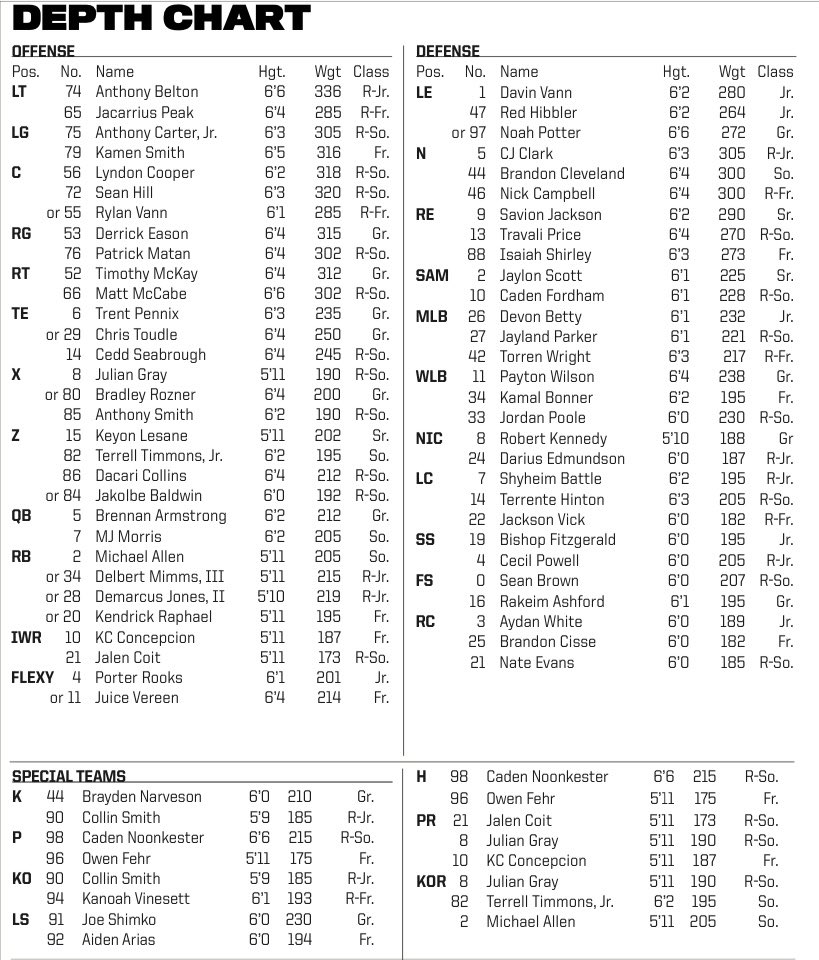 Notes
Starting Center Dylan McMahon isn't listed on the Depth Chart. Wolfpack head coach Dave Doeren said that McMahon is still "day-to-day."

As a result, Lyndon Cooper will be starting at Center once again.

Starting Strong Safety Devan Boykin had to leave the game almost immediately last Friday night up at UVA. He is not listed on the Depth Chart, but thankfully, it doesn't seem like something major. According to Doeren, it's not very likely that Boykin will be able to play Friday, but it hasn't been completely ruled out.

As a result, Bishop Fitzgerald will be starting at Strong Safety.

The Depth Chart for the Running Backs is a hoot. While Michael Allen is listed at the top, there is an "or" in between everyone's name, treating everyone as if they are starters.
Last week, Cecil Powell was listed as the third string Nickel, but Doeren said after the UVA game that he had been serving as Boykin's backup at Strong Safety that week in practice. Both went out of the game due to injuries.

This weeks depth chart reflects the fact that he'd been getting run at Strong Safety last week. He's listed as Bishop Fitzgerald's backup at SS.

Last week Rakeim Ashford was listed as the backup at Strong Safety, and now he is listed as the backup at Free Safety.